Drug cartels invade the northwoods of Wisconsin
CLAM LAKE -- The war on drugs has a new battleground and it's deep in the heart of Wisconsin's great northwoods. Drug traffickers with ties to Mexican cartels are setting up shop in our state and national forests. FOX6 Investigators got an exclusive invitation to see what's left of one massive pot farm near Clam Lake.
In just the past four years, state agents have wiped out more than $70 million worth of marijuana grown on the same public lands where people go to hunt, hike and camp - and that's just what they've found. Drug traffickers are setting up shop in Wisconsin's forests and even pro-marijuana groups say they're destroying the environment.
About 30 miles from Lake Superior, where the locals build monuments to muskie and early spring warm spells are interrupted by the occasional snowstorm, a team of state and federal agents recently led the FOX6 Investigators on a 30-minute hike into the Chequamegon National Forest, just south of Clam Lake.
It's a path to what was once a well-hidden marijuana farm.
There is no large field, but a series of small sites scattered throughout the forest to make them harder to spot from above. Circular pits remain where the weed was once planted. And there's something else.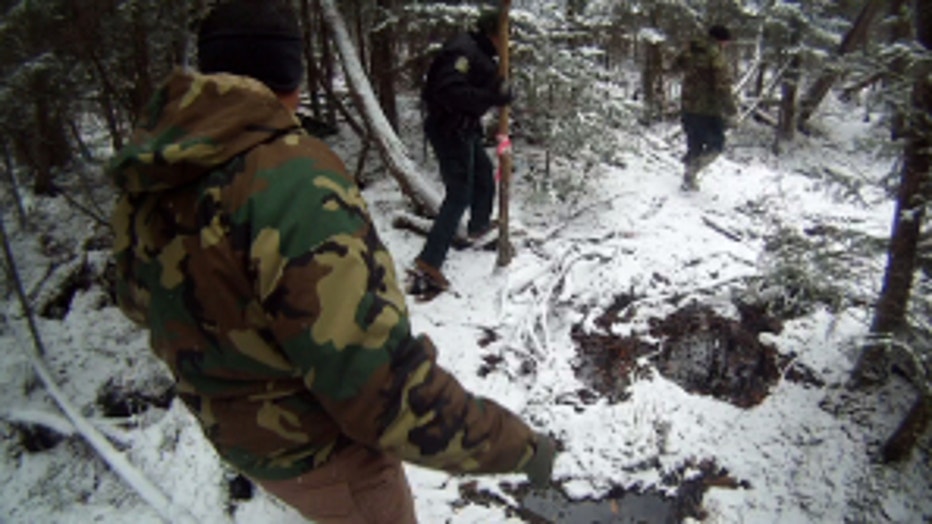 This wasn't just a pot farm left unattended in the woods. For a half dozen illegal immigrants, it was home.
"They had tarps that were strung across the trees for protection overhead," Wisconsin Attorney General JB Van Hollen, who led the tour, said.
Van Hollen invited FOX6 Investigators to see what's left of one of the largest marijuana grows ever discovered in the Badger State -- a site that once contained nearly 10,000 plants.  For most of last year, it was occupied 24 hours a day by migrant workers armed with guns.
"This isn't just about drugs or getting drugs out of the hands of our kids. This is about the danger to the people who are using our national forest. We don't want somebody just happening through the woods, out enjoying themselves, and end up getting shot because they stumbled upon one of these sites," Van Hollen said.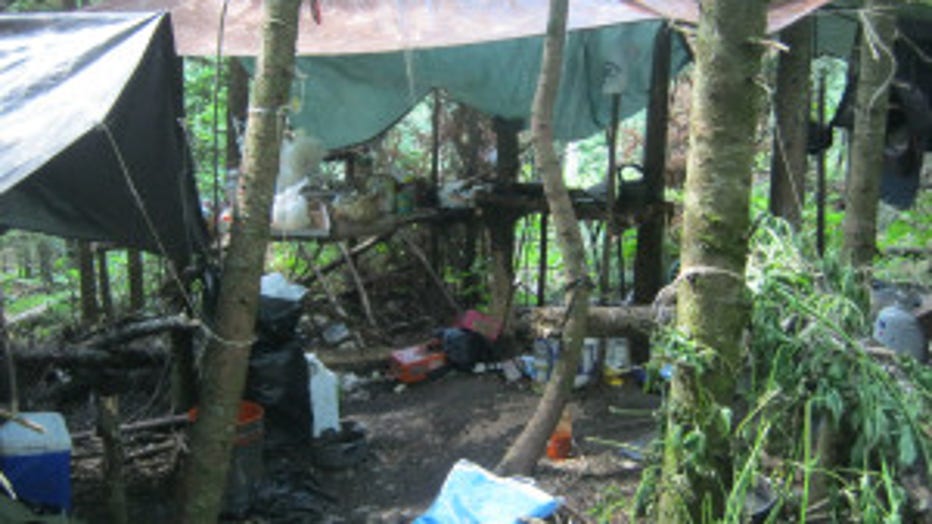 The Clam Lake grow site was accidentally discovered by a bear hunter in the fall of 2010. Fortunately for the hunter, the site had already been abandoned. He reported it to the US Forest Service, which contacted state and local law enforcement.  Agents secretly monitored the site for months, waiting for the growers to return.  And last spring, they did.
Instead of moving in right away, law enforcement kept an eye on the grow throughout the spring and summer.  On August 10, 2011 - just before the harvest - police moved in. More than 200 members of local, state and federal agencies raided the camp in the middle of the night.
"They ran fast.  There was a frying pan still on the stove with jalapenos and the like," Van Hollen recalls.
Police got one of the growers that night and captured five more the following day.
"These people are conscripted into labor. They're brought in from Mexico.  Smuggled in.  Most of them are Mexican nationals, not legally in this country," Van Hollen said.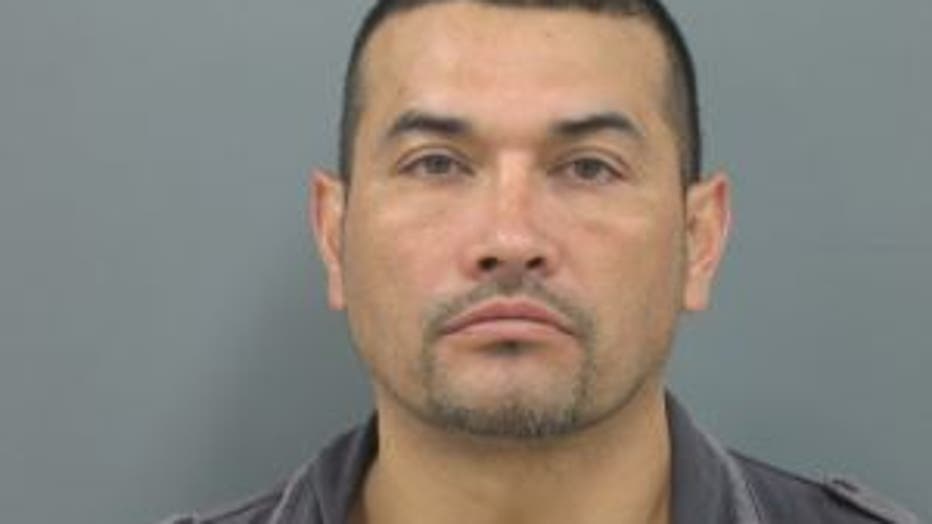 The biggest fish caught in this raid is Norberto Burciaga.  He was a resident of St. Paul, Minnesota and the only American citizen in the bunch. According to court records, Burciaga was the so-called "lunchero," a runner who delivered food and supplies to the field workers.  Investigators say he was the only person allowed to know the location of every grow site. That makes him an important catch for law enforcement.
"It`s important for me because we are going higher up the chain. Ultimately what we want to do is to keep these things from occurring at all.  If you get somebody higher up the chain you got a chance that they may roll on some of the people they are working for," Van Hollen said.
Over the past four years, the Wisconsin Department of Justice has investigated at least eight grower-occupied pot farms in the northwoods.
The largest was a 15,000 plant operation in the Nicolet National Forest, northwest of Green Bay in 2010. That grow led investigators to a processing house in Seymour, where they arrested a dozen men and found piles of marijuana being dried and prepared for shipment.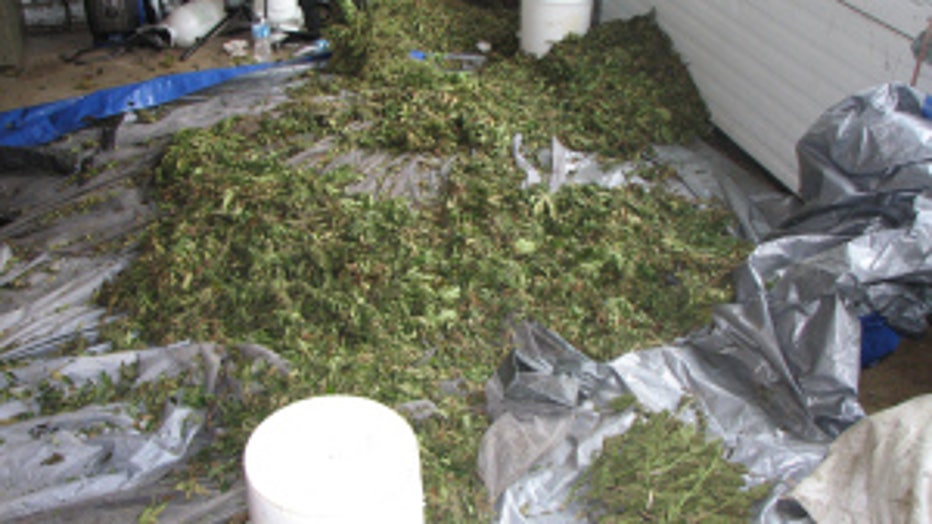 Since 2008, investigators have put 19 growers in federal prison and  hauled away more than $70-million dollars worth of marijuana.
"It's all about the money. They are bringing their tactics or methods of operation from California, which they refined," David Spakowicz, director of the Wisconsin Department of Justice's Narcotics Bureau.
"It`s simple business. Produce it here, sell it here.  They don`t have all of those concerns about transportation, law enforcement detecting them moving ton quantities off the border," Jack Riley, Special Agent in Charge of the DEA in Chicago said.
Riley says evidence gathered in the northwoods has helped them draw connections to larger drug trafficking organizations in California, which are linked to one the most notorious drug cartels in the world - the Sinaloa Cartel, headed by Chapo Guzman.
"In my opinion, the Mexican organizations as we know them today are probably the most vicious, well organized, criminal entities we've ever seen, and maybe the world's ever seen," Riley said.
"They are supporting those illegal cartels by making it necessary. The 70-year war on drugs has failed, let's face it. They think it`s dangerous because the 'devil weed' is being grown up north. It`s dangerous because of prohibition. Prohibition makes cannabis very dangerous," Justin Kemp, director of the Southeast Wisconsin chapter of the National Organization for the Reform of Marijuana Laws, or NORML," said.
The influx of illegal growing operations comes as support for the "legalization" of marijuana in America is approaching 50 percent.
Kemp is surprisingly in sync with law enforcement when it comes to one particular concern about the northwoods grows.
"It`s the fact that they have to run these generators. They have waste water.  They`re probably using herbicides or synthetic pesticides trying to spray the crops," Kemp said.
"We've got great trout streams on the Chequamegon-Nicolet that could be impacted. Wildlife could be impacted. Soils could be impacted for years to come," Suzanne Flory, spokeswoman for the US Forest Service said.
"They are wrecking the environment. They are doing exactly what we don't want to do to the planet because they have to grow it illegally," Kemp said.
For the Attorney General, the greatest concern is public safety. "The men that we took off in this particular grow were armed," Van Hollen said.
That's why he's not just focused on eradicating pot plants, but on attacking the organization and putting people in prison.
"I think it's vitally important that we set an example. If you are going to come and grow in our national forest or our state forest here in Wisconsin, you're putting yourself at risk as well and not just your crop," Van Hollen said.
With more than 16 million acres of forest land in the state, it's impossible to patrol it all. For that reason, narcotics agents expect to see more of these massive growing operations coming to Wisconsin.
The DEA says these pot farms are linked to Mexican cartels. Does this mean we're going to start seeing bloody gun battles in the woods between police and the drug lords? State and federal agents say "absolutely not." They were adamant that they do not expect shootouts or kidnappings - the kinds of things you see going on in Mexico and southern California.
However, they do want northwoods visitors to be aware of these marijuana grows, and to report any unusual activity.