"Dontre's blood is in this park:" Hamilton supporters on hand to protest during Christmas tree lighting


MILWAUKEE (WITI) -- It's an event that helps to kick off the holiday season -- and some used it as an opportunity to demonstrate. City leaders gathered Thursday evening, November 20th to light the 2014 City/County Christmas Tree in Red Arrow Park, and on hand -- demonstrators protesting the shooting of Dontre Hamilton. Hamilton's family says holding the tree lighting ceremony in Red Arrow Park was "insensitive."

31-year-old Dontre Hamilton was shot and killed in Red Arrow Park in April by former Milwaukee Police Officer Christopher Manney. Manney has been fired for his handling of Dontre Hamilton on the day of the shooting -- and he's appealing his termination. This, as Hamilton's family continues to wait for a decision to come out of the Milwaukee County District Attorney's Office on whether criminal charges will be filed against Manney.

About 20 protesters were on hand as the City/County Christmas Tree was lit on Thursday evening. It's an event that's normally festive, but on Thursday evening, the seasonal music was drowned out by the voices of protesters.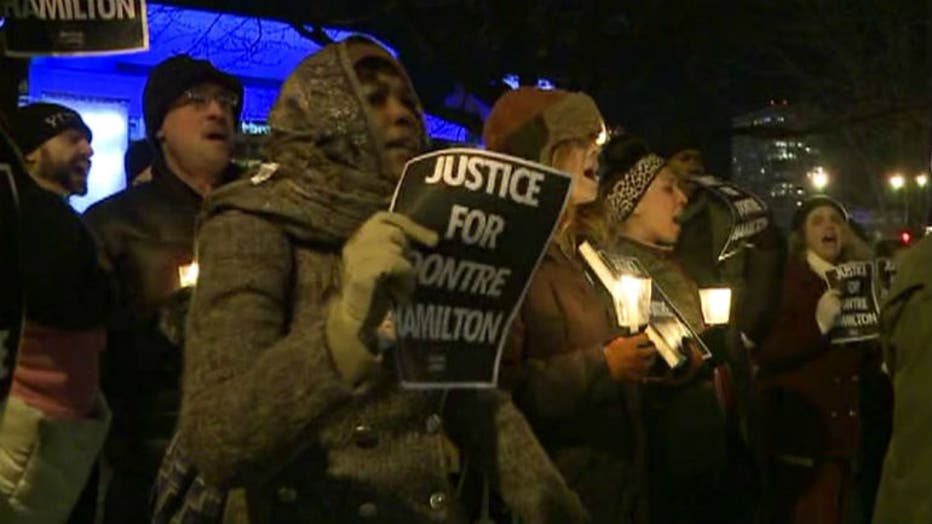 "We wanted people to know the ground that they were standing on was covered with blood from injustice," Dontre Hamilton's brother Nate said.

"A man was killed, murdered, you could called it lynched here on these grounds," a Hamilton supporter said.

Dontre Hamilton's mother, Maria calls the tree lighting ceremony "a slap in the face."




"To have a ceremony in this park and Dontre was murdered here. It's kind of like they don't care what happened in this park. The people who were out here today need to know that Dontre's blood is in this park. I won't be celebrating this holiday season. I can't even begin to celebrate," Maria Hamilton said.

Those in the park for the tree lighting ceremony seemed unfazed by the protesters.

The Hamilton family says they didn't want to scare or disrupt anything, but they say they wanted to have their voices heard.

CLICK HERE for further coverage of the Dontre Hamilton case via FOX6Now.com.