Donald Trump touts job creation in Wisconsin at Racine Civic Center: "We'll bring the jobs back"


RACINE -- This is it. One last weekend to win votes, and Republican presidential hopeful Donald Trump making three appearances in Wisconsin on Saturday, April 2nd. One in Eau Claire, another in Wausau -- but he started his swing through the state in Racine.




"It's going to be in your hands Wisconsin, on Tuesday," said Sarah Palin.

Former Alaska Governor Sarah Palin is now appearing with Donald Trump on his final push in Wisconsin. Trump told the Wisconsin crown in Memorial Hall that he would focus on bringing manufacturing jobs back.

"So look, you're doing badly in job creation -- which is really incredible. Wisconsin has to keep wages depressed. If you don't keep wages depressed you're going to lose your jobs, which tells you you have the wrong kind of jobs folks I hate to tell you. We'll bring the jobs back that you'll want to make a little money with," Trump said.

Trump took aim at opponent Ted Cruz -- who has been leading in recent polls.

"They were giving misinformation into the city areas, really like Milwaukee," said Trump. "They were given big big misinformation, they were saying just the opposite. They must have been getting their information from lying Ted Cruz, but they were given misinformation. I'm going to save Social Security. Ted Cruz is going to cut the hell out of Social Security."




And Trump courted some of Cruz's support base.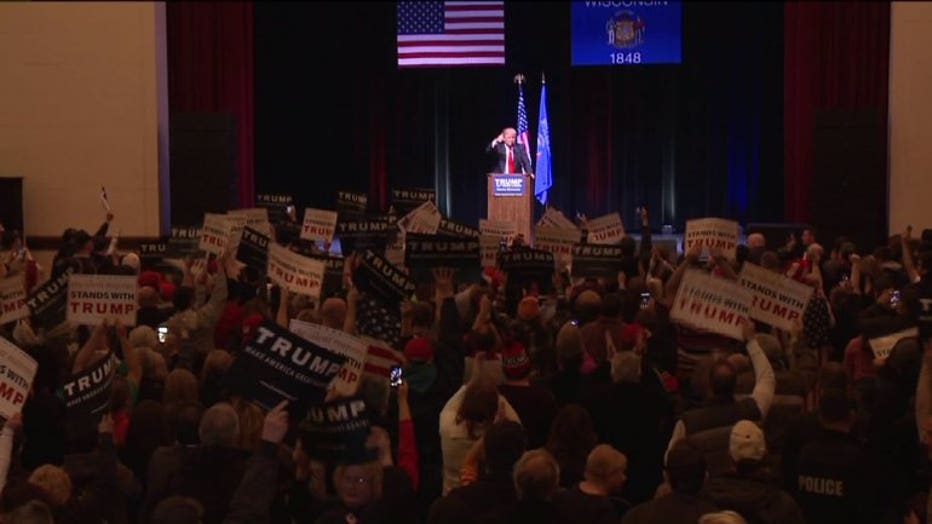 "We're going to fight very hard for Christianity. Christianity is being chipped at, chipped at. We're being chipped away. I think we need an outsider to come in here and make something happen for the state," said Trump.

Candidate Trump has said he will be in Wisconsin until Election Day on Tuesday, April 5th. He says his wife will be coming on Monday, and they will be campaigning up to the time people vote as all eyes are on Wisconsin.