Divine intervention? Pennsylvania nun bags 10-point buck: "In St. Marys, this is what you do"


ST. MARYS, Pennsylvania -- When it comes to hunting, Sister John Paul Bauer is a no-nonsense nun. The Pennsylvania woman who dedicated her life to religion bagged a big buck! Now, she's drawing fire from some for a photo that went viral on social media.

A photo on the Erie Catholic Diocese's Facebook page is attracting a lot of attention. It's been viewed more than a million times.



Sister John Paul Bauer, a teacher at Elk County Catholic High School in St. Mary's, PA shot the 10-point buck.

Sister John Paul says she's amazed at the attention she's gotten.

"In St. Marys, this is what you do. You go hunting. Everybody goes hunting -- the coach, myself, the students," Bauer said.

Sister John Paul Bauer waited alone in her tree stand on opening day of the deer season. She waited for about three hours for a possible target to appear.

While waiting, she prayed the rosary.

Soon, a herd of doe arrived -- followed by two big bucks.

Sister John Paul Bauer was able to bag the largest one -- a 10-point buck with a 16-inch spread.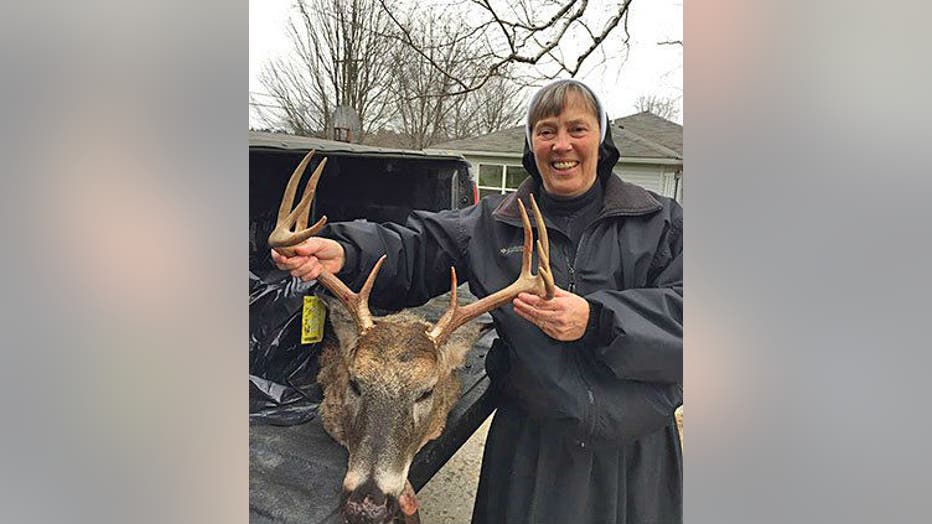 Was this divine intervention?

"I've always prayed the rosary on the tree stand. That's a tradition. You get up in the morning, you pray the rosary in the tree stand. I just think the Blessed Mother did smile upon me," Bauer said.

Growing up, Sister John Paul Bauer was never invited to hunt with her father and brothers. She learned to shoot while serving in the United States Navy.

She returned to St. Marys as a nun and hunter. She says there's something spiritual about hunting.

"When you're up on a tree stand, you're still. You're quiet. You listen. You watch as the frosty ground just becomes alive. It's like creation all over," Bauer said.

Sister John Paul Bauer has read a few Facebook posts criticizing her -- the nun who slayed a beautiful animal.

She says it's more about conservation than the thrill of the hunt. She says without the deer harvest, the animals would starve.

Sister John Paul Bauer says this is the third deer she has shot since she began hunting. She says she was able to bag a bear during hunting season five years ago.

CLICK HERE to learn more about Sister John Paul Bauer and her 10-point buck.