Disney gives sneak peek at new Frozen, Star Wars, and Toy Story attractions
"The Tree of Life Awakens" at Animal Kingdom Park uses projections to make the tree appear to come to life at sunset and throughout the evening. (Credit: Ryan Pastorino / @disneyphotomagic)


LAKE BUENA VISTA, Fla. -- During a media event on Wednesday, Walt Disney World offered a preview of several attractions opening this summer and a sneak peek at additional attractions expected to open over the next few years.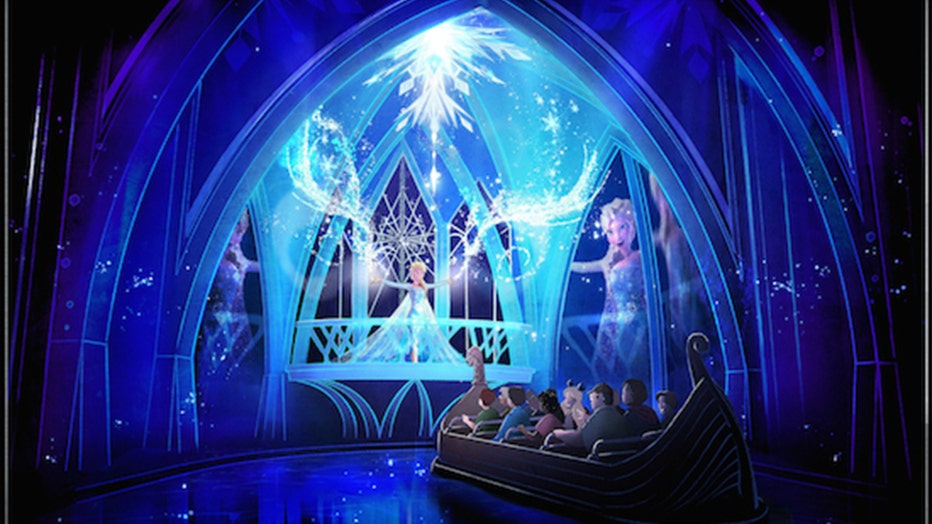 Credit: Walt Disney World


New Frozen attractions set for summer

Disney can't -- and won't - let it go.

The Frozen Ever After attraction currently under construction at the Norway Pavilion in Epcot will open this June, Disney revealed on Wednesday.

A new boat tour will take guests through Arendelle as they participate in a "Winter in Summer" celebration in a newly created story that takes place after the film.

Guests will then have the opportunity to meet Anna and Elsa in a newly opened "Royal Somerhaus" meet-and-greet location.

Disney brought back composers Bobby and Kristen Anderson-Lopez, who worked on the original film, to help with new music for the attraction. Walt Disney Imagineers also traveled to Norway to research architecture, decor and artifacts used in the attraction.

Star Wars into the future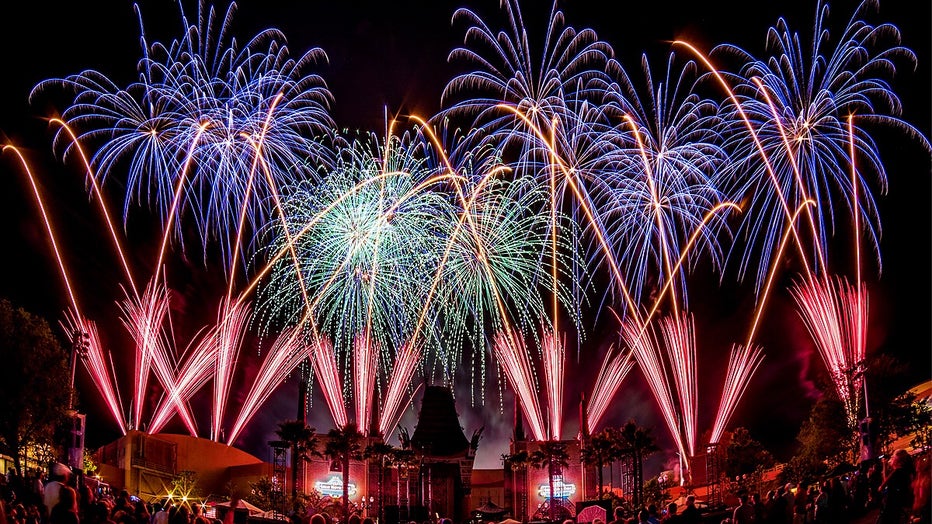 The "Symphony in the Star Fireworks" show currently at Disney's Hollywood Studios. The new "Star Wars: A Galactic Spectacular" show premieres this summer. (Credit: Ryan Pastorino / @disneyphotomagic)


While Disney is celebrating Star Wars with a brand new fireworks show and other attractions this summer, most fans of the film are interested in what's coming in a few years.

On Wednesday, Walt Disney World shared photos and videos from the upcoming Star Wars Land to be built at the current Disney's Hollywood Studios theme park.

While no date has been announced, it will be opening no sooner than 2018. Here are some of the photos and video shared during the sneak peek on Wednesday:




Woody and Buzz get their own land

In Toy Story Land, guests will be "shrunk to the size of a toy to explore the world of Andy's backyard with favorite Toy Story characters."

Two new attractions will be built in the land, including a kid-friendly roller coaster named Slinky Dog Dash. Here's a sneak peek:




The other attraction that will open in Toy Story Land is Alien Swirling Saucers, a ride that looks like a toy set with "aliens flying around in their toy flying saucers and trying to capture your rocket toy vehicle with 'The Claw.'"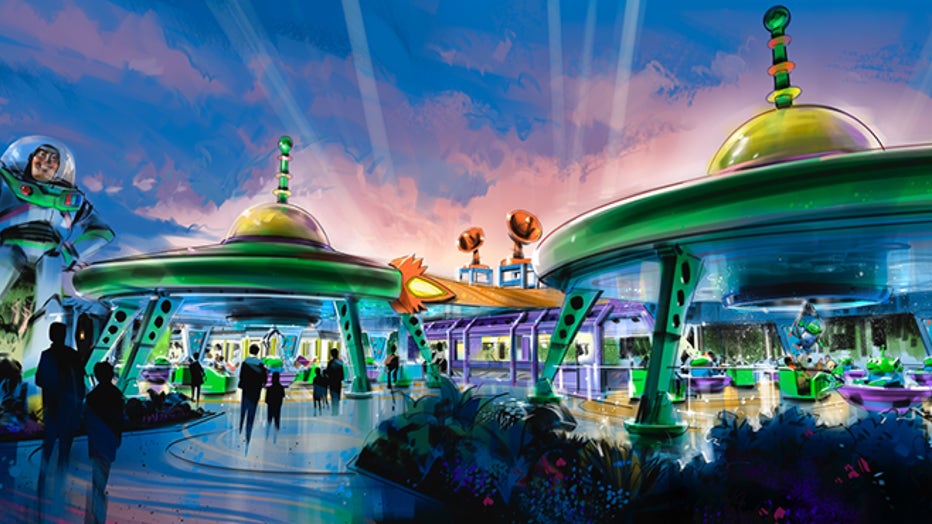 Credit: Walt Disney World


On Memorial Day, a third track will open for the current Toy Story Mania track at Disney's Hollywood Studios -- which will help with long wait-times if you're headed to Orlando this summer.

The new Toy Story-themed Land and attractions will open at a later date.

Animal Kingdom welcomes the night

Animal Kingdom Park introduces several new nighttime attractions including a new night safari, a nighttime show dedicated to The Jungle Book, and a new night version of The Tree of Life.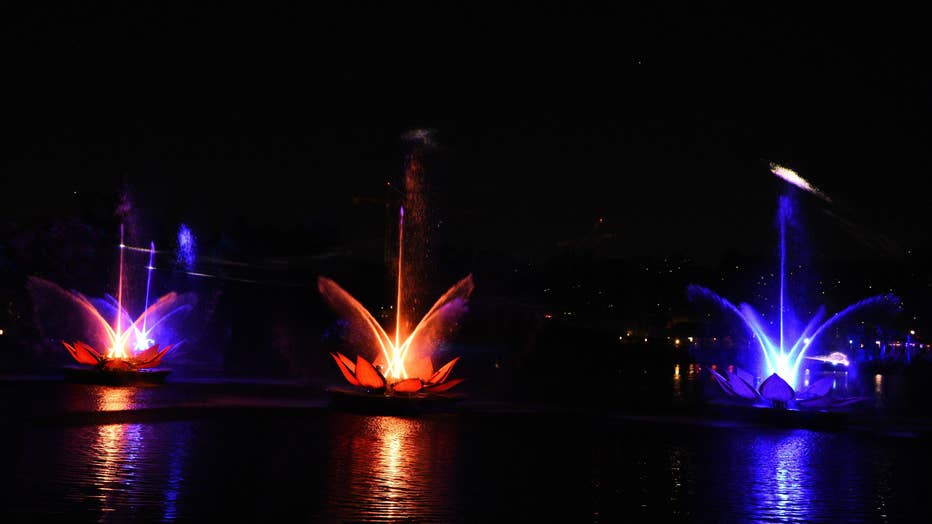 A photo from Tuesday's preview of the not-quite-ready "Rivers of Light" show that was scheduled to debut at Disney's Animal Kingdom Park on April 22. When the show is ready for guests, the full show will make its debut. No date was provided. (Credit:


"The Tree of Life Awakens" uses projections to make the tree appear to come to life at sunset and throughout the evening. Animal spirits and fireflies are projected on the tree, in addition to some Disney favorites.

The "Jungle Book: Alive with Magic" Show will be limited-engagement show that will serve as a placeholder for the Rivers of Light nighttime show that has been delayed.

The safari, Jungle Book show, and night version of Tree of Life will all debut on Memorial Day.

The Rivers of Light show was scheduled to premiere on April 22, but the show was delayed due to technical issues.

When the show is ready for guests, the show featuring The Jungle Book will end its limited-run and the Rivers of Light show will make its debut. However, no timetable was provided.




Pandora - The World of Avatar

A new land dedicated to Avatar will open at Disney's Animal Kingdom in 2017. While not much new information was shared on Wednesday, Disney did provide a sneak peek of one of the animatronics:




Other happenings around Walt Disney World

Soarin' Around the World is the next generation of the current Soarin' attraction already at Epcot. The new film will feature The Great Wall of China, a bird's-eye view of the Sydney Harbor in Australia, gliding around the Matterhorn in Switzerland, and many other locations from "around the world."

The ride will open at Epcot and Disney's California Adventure on June 17, the day after it makes its world premiere at Shanghai Disneyland. Here's a sneak peek:




A new stage show at Magic Kingdom Park titled "Mickey's Royal Friendship Fare" will begin performances in June. The show replaces the "Dream Along with Mickey" show which ended its run earlier this month after premiering in 2006.

Starting early next month, characters from the upcoming film "Finding Dory" will make appearances in the current "Turtle Talk with Crush" attraction at Epcot. The film hits theaters on June 17.

Princess Elena, Disney's first princess inspired by diverse Latin cultures, will make her debut at Magic Kingdom park in August.

And last but not least, Disney Springs, formerly known as Downtown Disney, will open 30 new shops and restaurants when its new "Town Center" opens to guests in mid-May.