Diner owner taking heat (and praise) after she screamed at crying toddler, called him a 'monster'


PORTLAND, Maine -- The owner of a diner in Maine is getting national attention after an apparent altercation involving a family and their 2-year-old child.

Darla Neugebauer, the owner of Marcy's Diner, apparently screamed at the child last week when the family was eating at the restaurant.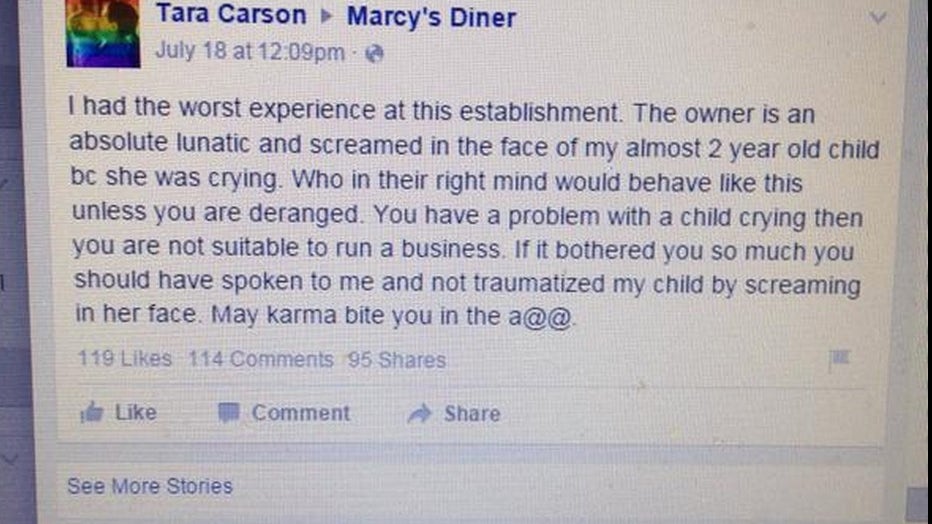 Tara Carson's original post on the Marcy's Diner Facebook page. The post has since been deleted.


Neugebauer told WCSH the child's parents ordered three pancakes and then didn't feed them to the girl, causing the child to cry loudly.

After multiple attempts to get the family to leave or to take the girl outside, the diner owner said she slammed her hands down on the counter and told the girl to be quiet.

The toddler's mother, Tara Carson, wrote about the incident on the diner's Facebook page.

Editor's note: Screenshots of the Facebook posts have been included in this story. The posts include graphic language.

Dozens of people responded to the post, some defending the diner owner and others demanding the diner apologize.

The post, which includes some graphic language, has since been deleted.

Neugebauer responded on Facebook and refused to backdown, saying, " you are lucky I didn't get really f***** nuts because being physical is not something I cower from."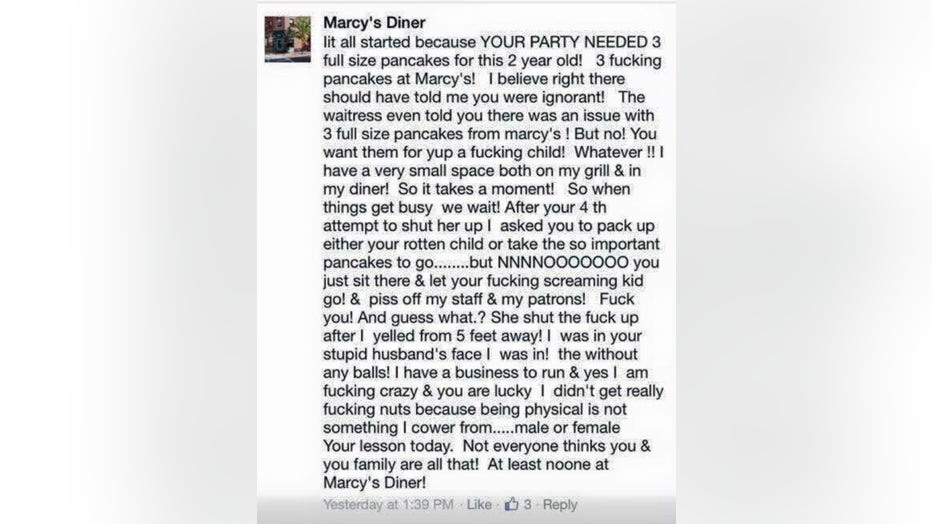 Marcy's Diner responded on Facebook to the customer's original post.


Despite the backlash on social media, Neugebauer is not backing down.

"Life's full of choices and you've got to live with all of them. I chose to yell at a kid, it made her shut-up, which made me happy, it made my staff happy, it made the 75 other people dining here happy, and they left, they may never come back, other people may not come in. Their loss really," she told WCSH.

As the story has received nationwide attention, more people have come to the defense of Neugebauer and to proclaim their frustration with screaming children in restaurants.

One customer posted a comment on the diner's Facebook page asking, "Why did you remove that post?! Kudos to the managers for setting that mom in place. So sick of parents not parenting."

The couple, who was on vacation in the area, told WCSH they were upset with the entire situation.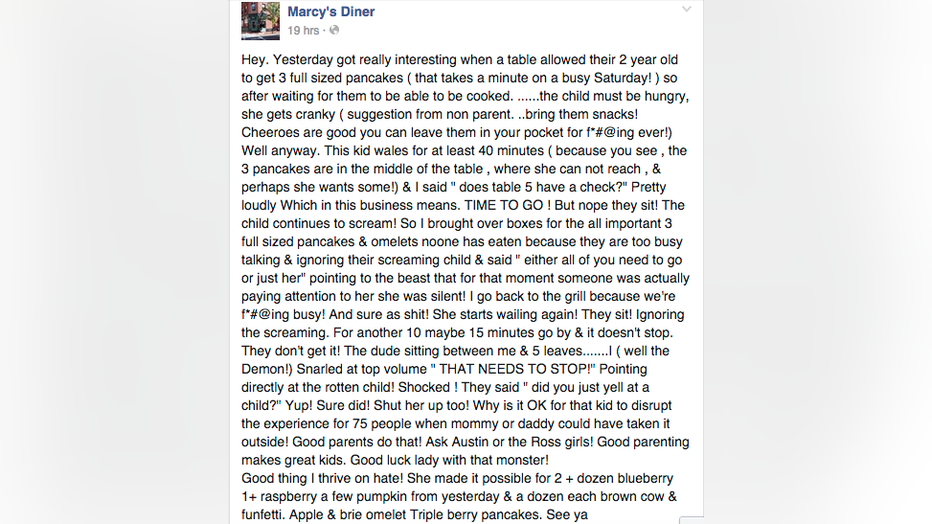 A follow-up post from Marcy's Diner in response to the backlash.


"I turned to my daughter and I was like 'Listen, this is how I'm raising you not to be as an adult. Like, you will never be like this when you get older,'" Tara Carson said. "I felt helpless as a mom that, you know, I couldn't do anything to help her, because I can't explain why there's crazy people in this world that behave like that."