DHS: 500+ positive cases of COVID-19 in Wisconsin, over 8K tested negative
MILWAUKEE — The total positive cases of coronavirus in Wisconsin rose to 457 on Tuesday, March 24, officials with the Wisconsin Department of Health Services said — compared to 416 on Monday, March 23. There have been five deaths in the state. DHS officials said 8,237 tested negative. Milwaukee County's tracking map on Monday showed 268 confirmed cases on Tuesday, compared to 206 listed on Monday. There have been three deaths in the county.

The state numbers listed 219 for Milwaukee County, so with the updated Milwaukee County numbers (49 additional from what the state reported), the statewide total Tuesday was 506 positive cases.

DHS officials only include cases reported as of 9 p.m. the previous evening, per a statement on their website:

"All data are laboratory-confirmed cases of COVID-19 reported as of 9 p.m. the previous evening, to reflect verified and accurate information. In the event of a discrepancy between cases reported by DHS and cases reported by Wisconsin local public health agencies, data reported by local public health agencies should be considered the most up to date."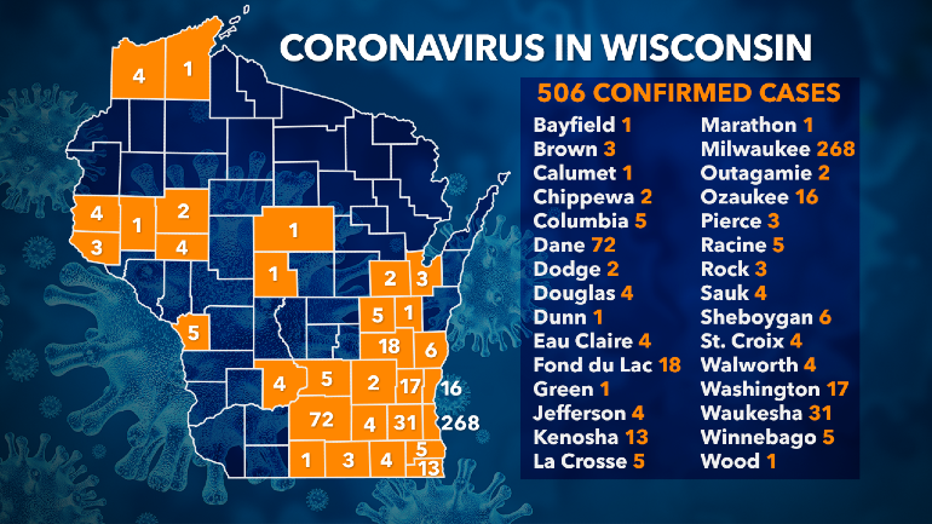 | County | Total Cases as of 3/24/2020 | Total Deaths as of 3/24/2020 |
| --- | --- | --- |
| Bayfield | 1 | 0 |
| Brown* | 3 | 0 |
| Calumet | 1 | 0 |
| Chippewa | 2 | 0 |
| Columbia* | 5 | 0 |
| Dane* | 72 | 0 |
| Dodge | 2 | 0 |
| Douglas | 4 | 0 |
| Dunn | 1 | 0 |
| Eau Claire | 4 | 0 |
| Fond du Lac* | 18 | 1 |
| Green | 1 | 0 |
| Jefferson | 4 | 0 |
| Kenosha* | 13 | 0 |
| La Crosse | 5 | 0 |
| Marathon | 1 | 0 |
| Milwaukee* | 219 | 3 |
| Outagamie | 2 | 0 |
| Ozaukee | 16 | 1 |
| Pierce | 3 | 0 |
| Racine | 5 | 0 |
| Rock | 3 | 0 |
| Sauk | 4 | 0 |
| Sheboygan | 6 | 0 |
| St. Croix | 4 | 0 |
| Walworth* | 4 | 0 |
| Washington | 17 | 0 |
| Waukesha* | 31 | 0 |
| Winnebago | 5 | 0 |
| Wood | 1 | 0 |
| Total | 457 | 5 |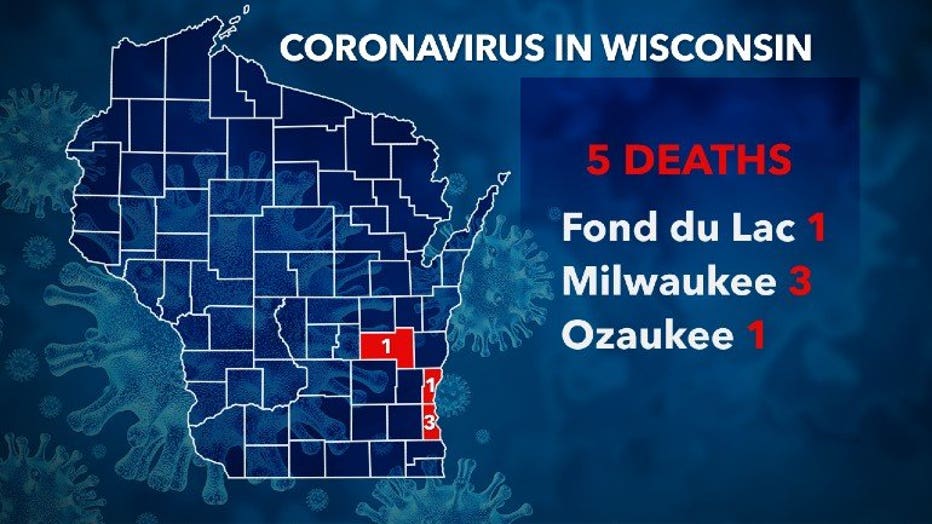 DHS officials shared the following message regarding the pandemic on their website: