Democratic vice presidential nominee Tim Kaine makes 2 campaign stops in Wisconsin


APPLETON/MADISON -- Vice presidential nominee Tim Kaine shared the Democratic Party's message during two visits to Wisconsin on Tuesday, November 1st.

LAWRENCE UNIVERSITY, APPLETON

Kaine started the day in Appleton -- where he spoke to hundreds of supporters at Lawrence University. He told the crowd not to take Hillary Clinton's lead in some of the polls for granted. Kaine also urged supporters to vote, vote early and push for a large margin of victory.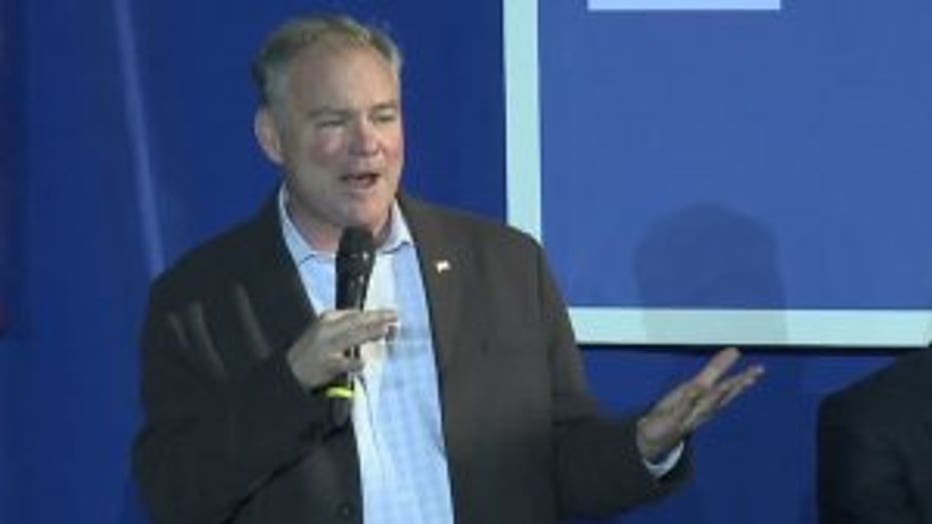 Tim Kaine campaigns in Appleton


Kaine told the audience that the bigger the win, the less opponent Donald Trump can claim that the election was rigged.

"If we win Wisconsin -- it is difficult, very difficult for the other side to win this race," Kaine said.

Kaine attacked Trump -- calling the alleged connections to Russia scary.

"People who trust Trump get tricked by Trump," Kaine said.

Kaine told a group filled with numerous students that the Democratic plan would help them.

"The cost of college has gone up faster than wages. We want to make a pledge to have college debt free," Kaine said.

In one-on-one interviews, Kaine expressed concerns about a renewed FBI probe into Clinton's email server -- and questioned the timing of it so close to the election.

Kaine said Clinton's efforts to be the first woman president of the United States have not been easy -- and told the crowd that despite some polls that show a Clinton lead, supporters should not take that for granted.

"I am the underdog until they call me the winner!" Kaine said.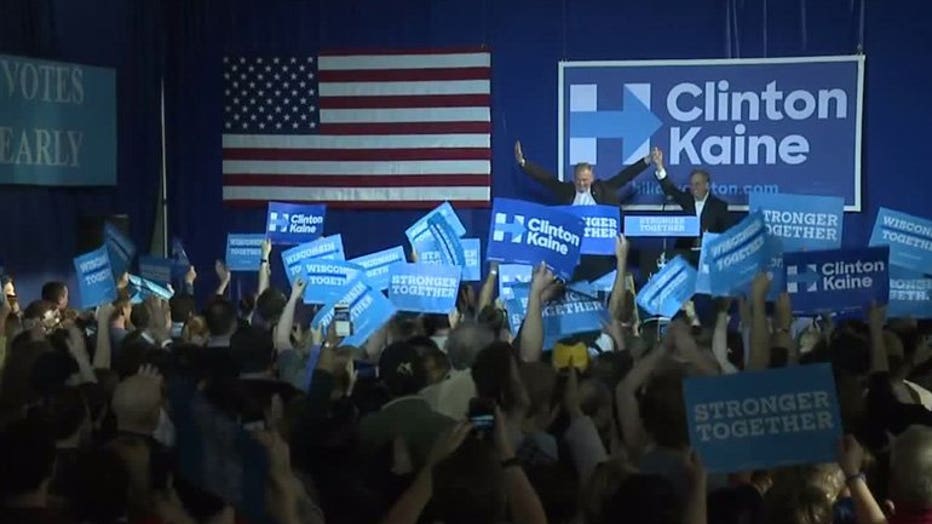 Tim Kaine campaigns in Appleton


"The next president of the United States will be the president who will commemorate the centennial of woman getting the right to vote. That will be in 2020. I don't think it's too much to ask that that person be a strong woman rather than someone who offends women  every time he opens his mouth," Kaine said.






UNIVERSITY OF WISCONSIN, MADISON

Kaine ventured from Lawrence University down to Madison and the University of Wisconsin.

"I`m excited to have someone in the White House who has spent 40 years fighting for kids," Kaine said.

In Madison, Kaine wasted no time getting to the big reason for his stops in Wisconsin.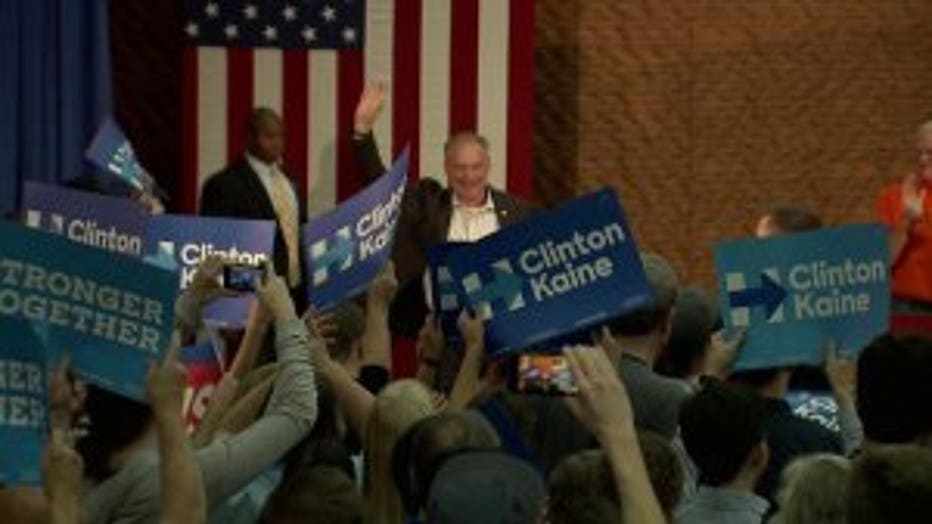 "Many of you have early voted already," Kaine said.

Emma Stutzman of Whitewater already headed to the polls.

"It just makes it easier on election day. You can get more people out to the polls and voting!" Stutzman said.

Among those lending a voice of support were the UW's MadHatters acapella group. led by Eliav Goldman.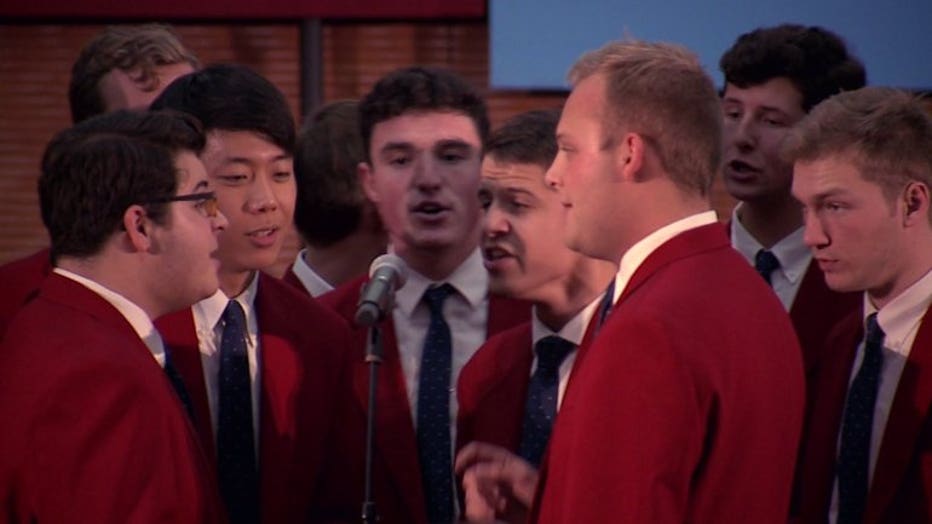 "It really means a lot to us to be able to perform for -- hopefully -- the next vice president of the United States," Goldman said.

Senator Tammy Baldwin said she's looking forward to an historic victory on Tuesday, November 8th.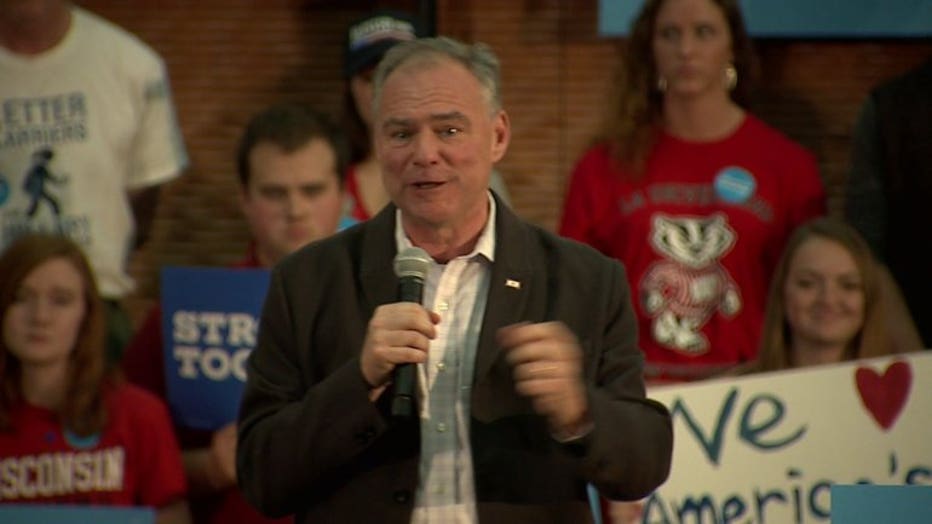 "I do also have a bias. I want to see that glass ceiling shattered forever!" Baldwin said.

"We`re not the kind of people who will walk on by. That`s what`s at stake in this election. Donald Trump puts himself first," Kaine said.

Tuesday's rally was Kaine's third stop in Madison since his nomination.



Republican Party of Wisconsin Executive Director Mike Duffey released the following statement on Tim Kaine's campaign stops:

"Wisconsin has had enough of Hillary Clinton's constant drumbeat of scandal and ethical lapses, and this Tuesday, voters will send a clear message for change. Tim Kaine's running mate, Hillary Clinton, has lied to the American people, endangered our national security, and is once again under an FBI investigation – she can't be trusted to fight for Wisconsin's best interests in the White House."

On Thursday, Kaine will be in Arizona to try to sway that traditionally Republican state with a rally that he will conduct all in Spanish. Kaine is bilingual -- and it will be the first time a major candidate in the U.S. has done this.