Deadly El Rey conflict tests limits of private security power
MILWAUKEE - Private security guards are standing watch all over southeast Wisconsin. Many of them are carrying pepper spray, batons, even handguns. But what can a security guard legally do that other citizens cannot?
The answer could be the different between life and death.
That's the issue at the heart of a deadly shootout last summer at El Rey supermarket on Milwaukee's south side. The Milwaukee County District Attorney's office says a security guard who shot and killed a store customer acted "reasonably." Family members of the man he killed say it was the guard who escalated the conflict.
Who's right is still to be determined in court.
A FOX6 investigation finds what the security officer told police after the shootout may not match what was captured on a surveillance camera.
"I said, 'He got a gun! He got a gun!'" recounts Enoch Wilson, talking to a Milwaukee police officer moments after he shot a man to death who'd just shot and killed his partner.
Wilson said he had no choice.
"At the end of the day, this is what I had to do," Wilson said.
"You're going home," said an officer who responded to the scene.
"I'm going home," Wilson repeated.
SIGN UP TODAY: Get daily headlines, breaking news emails from FOX6 News
But it's what happened before bullets started flying that is now the subject of a wrongful death lawsuit.
"They chased him down and attacked him," said Wanda Rodriguez, sister of Luis Lorenzo, the man Wilson killed.
"It's not self-defense," said Willliam Sulton, attorney for the Lorenzo estate. "You can't create the circumstances for your own defense."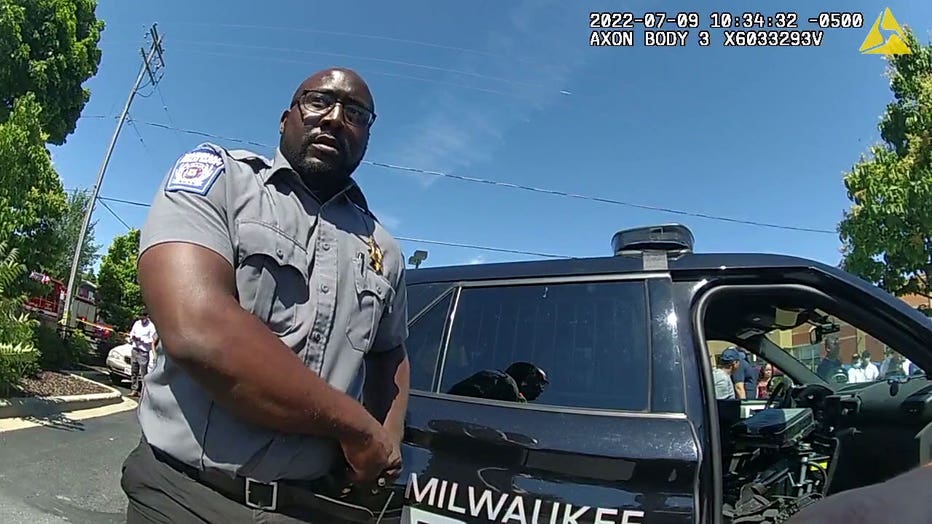 Milwaukee Police body worn camera shows what Enoch Wilson said in the moments after the double-fatal shooting at El Rey in July 2022
Enoch wilson is the President of Marshal Public Safety, a private security agency with a contract to protect El Rey supermarkets.
Last summer, 36-year-old Luis Lorenzo walked into the El Rey near 16th and Mineral carrying a shoulder bag, which - according to police reports - was against store policy.
"Did Mr. Lorenzo commit any crime when he was in the store?" asked FOX6 Investigator Bryan Polcyn.
"He did not commit any crime," Sulton replied. "And I think that's clear."
Surveillance video provided by El Rey to Milwaukee police shows Lorenzo inside the grocery store waiting in line for tacos, when a security guard -- 59-year-old Anthony Nolden -- approaches. They argue. Both men soon walk out of the camera's frame.
About a minute later, a camera over the store's entrance shows Nolden walking Lorenzo out of the building. Lorenzo steps outside, sets down his bag, turns around squares up toward Nolden like he's ready to fight. Nolden lunges toward Lorenzo and stops. Lorenzo then lowers his shoulders, picks up his bag, and starts to walk away. Nolden walks after him with a canister of pepper spray in his left hand.
FREE DOWNLOAD: Get breaking news alerts in the FOX6 News app for iOS or Android
"There's no reason for him to do that," Sulton said,.
When the two appear on third surveillance camera -- in the parking lot -- Lorenzo is running away. He also appears to be wiping his eyes as though he's just been pepper sprayed during the eight-second gap between cameras.
That's when Nolden's supervisor, Enoch Wilson, enters the picture in a Marshal Public Safety SUV.
"Mr. Wilson pulls in at a high rate of speed," Sulton said, "exits his squad car and begins running at Mr. Lorenzo who is already running away from Mr. Nolden."
Wilson chases Lorenzo on foot through the parking lot and when he catches up, he deploys pepper spray, too. Not once, but twice.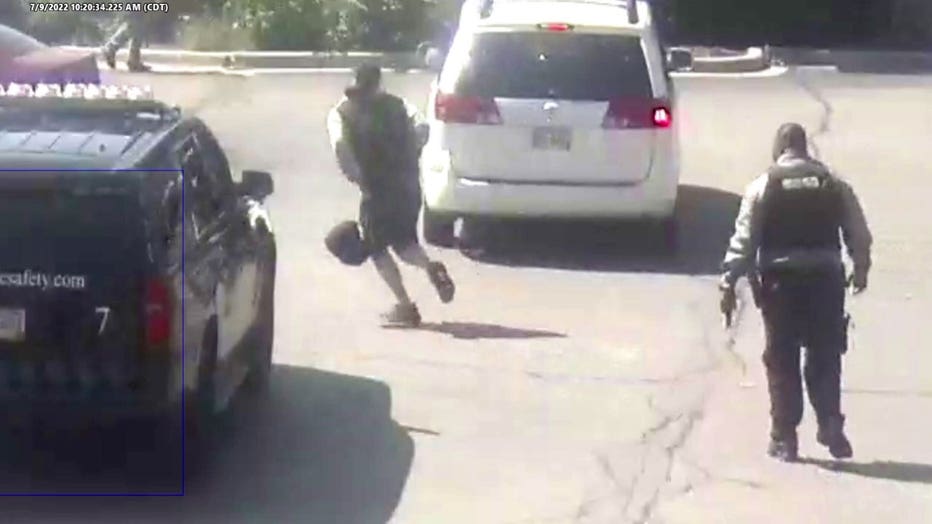 Luis Lorenzo runs away from El Rey security guards as they chase him through the parking lot
The two men grapple their way across the lot before Wilson throws him to the ground.
Just then, as Nolden is catching up to them, Lorenzo pulls a gun out of the bag and shoots Nolden to death.
"Then, he reached back and shot at me," Wilson said, describing a bullet coming toward his head and barely missing.
Wilson jumps away from Lorenzo and disappears from view of the surveillance camera. Seconds later, he stands up and points his gun down at the ground toward Lorenzo.
"And, I, I shot, shot him," Wilson stammers as he describes the moment to police.
In a matter of seconds, a security guard (Nolden) and a grocery store customer (Lorenzo) were both dead.
Eleven days later, the Milwaukee County District Attorneys office declined to charge Wilson with a crime, writing it was "reasonable to believe Lorenzo needed to be detained" because he saw him running.
And once Lorenzo pulled out a gun and fired, Wilson was acting in self-defense.
Enoch Wilson did not respond to our request for an interview, but Sulton did. He is suing Marshal Public Safety, Enoch Wilson, and El Rey Enterprises on behalf of the Lorenzo estate. The lawsuit accuses the security company of creating the deadly conflict by overstepping its authority.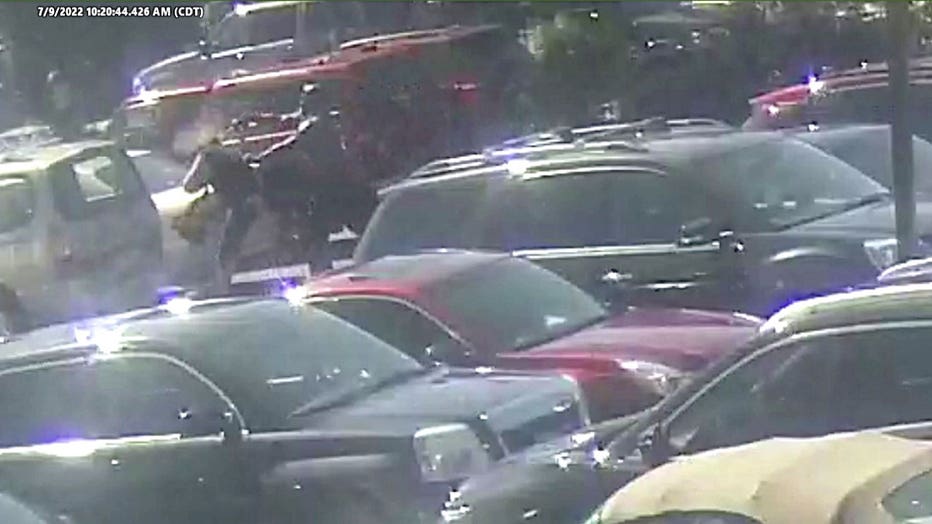 Wilson sprays Lorenzo with pepper spray before tackling him to the ground
"It certainly would not have happened if they allowed [Lorenzo] to leave, which is what they should have done," Sulton said. "Private security persons are not police officers. They do not have police powers."
While Wisconsin law does not confer police powers onto private security workers, there are limited circumstances when security guards can detain or arrest someone.
But when?
"See, that's where a lot of questions come up," said Tom Sipin of Four Winds Martial Arts in West Allis, which offers use of force training to law enforcement and private security officers in Wisconsin under the name Training Solutions." 
He's a veteran firearms instructor who helped write some of the state's private security regulations decades ago.
"Using force against another person in Wisconsin is highly controlled and in most cases it's illegal," he said.
According to Sipin, Wisconsin law only allows security guards to detain someone in three circumstances: 1) if they're suspected of selling copyright materials, like bootleg DVDs; 2) if they're suspected of stealing library materials; or 3) they're suspected of shoplifting.
"If he believed there was a retail theft," Sipin said, "he has a right to detain him."
Otherwise, a private security officer has no more authority than any other person to make a citizen's arrest. 
"It's a common law privilege," Sipin said.
According to a legal guidance from the Wisconsin Attorney General's office in 2008, a security guard can only make a citizen's arrest if he or she has "probable cause" to believe a felony has been committed. Or, the guard personally witnessed a misdemeanor that constitutes a breach of the peace.
"Violence is the key," Sipin said.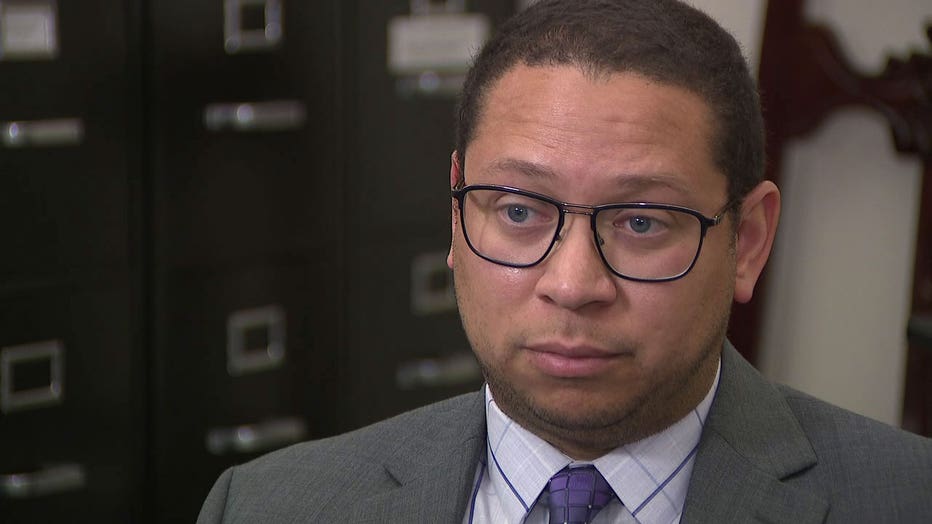 Attorney William Sulton is suing Enoch Wilson, Marshal Public Safety, and El Rey Enterprises for the "wrongful death" of Luis Lorenzo
In other words, running away is not enough.
"Running by itself, courts have held up that it's not a reason to stop somebody," Sipin said.
"Mr. Lorenzo was not stealing anything," Sulton said. "He was not hurting anybody and was not committing a crime. And so you really have to ask yourself, why were these folks running after him in a parking lot?"
"Is he just running?" Sipin asked. "Or is he running because of something that's happened?"
Wilson had no idea why Lorenzo was running. He did not personally observe any crime. He told police he was merely responding to his employee's request for backup.
"He just called for assistance," Wilson said to Milwaukee police. "I responded."
But Wilson did give police an apparent explanation for his decision to chase after Lorenzo.
"I just bumped into them in the middle of this aisle right here, tussling," he said.
In fact, he described a "tussle" three different times.
"They were in this middle aisle here, kind of tussling," he said.
"Do you know why the tussle was going on?" asked a police officer.
"I don't know why the tussle happened," Wilson replied.
If by "tussling," Wilson meant to suggest there was a physical struggle, surveillance video shows otherwise. When Wilson pulled into the parking lot, Lorenzo was several steps away from Nolden and trying to run away further. Nowhere on the store's surveillance camera do Lorenzo and Nolden make any physical contact with each other.
A police officer who reviewed the tape said it was "generally consistent" with Wilson's description.
"The confrontation happened because they forced the action," Sulton said.
It's not the first time Wilson has been accused of using unnecessary force.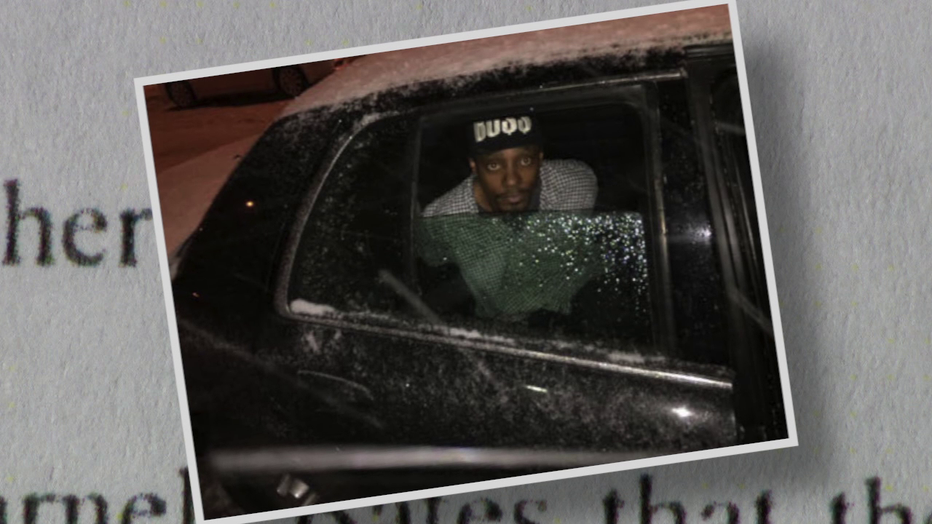 Carnell Bates accused Wilson of using excessive force in 2019. The lawsuit was settled out of court.
In 2019, Wilson allegedly held two men at gunpoint in their own apartment complex. One of those men, Carnell Bates, claims Wilson kicked and stepped on him, then held him in a Marshal Public Safety squad car for 45 minutes, before he was released. Police never came.
That case led to a legal settlement between Bates and the security company.
Bates also filed a complaint with the Wisconsin Department of Safety and Professional services, the agency that licenses security guards. Not only did DSPS take no action -- the department declined to even open an investigation.
"The state really doesn't hold them accountable," Sulton said.
Since 2017, DSPS has received seven complaints against Marshal Public Safety and four against Enoch Wilson. At least two of those complaints accused Wilson and the company of using badges, uniforms and squad cars that closely resemble genuine law enforcement -- a practice that troubles Sipin.
"Make citizens believe you're more official," he said. "You are police."
One complaint accused Wilson of using flashing red light bars on his vehicles that are only allowed under state statutes on genuine emergency vehicles.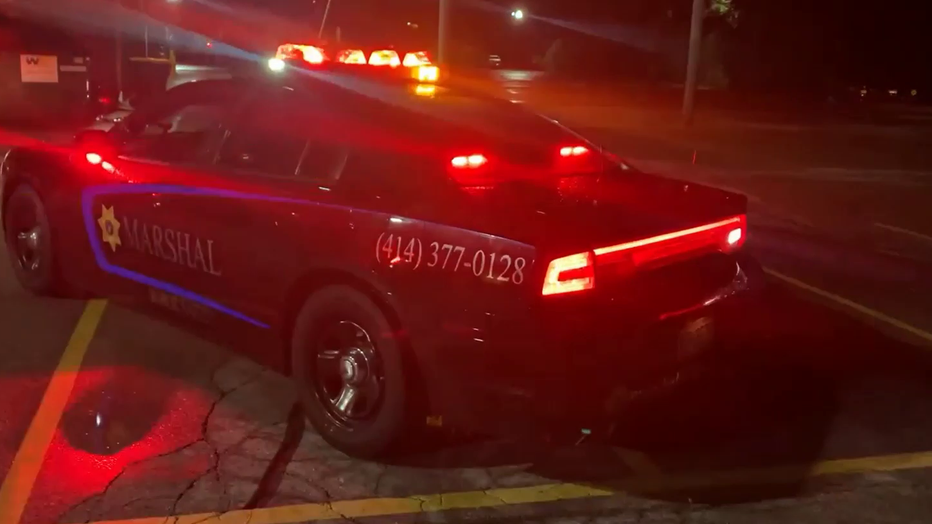 A Marshal Public Safety squad car equipped with flashing red light bar. A DSPS lawyer instructed Wilson to remove the lights, which are only allowed under state law for emergency vehicles. Wilson questioned the state's legal knowledge and the state d
When a DSPS lawyer tried to get him to remove the lights, Wilson refused. He challenged the state's interpretation of the law. Instead of defending its position or taking enforcement action, the state dropped the case and sent a letter of "education" on proper use of flashing lights.
Sipin says that's a function of the department's dwindling resources.
"They've been understaffed for a long time," he said.
"I think the state can and must do more here," Sulton said.
On the Marshal Public Safety website, Wilson says his security guards have "more power and authority than a police officer" because they're "not bound" by constitutional restraints like "the 4th amendment."
"What message is that sending?" asked FOX6 Investigator Bryan Polcyn.
"Well, it sends the wrong message," Sulton said.
It's a message Sulton says that leads to escalation. And puts public safety at risk.
The lawsuit filed by Luis Lorenzo's family is ongoing. The parties involved are next scheduled to appear in court April 24th.
Meanwhile, DSPS says its own investigation into the El Rey incident is pending. A spokesperson declined our request for an interview.
Both Enoch Wilson and Anthony Nolden were carrying guns the day of the shooting. Both had expired state firearms proficiency certifications. However, they were not breaking the law.
That's because of a change in state law that essentially makes private security firearms training optional.
What's ahead
Thursday on FOX6 News, the FOX6 Investigators break down what happened when an inexperienced guard with almost no weapons training shot a customer at a fast food restaurant for using the wrong door.
Our investigation will also explore a legislative effort to bring back the training requirement and why that effort has struggled to gain traction.