Day Without Latinos March: Thousands protest Milwaukee County sheriff's immigration crackdown


MILWAUKEE -- A huge demonstration stretched across Milwaukee's 6th Street Viaduct and into downtown Milwaukee on Monday, February 13th. It was just part of the "Day Without Latinos." Refugees and immigrants protested against President Donald Trump and Milwaukee County Sheriff David Clarke.

Demonstrators said they fear President Trump and Sheriff Clarke will have officers detain legal and illegal immigrants -- looking for people to deport. Many people said they took the day off from work simply to march.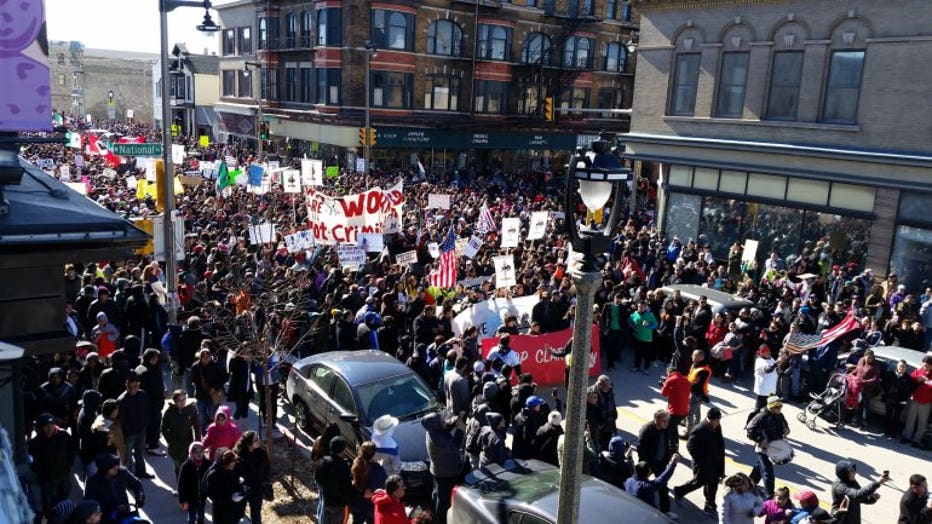 The line of demonstrators stretched from Milwaukee's Walker's Point neighborhood to the Milwaukee County Courthouse during midday Monday. Some flew the American and Mexican flags.

Many, like Alma Barela-Zpichorski, said they were worried about racial profiling in the current political climate.

"I believe we're all going to be detained. We're all going to be questioned. If I'm not doing a crime, there's no reason why I should be. These are basic human rights that I think they're trying to violate," Barela-Zpichorski said.




Activitists were bused in from a dozen Wisconsin cities.

With permit in hand and with police officials watching, the march started at 5th and Mineral. Demonstrators walked over the 6th Street Viaduct, stretching from end to end.

"I'm here to support all the immigrants, especially people who don't have a voice -- stand up for them and let them know we're with them," said Andres Reyes from Janesville.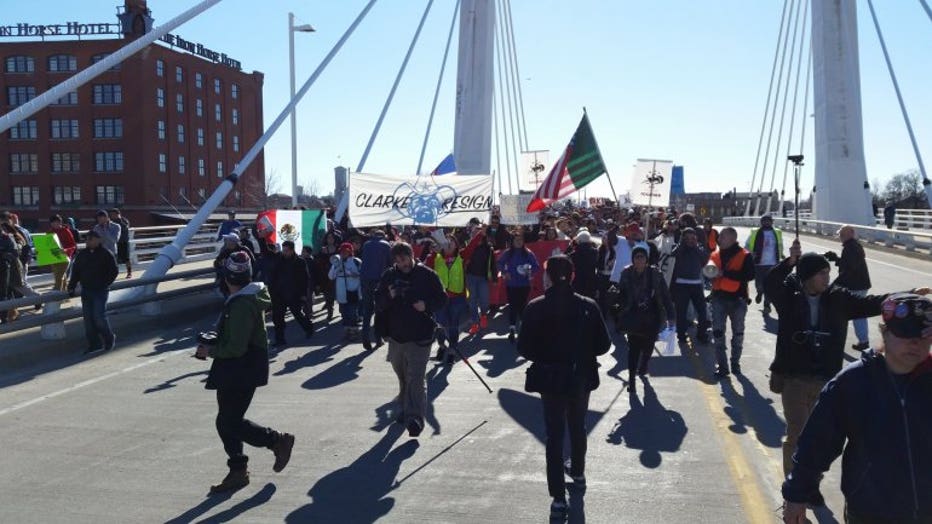 The demonstrators said they believe Sheriff Clarke will begin deputizing county officers as federal officers to arrest people who are in the country illegally.

Officials with the Milwaukee County Sheriff's Office said they have not sought that authority, but left the door open to doing so -- with Sheriff Clarke saying he does not think it should be controversial.

One demonstrator had a caricature of Clarke, who did not attend the march, while another addressed him in song.

"Round and round Sheriff Clarke, round and round I say. Round and round, Sheriff Clarke, you ain't got long to stay!" said the demonstrator.

Milwaukee police said they did not make any arrests during the portion of the march on city streets. They did not provide a crowd estimate -- only to say the crowd was in the thousands.




Sheriff Clarke responded to the march in a statement, reading, in part: "The U.S. is a sovereign nation with borders that have to be enforced and protected. According to the U.S. Constitution, the Congress has the authority to set lawful immigration rules -- not a mayor, a governor, a city council or county board. Nobody has a right to come to the U.S. You can, however, make a request to come here through our immigration service. There must be a zero tolerance for allowing people to illegally enter this country and establish permanent residency."