Dashcam video shows something shocking after officer-involved shooting; police need your help


GLENDALE -- FOX6 News has obtained dramatic dashcam video showing a shootout between a Glendale police officer and 28-year-old Deandre Wise. This all began when Wise allegedly stole a Porsche from Concours Motors on W. Silver Spring Drive in Glendale, and then led the Glendale police officer on a pursuit that ended near 13th and W. Cottage in Milwaukee with an officer-involved shooting. Something that happened after that shootout between the Glendale police officer and Wise has Glendale police asking for your help.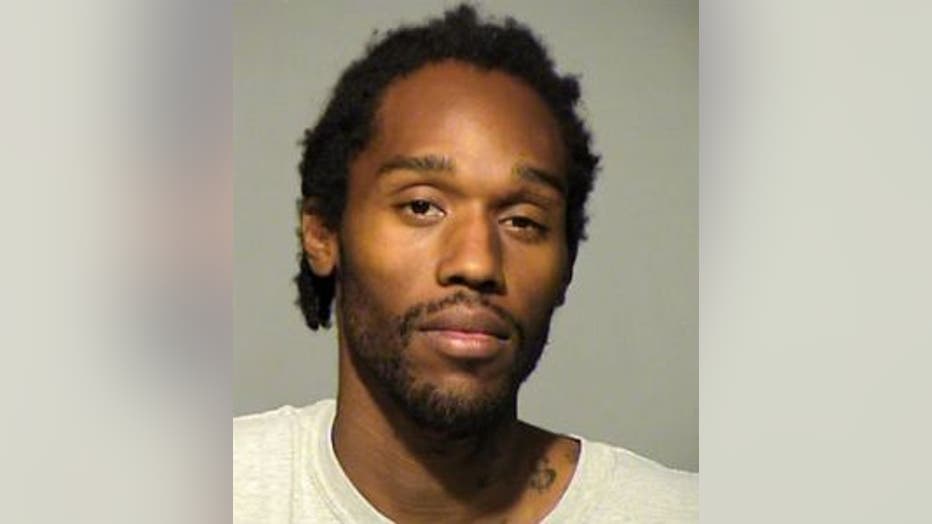 This all happened on Saturday, August 1st.

The dashcam video shows officers chasing Wise in Milwaukee. Police say Wise was armed.

The officer-involved shooting happened near Columbia Park -- and Glendale police say children were present on a sunny, Saturday afternoon.

A criminal complaint filed in this case indicates Wise fired 13 shots at the officer, and the officer fired 15 rounds from his service weapon.

The officer suffered an injury to his forehead -- with debris and/or shrapnel causing him to bleed, the complaint says. Wise was taken to the hospital for a single gunshot wound to his thigh.

But it's what happened after that shootout that has Glendale police asking for the public's help.

911 calls from the incident show how it all began.

Dispatcher: "911 - What is your emergency?"

911 Caller: "I'd like to report a stolen Porsche."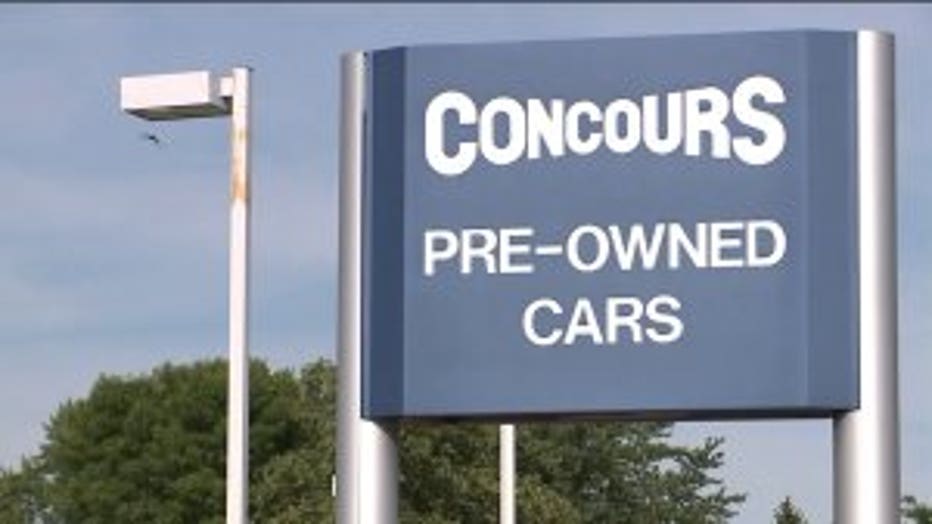 The complaint indicates a sales manager told police he was working at the Concours Motors dealership on W. Silver Spring Drive around 12:30 p.m. when he saw a man, later identified as Wise, who indicated he wanted to test drive a Porsche Panamera.

Wise was asked whether he had a driver's license, and he indicated he did not. At that point, the sales manager said he could have Wise ride with him, while the sales manager drove. The sales manager indicated that it was "normal policy" to take customers who don't have driver's licenses for a ride.

Concours Motors had a 2013 black four-door Panamera that was used as a demo model. The vehicle had a manufacturer's suggested retail price of $91,660, and cost Concours Motors $71,000.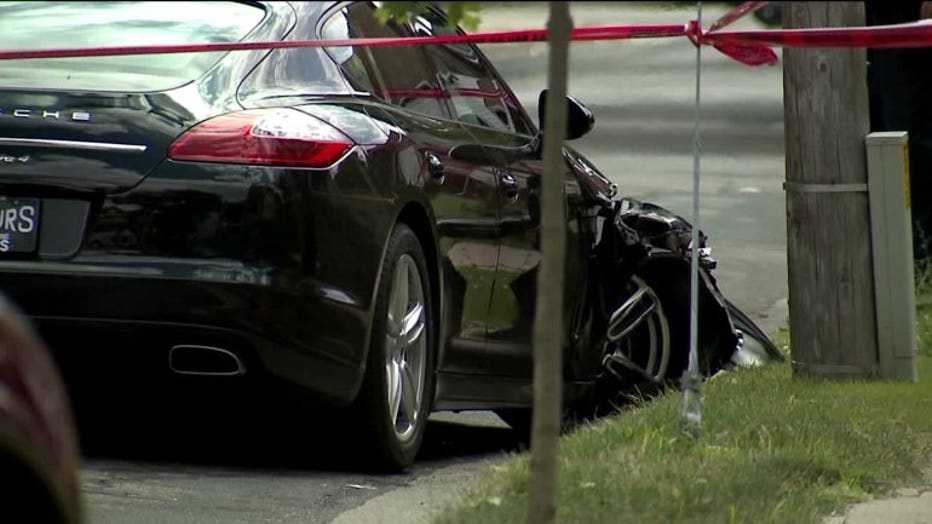 Officer-involved shooting (Glendale police officer & suspect injured)


The complaint indicates the sales manager was in the driver's seat, and Wise was in the front passenger seat. As they headed north from Concours, the sales manager told police Wise climbed into the backseat of the vehicle as the car was moving. The sales manager became alarmed, asked Wise what he was doing, and indicated Wise told him "I want to see how much leg room there is back here."

As they made a U-turn somewhere north of Mill Road to head south on Green Bay Avenue -- the sales manager said he noticed Wise was holding a gun, and was pointing it at him.

The sales manager said he became "very frightened," and feared Wise was going to shoot him.

The complaint indicates Wise told the sales manager to turn left at Mill Road, and as soon as they were on Mill Road, Wise ordered the sales manager out of the vehicle. A resident who lives in that area saw what happened and dialed 911.

"I had a hard time processing what I was seeing," Tassi Defelice told FOX6 News.

Defelice is the man who called 911. He says he saw a black Porsche drive past his home, and then...

"A gentleman with white hair rolled out of the car -- rolling on the ground. He said 'call 911! This guy is stealing this car!' I knew something was wrong when I saw the car go in reverse and do some evasive moves to get away. It's just blatant and brazen. I`m actually glad that I was part of capturing this guy because -- whatever I can do to help," Defelice said.

911 caller: "The guy has a gun -- and a black Porsche, brand new."

It was Glendale Police Officer Eric Guse who gave chase. The dashcam video is from his squad car.

Guse responded to the on-ramp for I-43SB and watched for the Porsche. Soon -- Guse spotted the Porsche, and activated his emergency lights -- heading southbound in an attempt to catch up with the Porsche.

The complaint indicates the Porsche increased its speeds, and Guse noticed it was "driving erratically" -- changing lanes quickly from the left lane across traffic to the right distress lane -- with the driver nearly losing control.

The Porsche exited at W. Capitol Drive and jumped the curb -- heading northbound on N. Green Bay Avenue.

It continued northbound on Green Bay Avenue to Hope Road, where it turned westbound, and then headed westbound on Hope Road to 12th Street, then southbound on 12th Street to Capitol Drive, and then southbound on 13th Street -- at which point the complaint indicates the Porsche "dramatically" increased its speed.

Guse continued to pursue the vehicle -- knowing the suspect was armed and dangerous.

The Porsche headed southbound on 13th Street past Ring -- near an angled street where an open market was going on. Numerous people were in attendance. The vehicle nearly lost control and nearly struck people in the area, police say.

As it headed southbound on 14th Street, the Porsche began slowing down. Guse noticed it appeared the Porsche was going to stop on 14th Street.

The complaint indicates prior to the officer-involved shooting, the Porsche struck a Chevy Blazer on N. 14th Street.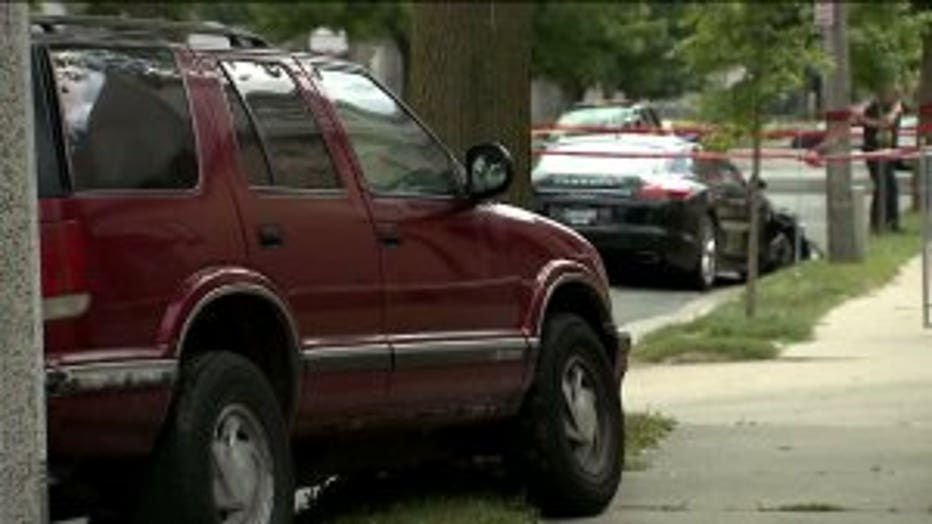 Officer-involved shooting (Glendale police officer & suspect injured)


Shortly thereafter, Guse noticed a black male wearing a purple shirt had exited the Porsche. That person was later identified as Wise. He was seen carrying a black rifle -- and Guse said it looked similar to an H&K .223 rifle, which Glendale squads carry. Wise was seen walking with the rifle, and he appeared to be trying to insert a magazine into the rifle.

Around 1:30 p.m., Milwaukee police were called out to assist with the investigation of a shooting at Columbia Park on W. Columbia Street in Milwaukee.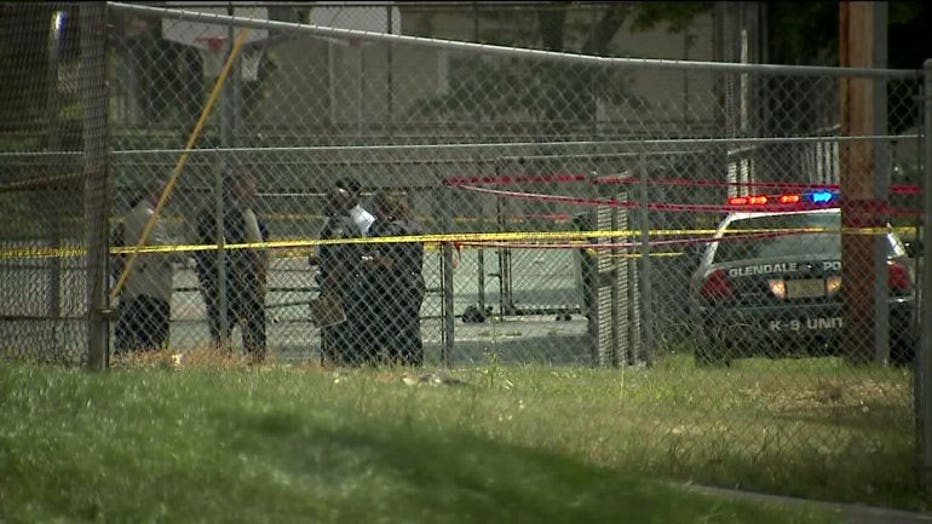 Officer-involved shooting (Glendale police officer & suspect injured)


Officers interviewed a man who indicated he had gone to Columbia Park on Saturday with his child and girlfriend. That man indicated that as he was entering his vehicle, he heard a crash and looked to the north and saw two vehicles -- including a black vehicle. He then saw someone get out of that vehicle with what appeared to be a black, AR-15-type rifle.

The complaint indicates this man saw an officer chasing after the suspect with the gun.

The man said he saw the suspect lay down on the ground on his back -- firing his rifle at the police officer.

The man heard the police officer yelling for the person to stop, and the officer return fire.

Dashcam recording: "Shots fired! Shots fired! Dispatch - I've been hit! I've been hit! Step it up! Step it up! I've been hit! I've been hit and so has the suspect!"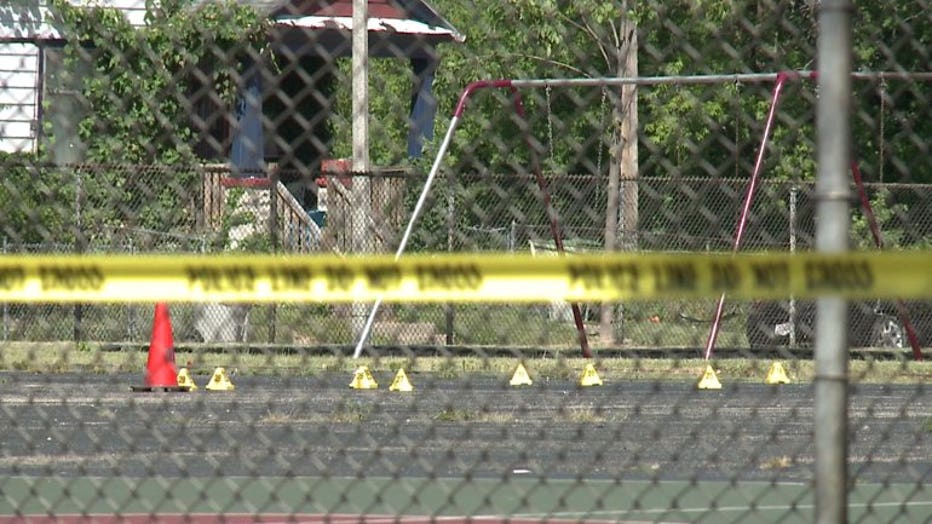 Officer-involved shooting (Glendale police officer & suspect injured)


The dashcam video shows something else happen in the midst of the chaos. As the officer ran after Wise, his cell phone fell to the ground. A woman, who is at first seen running away as the shots were fired, circled back towards the scene.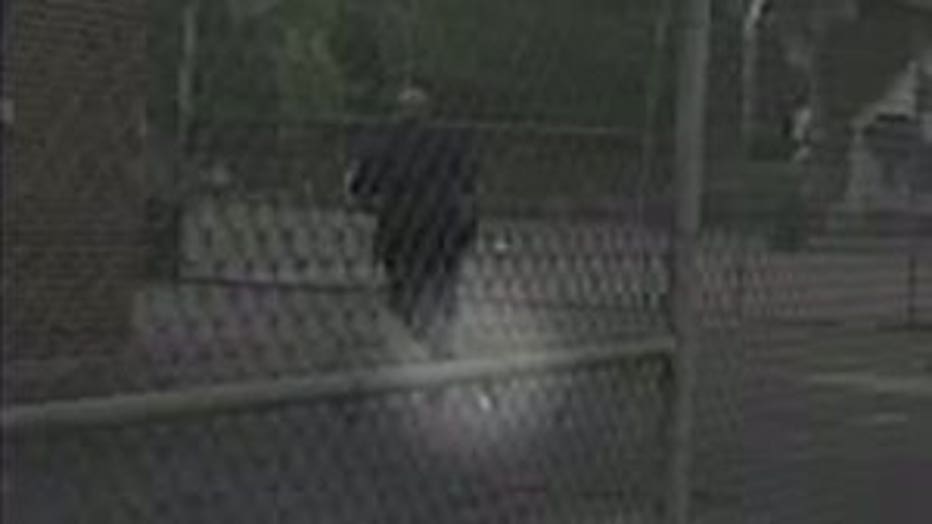 Glendale Police Officer Eric Guse drops his cell phone as he's chasing Deandre Wise


As the wounded officer waits for help, the dashcam video shows the woman pick up Guse's cell phone, put it in her pocket, and flee the scene.

"We'd love to get it back and that's why we're asking for the help from the community in getting it back," Joel Dhein with the Glendale Police Department said.

Officer Guse is a K9 officer with the Glendale Police Department. FOX6 News interviewed him last year when the department was raising money for bulletproof vests.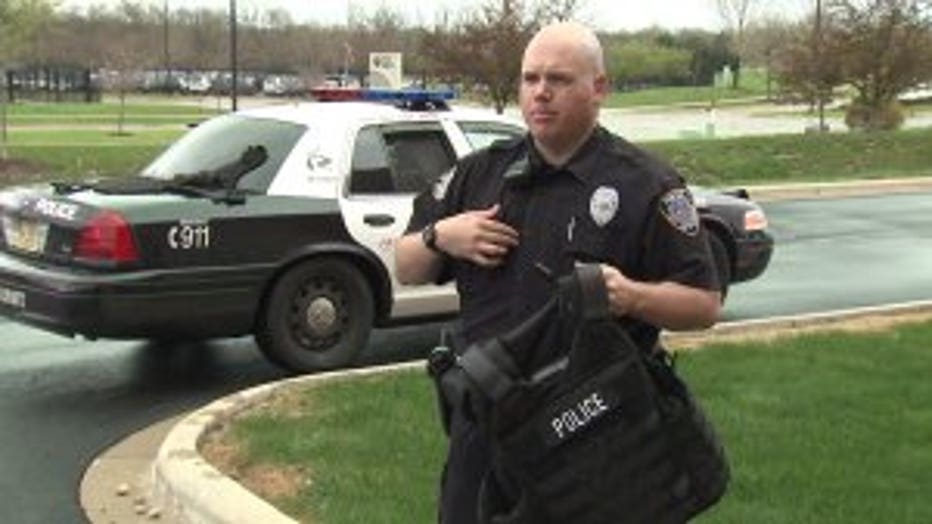 Glendale Police Officer Eric Guse


"He's fighting for his life in a deadly-type situation -- at that point, after the fact. We all have phones. It would just be nice to get that back," Dhein said.

Wise was taken into custody near 13th and W. Cottage Place, after he apparently collapsed -- after the complaint indicates he tried to flee the scene of the officer-involved shooting on foot -- hopping over a fence and onto W. Chambers Street.

The complaint indicates in his statement to officers, Wise said during the last two weeks, he wasn't doing enough for his four-year-old son, and he felt "overwhelmed."

He believed "everything would go away" if he could obtain the Porsche, police say. Wise indicated he thought "if he could zoom off with this car, he could get somewhere where somebody paid him enough money that he wouldn't have to look back."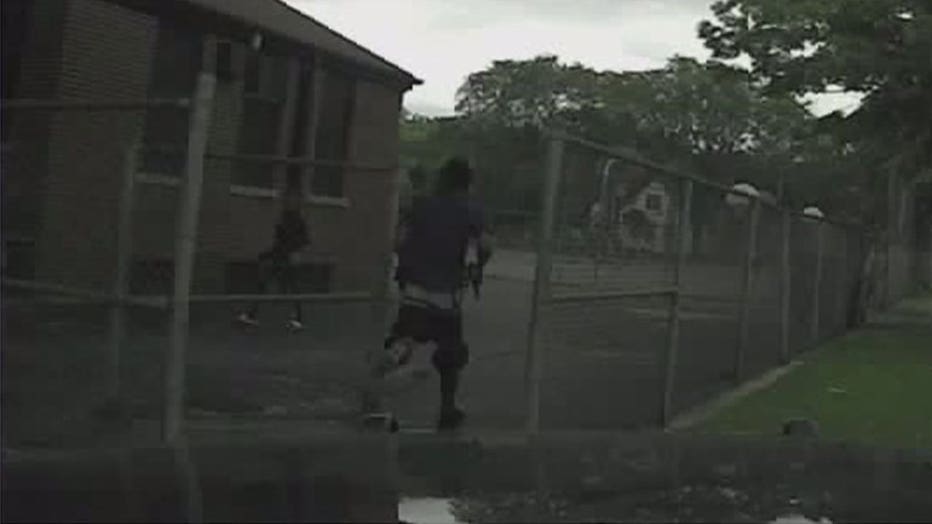 Deandre Wise from Glendale Police Officer Eric Guse's dashcam video


Wise admitted to stealing the vehicle -- and driving it onto the highway. He said "he figured the officer wouldn't catch him in the Porsche."

Wise told police he was planning on selling the Porsche.

Officer Guse is recovering from this incident.

Meanwhile, if anyone has information as to where his phone could be -- police ask that they call North Shore Crimestoppers at 414-962-HALT.