Daniel the duck goes viral: Tweets about emotional support animal spread like wildfire
MILWAUKEE -- Daniel the duck is going viral!

FOX6 Investigator Bryan Polcyn first told you about Daniel the duck in February -- when he produced a story about emotional support animals. Daniel was one of those animals -- who is the support animal for Carla Fitzgerald from South Milwaukee.

CLICK HERE to view the FOX6 Investigator's story on emotional support animals
As we learned, Daniel plays with toys, takes showers and he even wears a diaper. Most importantly, she says, he can sense his master having an anxiety attack before she even knows she's having one.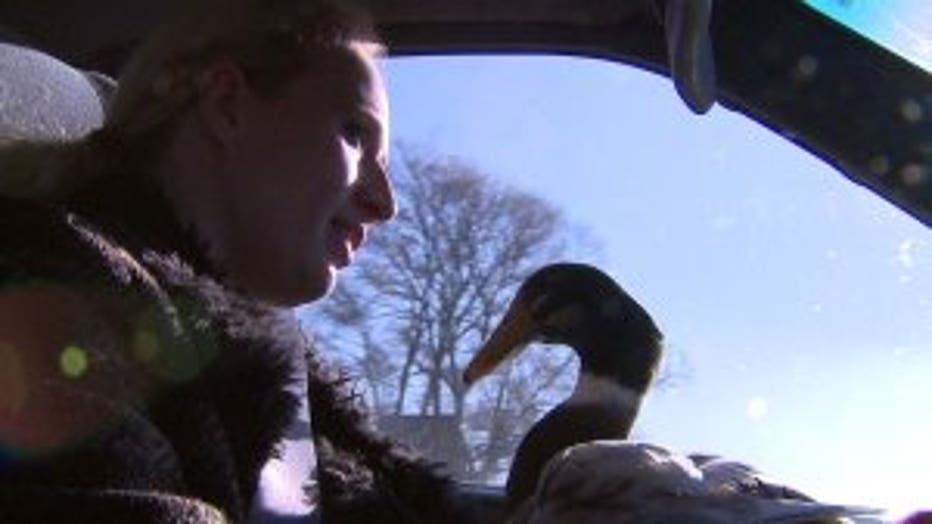 Carla Fitzgerald and Daniel the duck
Fitzgerald suffers from post traumatic stress disorder, or PTSD. She says it stems from an accident when a car struck the horse and carriage she was operating in Milwaukee's Third Ward. Since our story aired in February, Fitzgerald says she's still fighting for workers compensation. Otherwise, she's doing pretty well. She's still in therapy for her PTSD and Daniel is still an important part of that therapy. Without him, Fitzgerald says, she still suffers from anxiety. She said her progress so far is a "step in the right direction."
In the last couple of weeks, Daniel the duck has gotten lots more exposure after he flew on an airplane. Daniel has been featured in articles in Buzz Feed, Mashable, as well as other television stations around the country. Below are some tweets from his recent flight.


As far as Daniel's newfound international celebrity, Fitzgerald tells FOX6 News that Daniel doesn't seem to notice.

"As long as he gets his romaine lettuce on time and has fresh batteries in his toys, he doesn't care," Fitzgerald said.