'Crime Prevention Awards:' Michael Hupy honored for coming forward with rewards to solve crimes


MILWAUKEE -- The 69th annual "Crime Prevention Awards" were handed out Thursday, Feb. 1 in Milwaukee.

The ceremony recognized residents and law enforcement officials who have made the Milwaukee area a better place to live and work. This year's award for "outstanding individual involved in crime prevention" was given to Michael Hupy.

Hupy has taken it upon himself to offer rewards to help with the arrest and convictions of people involved in violent crimes.

"No one wants crime, but I'm disappointed that more people don't come forward by giving information that will help police solve these crimes. When a reward of five figures is pending for over a year and no one's coming forward, I think that's a pretty sad commentary," Hupy with Hupy and Abraham S.C. said.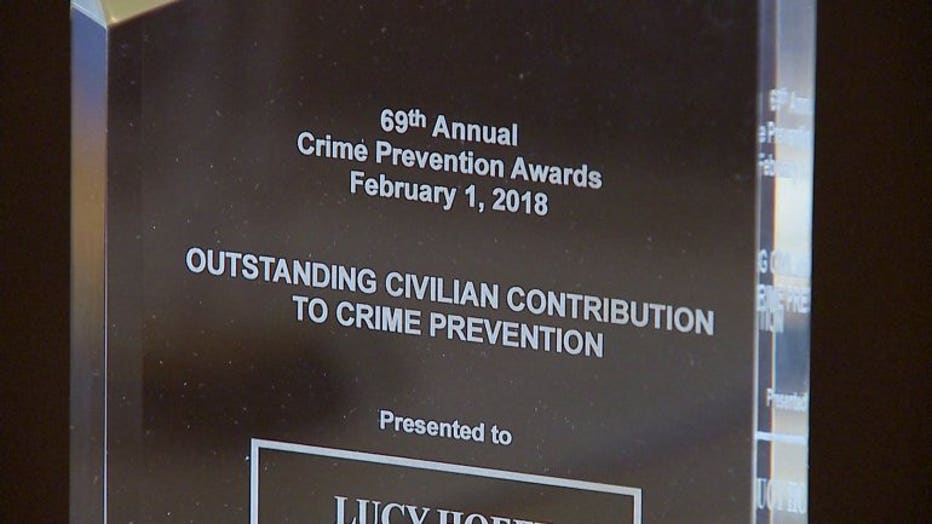 A total of 10 awards were handed out to individuals and organizations recognizing their efforts in the community.

The below individuals were honored during the ceremony, organized by LISC Milwaukee and Safe and Sound, and held at the Wisconsin Club. (This info. according to a news release from organizers):

The award for Outstanding Block Club Involved in Crime Prevention was presented to 1500 S 31st and 32nd Street Block Club:

"The 1500 S 31st and 32nd Street Block Club, led by block leaders Martha Cuenca and Maria Carmona, is an example of how a block club can create shared standards for positive behavior that leads to a safe community. The block club has taken initiative to organize block meetings, parties and projects. Martha and Maria use block events to strengthen the social cohesion of their block and educate their neighbors on crime trends, prevention strategies and reporting instructions. The block club has established a culture where people care for their properties and for each other. Their approach to community safety goes beyond target hardening by creating a culture of pride and ownership and effectively engaging their neighbors to take action."

AAA Wisconsin Traffic Safety to a Community Member Award was presented to MilWALKee Walks by Nick Jarmusz:

"During the initiatives first year, MilWALKee Walks brought business owners, citizens, elected leaders and organizations together to make walking safer for everyone in a year showing large increases in pedestrian fatalities (142% in Milwaukee). MilWALKee Walks wants walking to continue to be a safe activity enjoyed by all from children on their way to school to senior citizens stay healthy. In 2017, "MilWALKee Walktober" included a month of pedestrian safety activities and 39 events to raise awareness around pedestrian safety. The group also co-authored Aldermanic Walk Bike Reports and is currently working to pass a Complete Streets Policy in 2018." 

The award for Outstanding Corporate or Business Involved in Crime Prevention was presented to DJRC Entertainment LLC:

"At just 18 years old, Randle Chavis has proven himself to be a great community partners, helping to unite neighbors for a safer Milwaukee. Randle Chavis, owner of DJRC Entertainment, LLC, has cohosted and provided music for the Youth Voice Stage at the annual Juneteenth Day celebration. His assistance in providing live youth performance opportunities has positively contributed to the festival, as youth become engaged in a constructive talent exhibition. Thanks to Randle Chavis, the influence of the Youth Voice Stage grows, MPD District 5 Officers have reported virtually no arrests associated with the Juneteenth Day festivities. Utilizing his strong social media messages via Snapchat, Instagram and Facebook. DJ RC has developed a positive reputation that allows him to work at many schools in Milwaukee and surrounding communities. He is known a well-known community partner who provides a safe, fun environment."

The award for Outstanding Faith Based Organization Involved in Crime Prevention was presented to Christ St Peter Lutheran School & Church:

"Christ St Peter Lutheran School and Church, located at 2229 W Greenfield Avenue, believes that students, families and congregation members shouldn't feel intimated or afraid of the neighborhood where the school and church are. Omar Bravo, staff at Christ St Peter Lutheran School & Church, is known as a committed community partner, community organizer and resource referral agent. Paul Berger and Pastor Nixon also show their deep commitment to a safe neighborhood. Christ St Peter consistently participates in and takes leadership roles in community efforts, events and activities. The school and congregation have to acquired and installed security cameras – not only for the safety and security of their organization, but also to help in deterring and solving crimes from the surrounding neighborhood."

The Salvation Army Chaplaincy Program Award for Individual in Crime Prevention was presented to Attorney Michael Hupy by Major Tom Meyer:

"Attorney Michael F. Hupy is the senior partner at Hupy and Abraham, overseeing 11 offices in three states. He has built the largest volume personal injury practice in the state of Wisconsin by focusing on optimal results for clients. Attorney Michael Hupy has offered many rewards to help with the arrest and conviction of persons involved in violent crimes. As a longtime Milwaukee activist, Attorney Hupy is deeply involved with the community. Last year he offered three awards totaling over $50,000 involving children who had been shot in their own homes by bullets flying through the wall. Attorney Hupy shared a news conference, 'We cannot tolerate a society in which small children are murdered, where bullets are sure to endanger innocent people in their homes and on the streets.'"

The award for Outstanding Crime Prevention Advocate was presented to Elizabeth Hammer:

"For over 15 years, Elizabeth Hammer has done an outstanding job of community advocacy by building a coalition of residents, City of Milwaukee personnel, the business community, law enforcement and landlords all with the common goal of keeping the community safe. Her commitment to helping residents feel safe and manage their own communities can be found in her tireless leadership as she advocates for the City Wide Block Watch Council. Liz provides administrative and technical assistance to each of the block watch captains in MPD District 4. In addition, Liz has created a working relationship between landlords, Department of Neighborhood Services and the MPD that benefits the Havenwoods Development. On any given day, you can find Liz advocating on behalf of residents for a cleaner community, positive police relations, physical improvements for a safer neighborhood, access to resources and any number of issues a resident may face."

The award for Outstanding Greater Milwaukee Partnership in Crime Prevention was presented to PeppNation, SLC:

"For over a year, a group of partners, including MPD and PeppNation, convened at MPD District 7 to discuss 2017 summer programming in Sherman Park. PeppNation's CEO, Brandon Culpepper, was essential during the summer programming planning process. PeppNation's programming began the summer of 2017 and included activities such as basketball, college tours, biking tours, empowerment seminars lacrosse and even rugby. While this programming took place, MPD District 7 Captain Turcinovic provided uniformed officers to participate. The children participants were thrilled to play games and hang out with the police officers. With the combination of summer programming coordinated by PeppNation and increased police presence, Sherman Park saw a 47% decrease in priority one assignments at and around the park."

The award for Outstanding Community Liaison Officer Involved in Crime Prevention was awarded to Officer Dan Pierce:

"Throughout Officer Pierce's tenure with MPD District 7, he has exemplified the work of a Community Liaison Officer through leadership, support of community partners, and interactions with the community. Officer Dan Pierce has consistently acted as a leader within the District 7 Community Prosecution Unit and ensures MPD District 7's involvement in community events. Officer Pierce has also proven himself as a strong collaborator with MPD partner organizations. Those that work with him know that he is prompt and professional in his response to community members. He is often sitting at his desk, going through voicemails and responding to resident reports. When he is in the community, he gives high-fives and hugs to community members."

The award for Outstanding Civilian Contribution to Crime Prevention was presented to Lucy Hoeft:

"Lucy has been an outstanding citizen helping the Milwaukee Police Department, especially in District 2. She has been an Auxiliary Officer for the past six years and does an outstanding job. Every Auxiliary Officer who works for MPD is required to work a minimum of 40 hours throughout the year. In 2017, Lucy worked more than 800 hours. She also participated in and graduated from MPD's five-week Citizens Academy Program where she learned classroom academics and practical application. Lucy has volunteered her time to work over 20 events on behalf of MPD. As an Auxiliary Officer, Lucy attends every crime and safety meeting each month. When she is not volunteering, Lucy is a part-time Crossing Guard for the City of Milwaukee."

The award for Outstanding Professional Contribution to Crime Prevention was awarded to Sergeant Gregory D. Hunter, Sr.:

"Sergeant Gregory D Hunter, Sr. fully understands that crime prevention does not begin at the scene of the crime. He actively seeks out both youth and adults in need of assistance to connect them with resources within the community including social services, housing, food, clothing or simple caring and emotional support. He maintains a close relationship with those whom he serves, following up to be secure in the knowledge that they have not been left with needs unfulfilled. Following a crime of or tragic loss, he connects with families of victims and ensures that they have the support system in place to see them through the difficult process. Sergeant Hunter never fails to make himself available to those who need him, whether they are citizens in pain or those responding to crime and aiding them, regardless of his official work schedule."

The AAA Wisconsin Traffic Safety to Law Enforcement Award was presented to Police Officer Randolph Bruso by Major Tim Meyer:

"MPD District 5 Officer Randolph Bruso's dedication and commitment to his position has been established by continued assignment on a traffic Enforcement Squad for the past four years. He is deployed in some of the most challenged crime areas in the city, overlapping crime and crash collision hot spots and maintaining high visibility in these designated areas which decreases crime, fear, disorder and major crashes. Officer Bruso's dedication is evident as 50% of his contacts resulted in measures to discourage unsafe behaviors. He is an officer with professionalism, commitment and dedication to his chosen field of law enforcement."