Crews recover body of man swept away in floodwaters in Madison; 11+ inches of rain fell


MADISON —  Searchers on Tuesday recovered the body of a man who was wrenched away from would-be rescuers during flash flooding that forced evacuations around Wisconsin's capital city and cut power to many homes. According to our sister station WMTV, the Dane County medical examiner identified him as James Sewell, 70, of Madison. He died after being swept away in flash flooding near Piping Rock Road and Chapel Hill Road around 9 p.m. Monday, Aug. 20.

More than 11 inches (28 centimeters) of rain fell overnight in places in or around Madison, according to the National Weather Service. The worst of the weather seemed to have passed by midday Tuesday, with the forecast calling for dry conditions Tuesday night and sunshine on Wednesday and Thursday.

"We've obviously had a very dangerous and unprecedented situation," Mayor Paul Soglin said at a news conference. "We've seen snow storms. We've seen ice storms. We've seen torndaoes. Obviously we've never seen a rain like this."

Sewell was driving a car with two passengers near a Madison park on Monday when it stalled in flood waters and was swept into a drainage ditch. The car came to rest nose down and quickly filled with water.

A passerby opened a rear door and helped the two passengers. The female passenger was swept under the water as she climbed out, but the passerby's wife saved her by reaching under and grabbing the woman by the hair.

The male rescuer and another male passerby helped the driver out of the car, but he was sucked under the car and disappeared.

DeSpain said searchers found his body in a retention pond. The Madison Fire Department, which led the search, said the pond is about a third of a mile from where the man was last seen.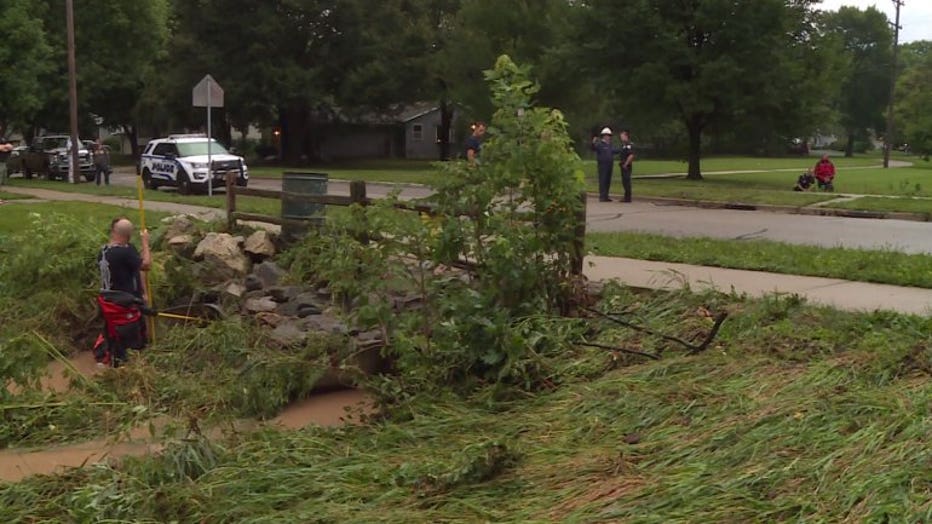 Search for man swept away by floodwaters in Madison


The weather service said it suspects that the downpour broke a Wisconsin record for most rainfall in a 24-hour period. The Madison suburb of Middleton has so far recorded 11.6 inches (29.5 centimeters), but rainfall reports were still coming in. The previous record was 11.7 inches near Mellen in northern Wisconsin, set on June 24, 1946.

Black Earth Creek hit record flood stage with evacuations underway in Black Earth, Cross Plains and Mazomanie, according to Dane County Emergency Management. A temporary shelter was set up at Mazomanie Village Hall.

In Middleton on Tuesday morning, about a hundred people were trapped in a Costco and another hundred were trapped in a Fairfield Inn, WKOW-TV reported. A phone message left with Middleton police late Tuesday afternoon checking on the status of those people wasn't immediately returned.

Dane County Executive Joe Parisi's chief-of-staff, Josh Wescott, said about 100 people had been evacuated in Mazomanie, and sheriff's deputies were using an air boat to reach people still trapped in their homes.

County officials have discovered a number of damaged bridges and culverts and were beginning to put together a full damage report, Westcott said. Parisi declared a state of emergency in the county on Tuesday morning, the first step toward qualifying for state and federal assistance.

Soglin, the mayor, estimated that the flooding has caused at least $250,000 worth of damage to city infrastructure and tens of millions of dollars of damage to private property. He said he expects those estimates to grow as more damage becomes evident in the coming days.

About 6,000 Madison Gas and Electric customers lost power Monday night as the storms hit west of Madison. Power was restored to the majority of those customers by Tuesday morning, but repairs were delayed because the floods made some roads impassable.

The Madison Metropolitan Sewerage District reported receiving numerous calls Tuesday about sanitary sewers overflowing on the city's far west side and in the suburb of Fitchburg.

PHOTO GALLERY