"Crews are moving:" First steel rails in place for Milwaukee streetcar; construction earns mixed reviews


MILWAUKEE -- Crews have set the first steel rails in place for the downtown Milwaukee streetcar on West St. Paul Avenue, with construction scheduled to expand to a second part of the streetcar route this week.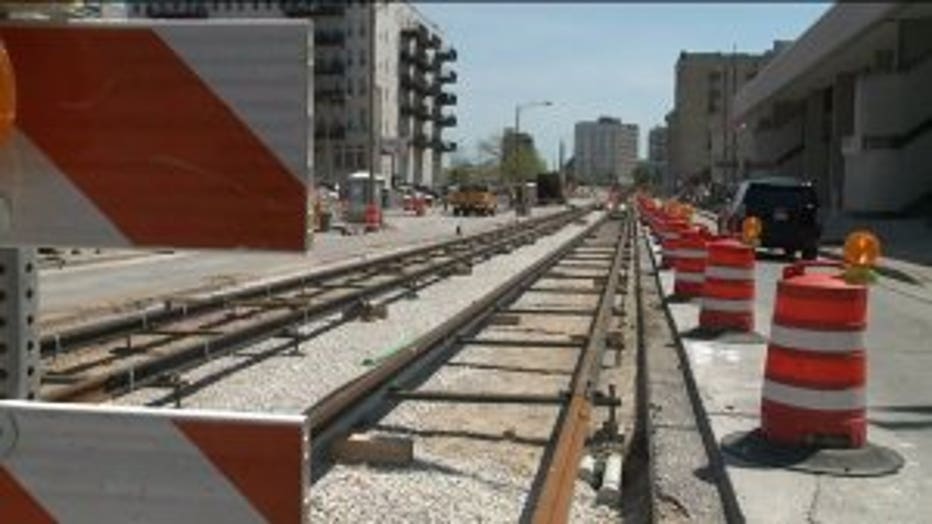 Work underway on Milwaukee streetcar


Traffic is down to a single eastbound lane on St. Paul Avenue so crews can tear up the middle part of the road and lay streetcar track. The work is happening near the southwest terminus of the 2.5-mile route, which extends to the Lower East Side on the other end.

"We're on schedule," said Carolynn Gellings, the project's construction manager. "Fall of 2018 is the anticipated time when we're going to be opening to service."

Crews are preparing to start work on a five-block stretch of North Broadway from Clybourn Street to Kilbourn Avenue on Wednesday. "No parking" signs are already up, and Broadway is a sea of orange construction cones.

Traffic will be reduced to a single southbound lane for a three-month period, and city officials are urging drivers to use Water or Milwaukee streets instead.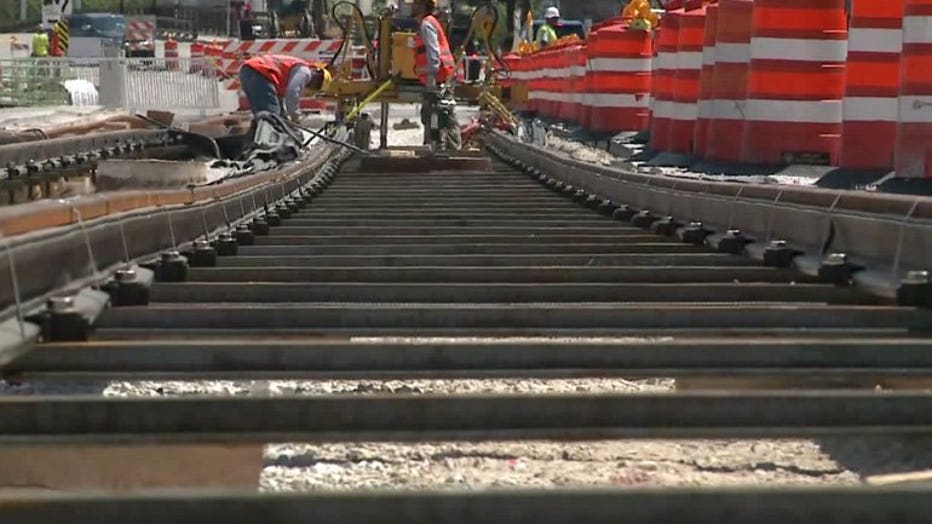 Work underway on Milwaukee streetcar


Business owners who own stores on North Broadway are hopeful that their customers won't forget about them between now and August, when the five-block stretch is scheduled to reopen.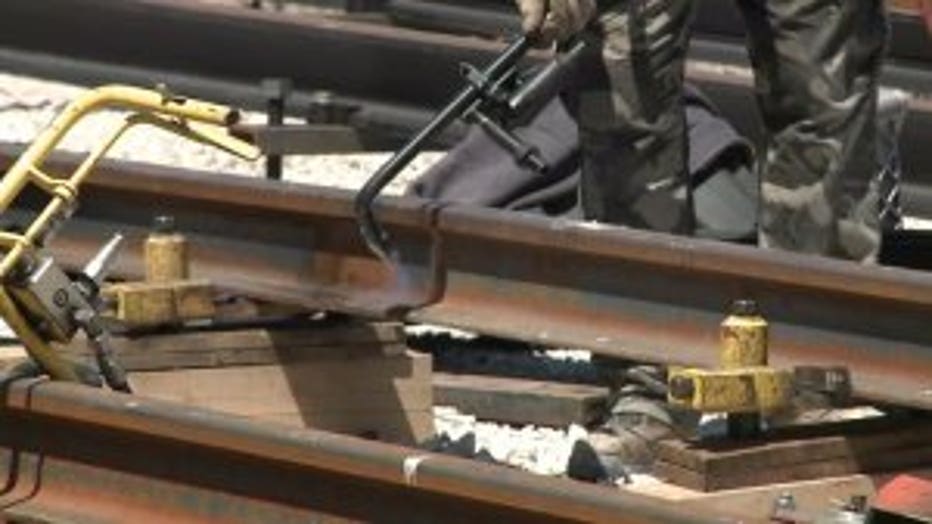 Work underway on Milwaukee streetcar


"We're just going to deal with it as it comes. There's not much we can do about it," said Lorry Powers, whose family owns Powers Jewelry at the corner of North Broadway and East Wisconsin Avenue. The store is offering its customers free parking at a nearby parking garage.

Business owners were hopeful that short-term pain would lead to long-term gain once the streetcar is operating.

"My long-range hope is that some of the empty storefronts will become full of other goods and services, other retail spaces, restaurants; restaurants would be great," said Kerry Shannon, who owns an interior design shop called Residence. "I see tremendous potential."

Business owners said they're satisfied with how the city is providing them with construction updates.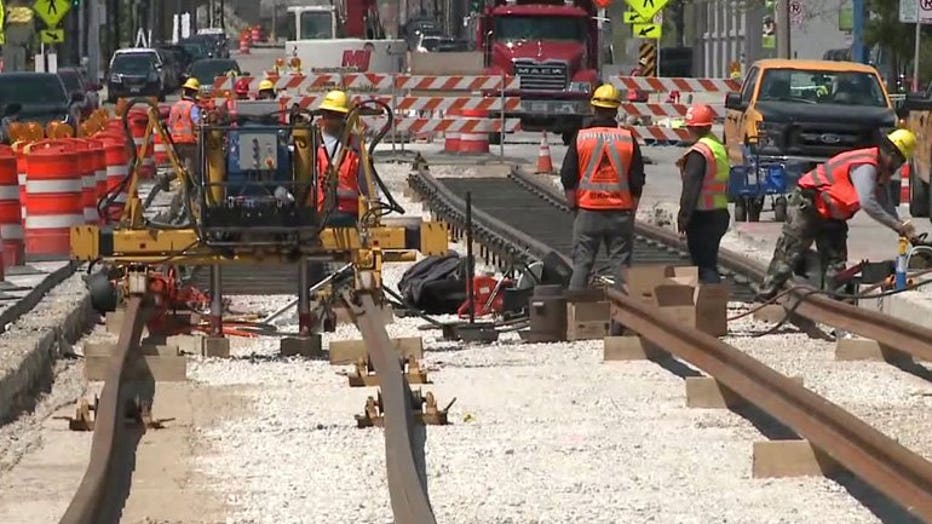 Work underway on Milwaukee streetcar


But on West St. Paul Avenue, workers say they were frustrated that construction work overtook their parking spots.

"They took away my parking, so I've got that issue to deal with," said John Riester, a state employee who works downtown. "(The construction) took our parking places out very quickly, and we didn't have any notice about that."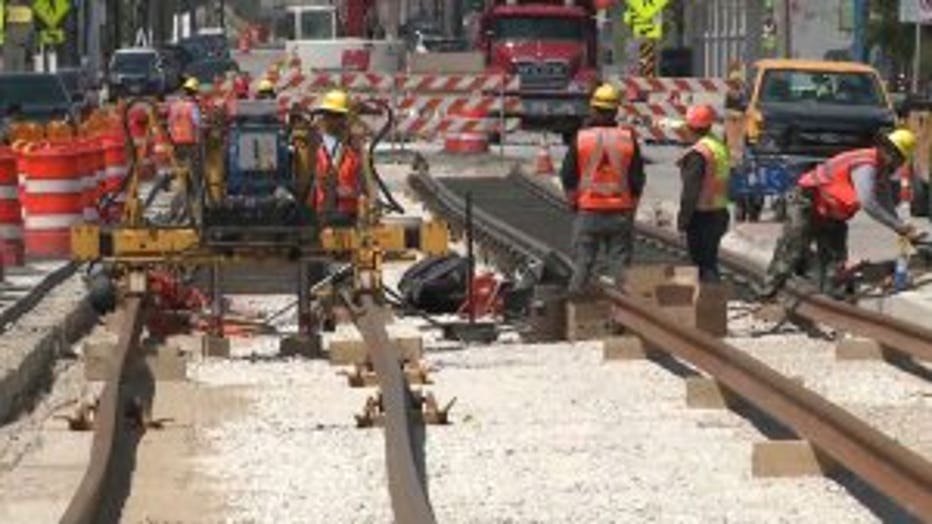 Work underway on Milwaukee streetcar


Gary Goedsch, who lives in a building near the ongoing track work, said he was pleased to see the progress.

"An excellent project. Anything they do downtown is good," Goedsch said.

The $128 million project has been years in the making, and the streetcar's value to the city as a whole has long been debated. Mayor Tom Barrett has been a supporter of the rail project, but leaders in Milwaukee's central city have criticized the streetcar as not helpful to their communities.

Gellings said, once crews lay the track, they put a rubber boot around the rail to insulate it. Crews then install rebar and then pour concrete, a process that will start on West St. Paul Avenue later this week.

Construction has already started on the poles that will support overhead wires that power the streetcar. Platforms, which people will use to enter and exit the streetcar, won't be built until the track is installed, Gellings said.

CLICK HERE to monitor the progress of the Milwaukee streetcar construction.