COMPLETE STATEMENT: Police Chief Ed Flynn addresses firing of officer in Hamilton case


MILWAUKEE (WITI) -- The following is a statement from Milwaukee Police Chief Edward Flynn made on October 15, 2014 regarding the officer-involved shooting of Dontre Hamilton at Red Arrow Park :

"The Milwaukee Police Department has conducted a comprehensive internal investigation into the officer-involved shooting of Dontre Hamilton at Red Arrow Park on April 30, 2014. The Department's continuing authority to conduct internal investigations in these types of incidents is specifically allowed under the new state law requiring the criminal investigation of officer-involved deaths to be led by an outside investigative agency. Today, I will provide you with details of the incident, present the internal charges I have brought against the involved officer, and describe the discipline I have imposed along with the grounds for that discipline.

On April 30, 2014, two MPD officers were dispatched twice – first at 1:52pm and again at 2:09pm – by our Communications Division to respond to a request from an employee at the Starbucks within Red Arrow Park to check the welfare of Mr. Hamilton, who was laying or sleeping on the sidewalk near the Starbucks. Those officers complied with their training and our Departmental policy related to the handling of emotionally disturbed persons (EDPs) and followed relevant training related to the standards required to conduct a pat-down search. Their handling of the complaints involving Mr. Hamilton did not result in any physical contact with him and the officers found no cause for additional police action.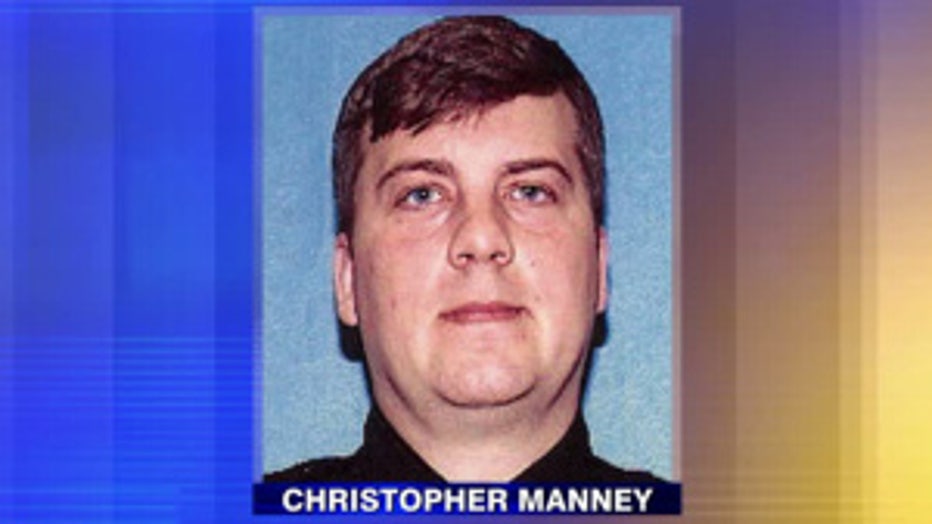 At 3:28pm, Milwaukee Police Officer Christopher Manney, the beat officer for this section of downtown, responded to a voicemail left for him by a desk officer at District One to respond to Red Arrow Park to check the welfare of a citizen based on a complaint from a Starbucks employee. Officer Manney was not aware that the two officers had already twice responded to the park and cleared the calls for service. Upon his arrival, Officer Manney found Mr. Hamilton lying on the sidewalk near the Starbucks. Officer Manney approached Mr. Hamilton, identified himself, and asked Mr. Hamilton to stand up. When Mr. Hamilton stood up, Officer Manney approached Mr. Hamilton from behind, reached under Mr. Hamilton's arms, placed his hands on Mr. Hamilton's chest to conduct a pat-down search, and asked if Mr. Hamilton had any weapons. As Officer Manney began the search, Mr. Hamilton began fighting with Officer Manney and a violent physical confrontation ensued. Officer Manney and Mr. Hamilton engaged in a series of punches and strikes to each others' heads and faces. Officer Manney then attempted to use his baton to subdue Mr. Hamilton, but Hamilton was able to take the baton from Officer Manney. Mr. Hamilton swung the baton at Officer Manney multiple times and struck Officer Manney on the side of the neck with the baton. Fearing that Mr. Hamilton would seriously injure or kill him, Officer Manney transitioned to his service weapon and discharged rounds at Mr. Hamilton to stop the threat. Mr. Hamilton died of his wounds.

Our Code of Conduct requires us to hold ourselves accountable for our actions. Our core values of Courage, Competence, Integrity, Leadership, Respect and Restraint underpin every one of our rules, policies, procedures, awards and disciplinary actions. We must always calibrate our actions based on the circumstances we find ourselves facing. Policing is a difficult and challenging profession in which we are expected to make decisions – sometimes split-second, life-or-death decisions – in ambiguous circumstances with incomplete facts. We know and expect that our decisions will be evaluated. In this case, we have a series of decisions by Officer Manney that resulted in the taking of a human life. While I find errors in the judgment used by Officer Manney, there was no malice in his decisions.

Every internal investigation is conducted and evaluated on the specific facts of the situation being investigated. In this case, we did not simply review the use of force by Officer Manney; we reviewed every aspect of the situation, from the handling of the original call for service to the dispatch of Officer Manney to his approach and contact with Mr. Hamilton to his ultimate use of force.

Every internal investigation also includes an assessment of aggravating and mitigating factors. Specifically, I review the employee's motivation (was the employee acting in his or her interest or in the interest of the public?), the employee's experience (can the alleged judgment error be attributed to the employee's breadth and depth of experience?), whether the alleged error was intentional or unintentional, the employee's past record, both positive and negative, and the degree of harm caused by the employee's conduct.

Christopher Manney, by his own statements in his response to charges, accurately assessed Dontre Hamilton as an Emotionally Disturbed Person (EDP). He made a determination that Mr. Hamilton was dangerous based solely on observations of apparent mental illness, absent any overt actions on the part of Mr. Hamilton. Despite his accurate assessment of Mr. Hamilton as an EDP, Christopher Manney treated Mr. Hamilton as a dangerous criminal instead of following his training and treating Mr. Hamilton as an EDP. Christopher Manney's approach, including an out-of-policy pat down, was not based on individualized reasonable suspicion but on an assumption of his mental state and housing status. This intentional action, in violation of training and policy, instigated a physical confrontation that resulted in a deadly use of force.

Based on the comprehensive internal investigation conducted by the Milwaukee Police Department, I charged Officer Manney with a violation of our Core Value 1.00, Competence, in reference to his out-of-policy contact with Mr. Hamilton which ultimately led to his within-policy use of force. Based on the totality of the circumstances, including the aggravating and mitigating factors I've described, I signed an order terminating Christopher Manney from his employment with the Milwaukee Police Department earlier today."