Community gatherings planned in Milwaukee following Pittsburgh synagogue shooting
MILWAUKEE -- Community gatherings to mourn the lives lost in a deadly Pittsburgh synagogue shooting will take place in Milwaukee.

A shooter opened fire during a baby naming ceremony at the synagogue on Saturday, Oct. 27 killing 11 people. At least six other people were wounded, including four police officers who dashed to the scene, authorities said.

Dobie Thaler, Co-Director at the University of Wisconsin-Milwaukee's Rohr Chabad Jewish Student Center, is in Pittsburgh now, celebrating the Bat Mitzvah of her younger sister, and was blocks away from where the shooting took place.

Chabad UWM, located at 3054 North Hackett Avenue, will hold a student gathering from 12:30 p.m. - 1:30 p.m. Sunday, Oct. 28 to mourn those who lost their lives in the shooting.

The Milwaukee Jewish Federation will also host a gathering for mourners. Announced on Facebook, the Milwaukee Jewish Federation will hold a community gathering to mourn those who were killed on Monday, Oct. 29 at Congregation Beth Israel Ner Tamid -- located at 6880 North Green Bay Avenue in Glendale. The gathering starts at 7 p.m.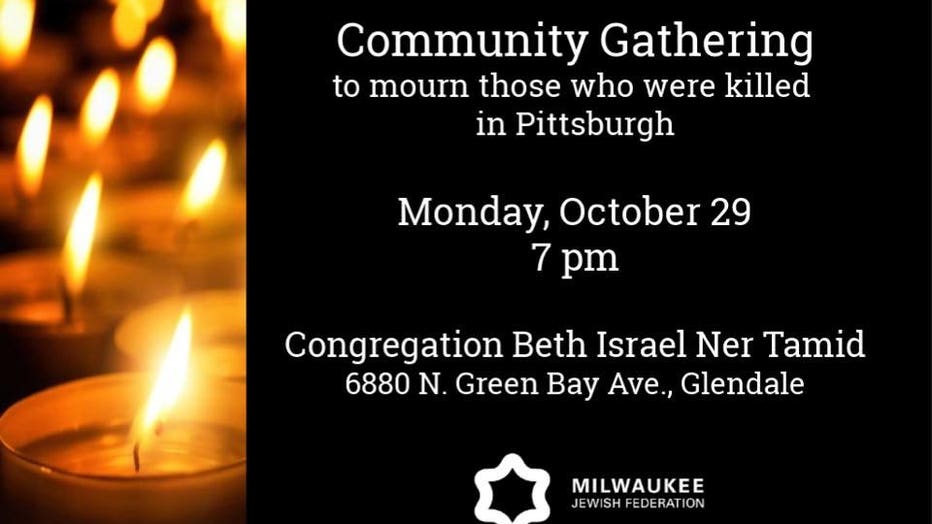 The suspected gunman in the shooting, Robert Browers, has been charged with obstructing the exercise of religious beliefs resulting in death.