Clear photos: One in custody after robbery at TCF Bank in Elm Grove; two others sought
ELM GROVE -- Elm Grove police have released several photos in an effort to identify three suspects responsible for an armed robbery that happened at the TCF Bank on Bluemound Road on Tuesday, February 2nd. On Wednesday evening, February 3rd, we learned one suspect has been taken into custody, and the suspect vehicle has been recovered.

It happened around 11:30 a.m.

Police say the bank was robbed by two suspects, while a third parked outside the front door in the getaway vehicle.

Suspect #1 is described as a black man in his mid 20s, standing 5'6" to 5'7" tall, weighing 160 to 170 pounds. He has short hair and was wearing a black knit hat, with a black jacket and sweatpants. The man was wearing a gray sweatshirt under the jacket. He was armed with a revolver.

Suspect #1, seen in the photo just below, has been taken into custody.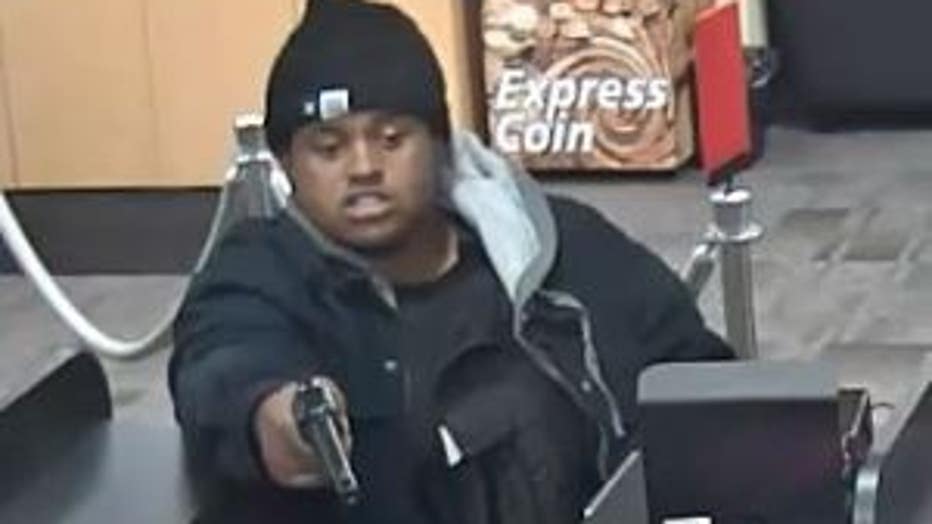 Armed robbery at TCF Bank in Bluemound Road in Elm Grove


Suspect #2 is described as a black man in his mid 20s, standing 5'10" to 6' tall with a thin build, weighing 135 to 155 pounds. He was wearing black sweat pants, a black zip down jacket, a blue hooded sweatshirt under the jacket and black shoes. He was wearing an orange backpack -- and he was armed with a shotgun. He was wearing a mask on his face.

No description has been issued for Suspect #3.

The suspect vehicle is described as a blue 1994 to 2001 Chevrolet Lumina. That vehicle was recovered on Wednesday afternoon.

No weapons were discharged during this armed robbery.

No one was hurt.

The three suspects were able to get away with an undisclosed amount of cash.

PHOTO GALLERY:



If you have any information that could help police in this case -- you're asked to give them a call. A reward is being offered for information leading to the apprehension of the robbery suspects.