CHARGED FOR COMPLAINING?! Kenosha woman takes legal action after online purchase


KENOSHA (WITI) — These days, people everywhere sound off on the internet. You don't have to look hard to find someone unhappy with a service or product writing about it online. However, one Kenosha woman is in a legal battle after an online retailer threatened to charge her for complaining.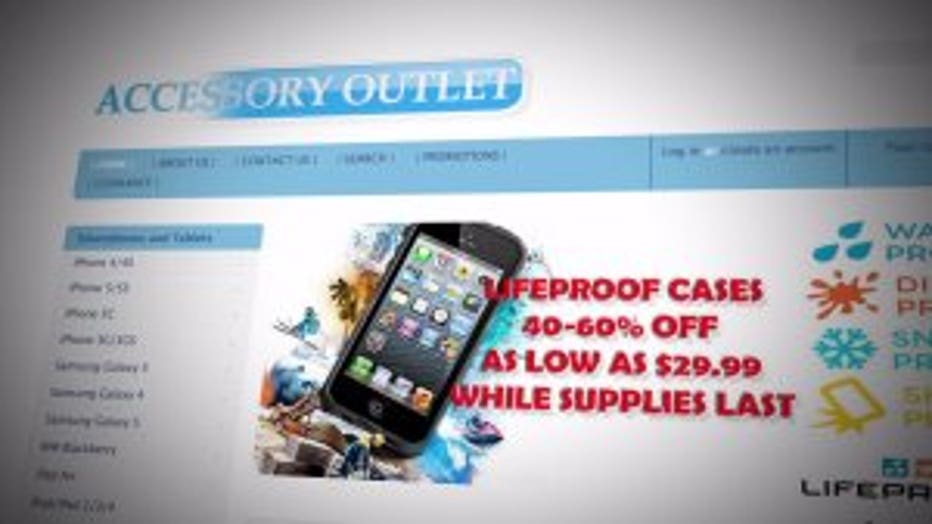 Accessory Outlet's old website, which is now at the center of civil lawsuit.


Cindy Cox said she thought she was making a good purchase through an online retailer, Accessory Outlet, when she tried to order a LifeProof phone case.

"When I was on the website it had like, the Better Business Bureau. It had Angie's List. It had all the right badges that you kind of look for. I never thought that when I ordered it — it would become a problem," Cox said.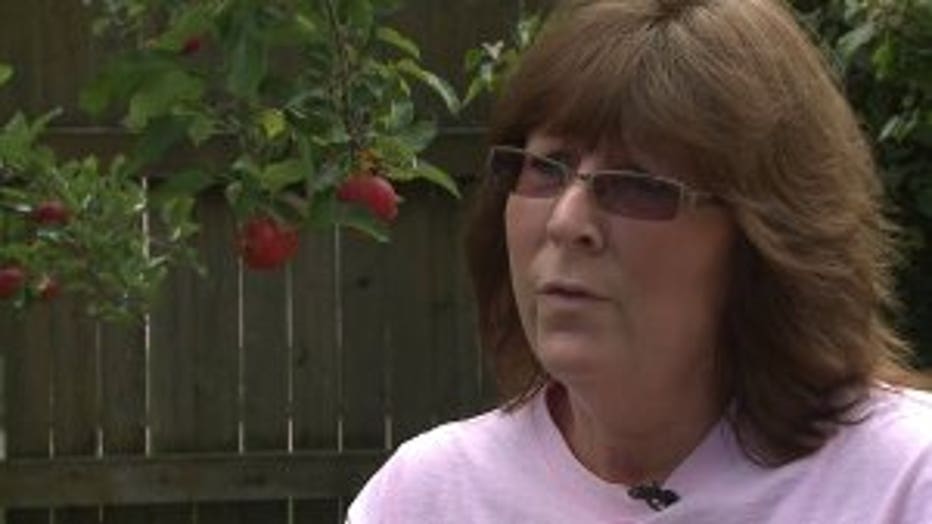 Cindy Cox, Kenosha, was threatened by Accessory Outlet after complaining in e-mail about a product & service.


Cox wanted to buy the LifeProof case for her iPhone 5S, which can sell for up $90 on LifeProof's website. On Accessory Outlet's website, a case claiming to be made by LifeProof was much cheaper.

"It was for $39.94, and I thought, 'oh that's a good deal,'" Cox said.

Cox quickly realized it may not be a good deal after all. The case never arrived and her credit card had already been charged.

Cox sent an e-mail to Accessory Outlet.

"I said 'if you do not send it right away, I will call my credit card company and I will dispute it because I've done it before and I know my rights as a consumer.' That's when he started threatening me with the $250 fine for disputing them," Cox said.

After some e-mails back and forth with the company, Cox finally received the case. It was fake.

"It was cheap plastic -- something you might get your kid to play with a phone or something," Cox said.

Again, Cox reached out to the company via e-mail about the quality of the product, but they weren't responding.

Cox did some research and discovered that Accessory Outlet was not accredited with the Better Business Bureau and had an F-rating. She also learned that the badges from Angie's List and the BBB on the company's website were fake.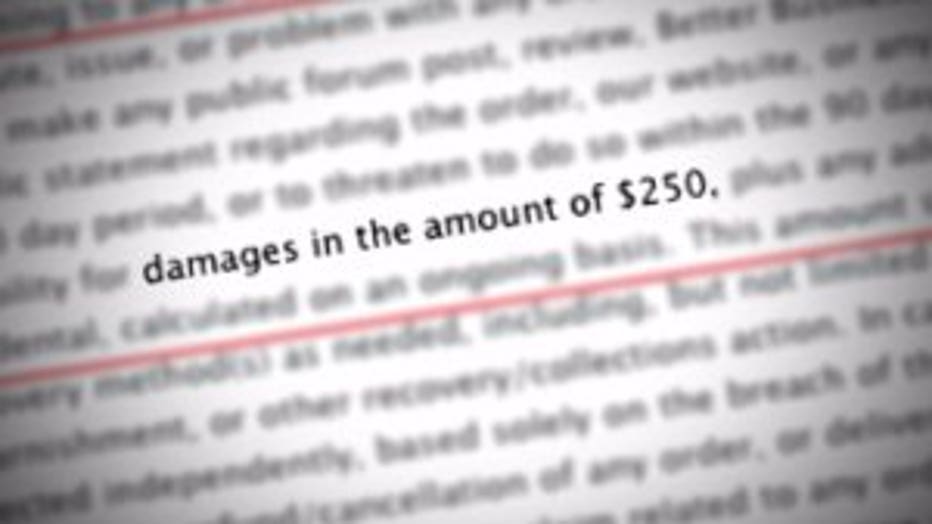 Fine print clause on Accessory Outlet's former website


The whole situation concerned Cox.  Eventually, Accessory Outlet responded to Cox's e-mail. It included even more threats. At one point the company wrote, ". . .you're playing games with the wrong people" and threatened to charge her more money for her negative comments.

"I started getting really scared. Can people really do this?" Cox said.

Some companies try to put non-dispute or non-disparaging clauses in their fine print. They want to protect themselves from consumers who go online and say something that can hurt their business. However, there are defamation laws in place that won't let people publish lies about a company. In this case, Cox only sent e-mails and her complaint was legitimate.

Now, Cox's experience is the center of a lawsuit by Public Citizen litigation group in Washington, D.C. The attorney representing her is Scott Michelman.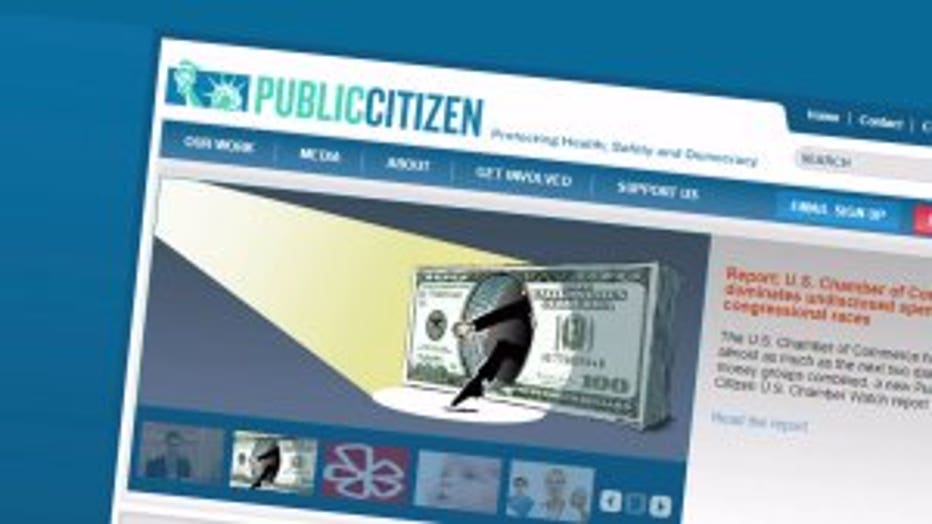 Public Citizen litigation group has filed a civil lawsuit on Cindy Cox's behalf against Accessory Outlet


"In this case, we've got the retail store, Accessory Outlet, really bullying Miss Cox by saying, 'you're playing games with the wrong people' or 'you're making a big mistake,'" Michelman said.

Accessory Outlet's website shut down the day the case was filed. Since then, Public Citizen and FOX6's Contact 6 have been unable to reach the company. But, that's not stopping Public Citizen from moving forward.

"If this does nothing but send a message to this company that they can't engage in these types of tactics without paying some sort of price, either by public relations or having to take their sites down, we will have done some good here," Michelman said.

This is an issue that's getting attention not just from Public Citizen, but from lawmakers as well. The Consumer Review Freedom Act was introduced in the U.S. House or Representatives earlier this year. If the legislation passes, it would outlaw penalizing a customer who complains about a business transaction.

Cox is happy her case is getting heard and hopes that everyone can learn something from her experience.

"You have rights. Don't just sit there and take that from people," Cox said.

You can be proactive the next time you make an online purchase. If you are concerned or questioning an online retailer -- research the company — even if you see badges from places like the BBB or Angie's List. It's wise to cross-reference those with the organizations' websites to make sure they are legitimate.