Cavalier Johnson Milwaukee's 1st elected Black mayor
MILWAUKEE - Cavalier Johnson was elected Milwaukee mayor Tuesday, April 5, a historic victory that makes him the city's first elected African American mayor and first new mayor in nearly two decades.
Johnson beat Bob Donovan, who also lost the mayor's race in 2016 to Tom Barrett.
Barrett left office in December to become U.S. ambassador to Luxembourg.
Johnson watched election results come in with supporters at the Hilton in downtown Milwaukee Tuesday night. He made an appearance around 8 p.m. when the polls closed, shaking hands, taking photos and speaking with those who have helped him throughout this campaign, later addressing those supporters during his victory speech.
Earlier Tuesday, Johnson said he was feeling really good. He voted Tuesday morning at Marshall High School and spent most of the day writing thank you notes to supporters, having lunch at Sherman Phoenix.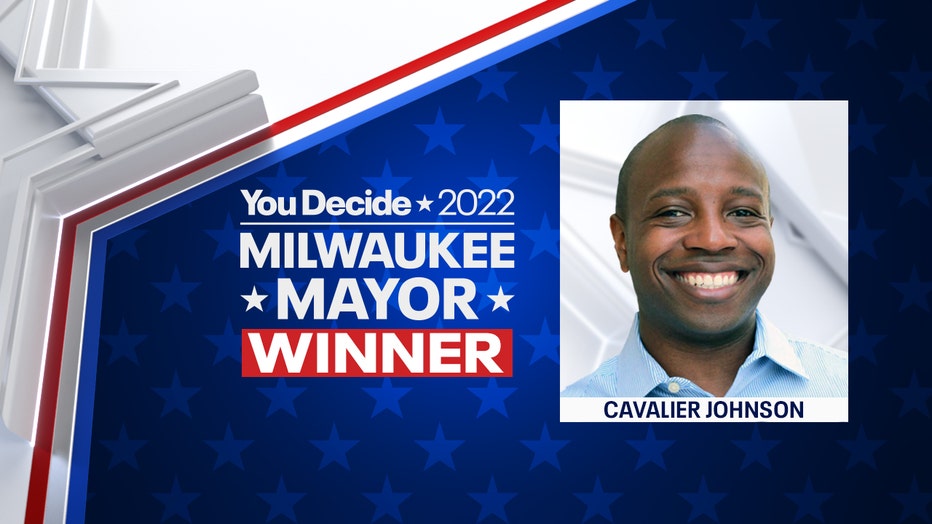 SIGN UP TODAY: Get daily headlines, breaking news emails from FOX6 News
Johnson announced he was going to run in August 2021. At the time, he was Common Council president and became acting mayor when Barrett left office in December.
Johnson encouraged everyone to get out and vote.
"This is the first time we're electing a new mayor in nearly 20 years," said Johnson. "It's really important that everybody raises their voice and let their voice be heard and let their ballot be counted."
His campaign focused on Milwaukee gun violence and reckless driving. Having grown up in Milwaukee, he says he has faced many of the same issues people living in the city are facing today.
Supporters say that is why they believe in him.
"It's one thing when you grew up in the inner city," said Joe Lovett, supporter. "You know the struggles we've been through. You know what's going on, and it's another thing when you be in there, in that fight.  When he was Common Council president he was always in there trying to do positive things."
Reaction
Milwaukee Alderman Michael Murphy
"I want to extend my sincere congratulations and well wishes to Mayor Cavalier Johnson. Yesterday was historic. Not only did the people of Milwaukee elect a new mayor for the first time in 18 years, but Johnson becomes the first African American elected as Milwaukee's mayor, and the first millennial as well.
"I'm confident that Mayor Johnson is the right person for the job. During his tenure as Common Council President, and in his months serving as acting mayor, he has shown a willingness to collaborate, listen to the people, and has already taken steps to address important issues facing our city such as reckless driving, strengthening neighborhoods and repairing our relationship with the state. 
"In the coming weeks and months, I look forward to working with Mayor Johnson to tackle the challenges that are in front of us as we work to build the best Milwaukee possible."