Carroll University, HAWS pair animal behavior students with foster dogs
WAUKESHA, Wis. - Carroll University and the Humane Animal Welfare Society (HAWS) of Waukesha County are teaming up to pair animal behavior students with foster dogs. 
On Tuesday, Jan. 17, students met their new canine friends for the first time at Campus Center. A news release said the dogs have been living in temporary foster homes with Carroll University faculty and staff and came to HAWS in need of sanctuary from a variety of situations. 
"I grew up with dogs, but I've never had one of my own, so this is very exciting," said student Meadow Vinz.
SIGN UP TODAY: Get daily headlines, breaking news emails from FOX6 News
Vinz met Shasta, the pup she will train over the next five months. Seven other students also met the dogs they will be paired with.
"They will be working with the dogs all semester using positive reinforcement to give these dogs a really nice repertoire of skills, so that when they go up for adoption, they're going to be able to fit seamlessly into their homes," said adjunct lab instructor Leann Boucha.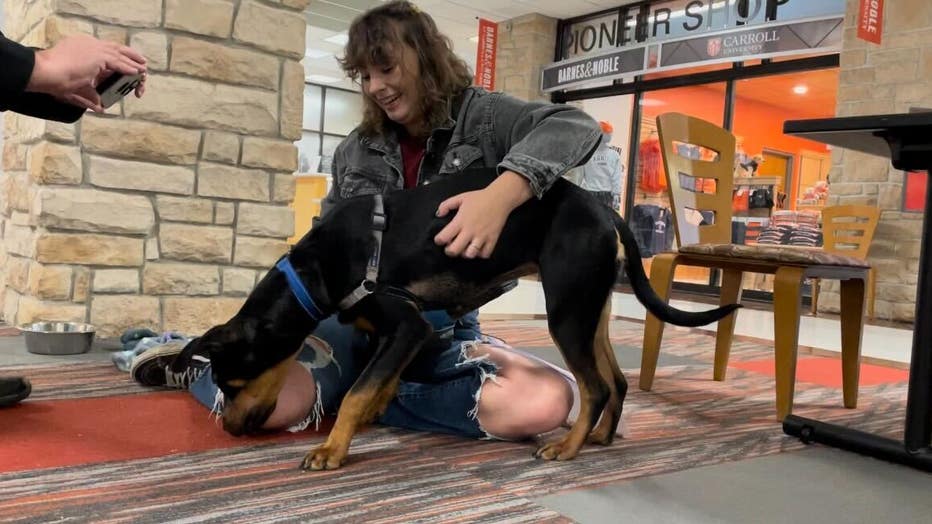 Foster dogs pair up with Carroll University animal behavior students
This marks the fourth time that Carroll and HAWS have organized the exchange, and the number of foster dogs has nearly doubled. The dogs will not only live with the students, but will also go to class and lab – bandanas showing where on campus they are allowed. Boucha said there is no other program like it in the Midwest.
"Sit, down, stay, come when called – but also real-life scenarios to practice in," Boucha said. "This is not just a track for anyone interested in canine training. Some of the students go off to wildlife rehab or zookeeping."
FREE DOWNLOAD: Get breaking news alerts in the FOX6 News app for iOS or Android
Vinz said she always wanted to work with animals.
"I really didn't want to go to vet school. Then I found this animal behavior program, and this class is what sold me on Carroll," she said.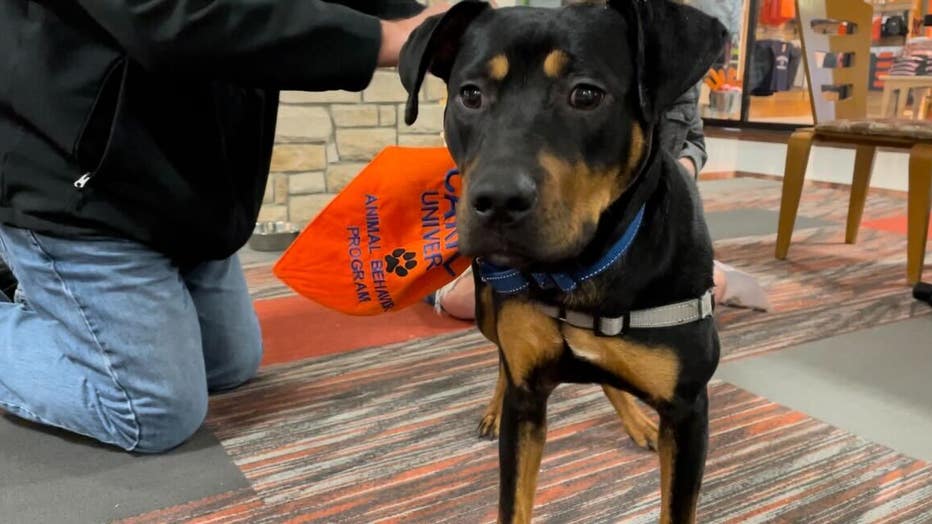 Foster dogs pair up with Carroll University animal behavior students
In May, Vinz will graduate with a degree and a new best friend; she plans to adopt Shasta when the class ends.
"I'm doing this for her, I'm not doing this for me," said Vinz.
The behavior department at HAWS is primarily composed of Carroll alumni, who continue to take on leadership roles within the organization. Other local organizations will also support the matches. Wisconsin-based pet food company Hound & Gatos will sponsor all food and training treats for the dogs participating in the program.