Bridgewater Plaza, shopping center where two journalists were killed reopened Friday
MONETA, Virginia -- The shopping plaza where two journalists were killed during an on-air interview is reopening, two days after the attack.

On Friday morning, August 28th at Bridgewater Plaza in Moneta, Virginia, Gifts Ahoy opened its doors. Manager Lesley Kocsis and another employee unloaded handbags and put merchandise on shelves.

Kocsis says: "It's very bittersweet, but we are glad to be back."

Kocsis says she saw the shooting on live TV Wednesday, about an hour before she normally comes in to work. She told employees to sit tight and not come in and then stayed home herself, close to the TV to follow the news.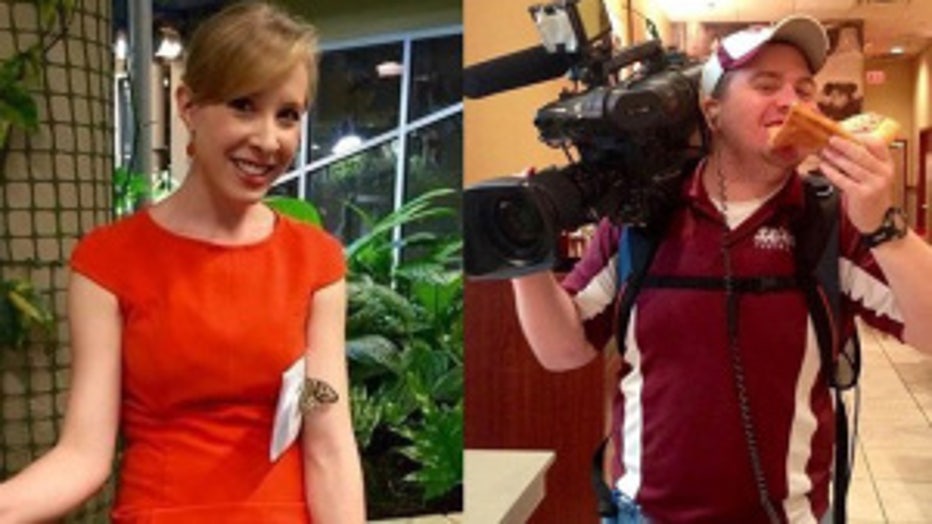 She says: "It's cliche, but things like that don't happen here."

She also it will take time to for the community to process what happened, but they will bolster one another.

A coffee shop at the plaza was the first to reopen after the attack.

Mikey Monaghan and her husband, Patrick, say they had reservations about going to CJ's Coffee and Sandwich Shop on Friday morning because they wanted to be respectful. But then they decided that the community and its businesses needed support.

Mikey Monaghan stopped and put her hand over her mouth when she saw a memorial of flowers to the two victims. WDBJ-TV reporter Alison Parker and cameraman Adam Ward were killed Wednesday during an interview at the shopping center, Bridgewater Plaza on Smith Mountain Lake in Moneta, Virginia.

Mikey Monaghan says she and her husband arrived at their vacation home in nearby Huddleston on Thursday. She says the killings in the normally quiet area around the lake shocked them.

She says: "It's hard to stomach what's happening across the nation. People are using guns to take matters into their own hands."

 

Real estate agent Kay DeGiorgi stopped in front of a memorial to victims Alison Parker and Adam Ward. DeGiorgi put down her purse and stood there for several minutes, silently crying and dabbing her eyes.

DeGiorgi's office is right next to the site of the shooting. She says she's been in the area for 10 years and calls it "the safest place I've ever lived."

She called the third victim, local Chamber of Commerce official Vicki Gardner, the face of Smith Mountain Lake. The shopping center is right on the lake, and DiGiorgi noted that Gardner, who was shot in the back and is in good condition at a hospital, works right nearby.

DiGiorgi says: "Keeping Vicki in our thoughts and prayers is going to help heal the community."

Friday's reopening of Bridgewater Plaza comes two days after 41-year-old Vester Flanagan killed two journalists from a Roanoke TV station where he once worked, and wounded the Smith Mountain Lake Regional Chamber of Commerce official they were interviewing.

Flanagan's hair-trigger temper became evident at least 15 years ago at WTWC-TV in Tallahassee, Florida, said Don Shafer, who hired him there in 1999. Shafer recalled Flanagan as a good reporter and a "clever, funny guy" — but said he also had conflicts with co-workers "to the point where he was threatening people."

Gov. Terry McAuliffe says he has visited WDBJ-TV to lend his support and give condolences to the employees there.

McAuliffe visited Friday and spoke to the media outside of the station. He talked about his support for universal background checks for gun purchases and said "there are too many guns in America."

But McAuliffe, himself a gun owner, also says the gunman who killed to TV station employees had passed a background check.

McAuliffe said he had spoken to the father of slain TV reporter Alison Parker and he also wants to help advocate for better background checks.