Boston Marathon bombings: More details, more questions


(CNN) -- Within a day of the Oklahoma City bombing, officials had named their suspect: Timothy McVeigh. Within two days of the 9/11 attacks, investigators had zeroed in on al Qaeda as the perpetrator.

But as loved ones mourn the deaths of three people and dozens remain hospitalized from dual bombings at the Boston Marathon, two questions continue to hound authorities: Who triggered the attack, and why?

Even for seasoned investigators, the theories run the gamut on whether Monday's attack was an act of domestic or foreign terrorism.

"All of the talking heads that discuss this incident and incidents like it, if your experience and your expertise is Middle East terrorism, it has the hallmarks of al Qaeda or a Middle East group. If your experience is domestic groups and bombings that have occurred here, it has the hallmarks of a domestic terrorist like Eric Rudolph in the 1996 Atlanta Summer Olympics bombings," former FBI Assistant Director Tom Fuentes said.

"I've been to both. I've run bomb scenes in Iraq and also in the U.S. It has the hallmarks of both domestic and international (attacks), and you can see either side of that."

While the answers remain uncertain, new information continues to surface.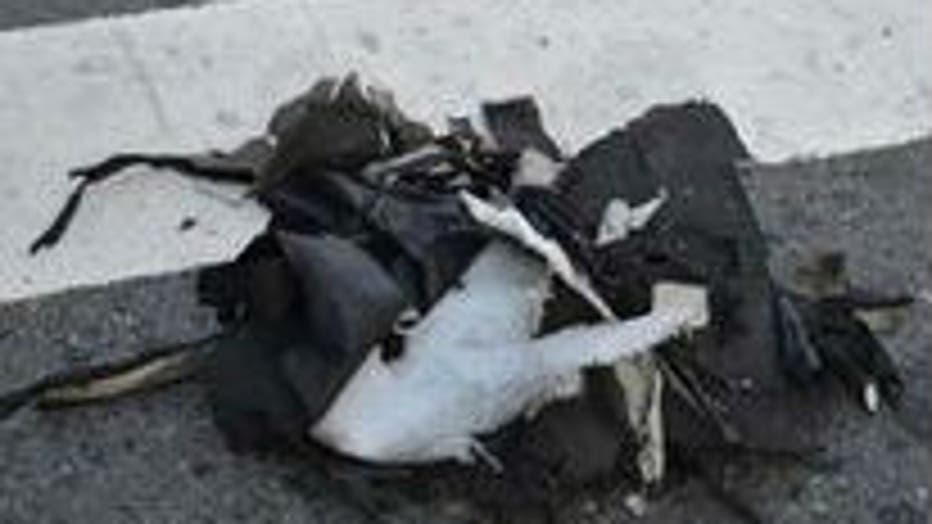 Remaining pieces of the bomb that exploded at the finish line of Monday's Boston Marathon on April 15, 2013.


The bombs

The two bombs, which exploded within 12 seconds of each other, killed three people and wounded 183.

One was housed in a pressure cooker hidden inside a backpack, the FBI said in a Joint Intelligence Bulletin. The device also had fragments that may have included nails, BBs and ball bearings, the agency said.

The second bomb was also housed in a metal container, but there's not enough evidence to determine whether it was also in a pressure cooker, the FBI said.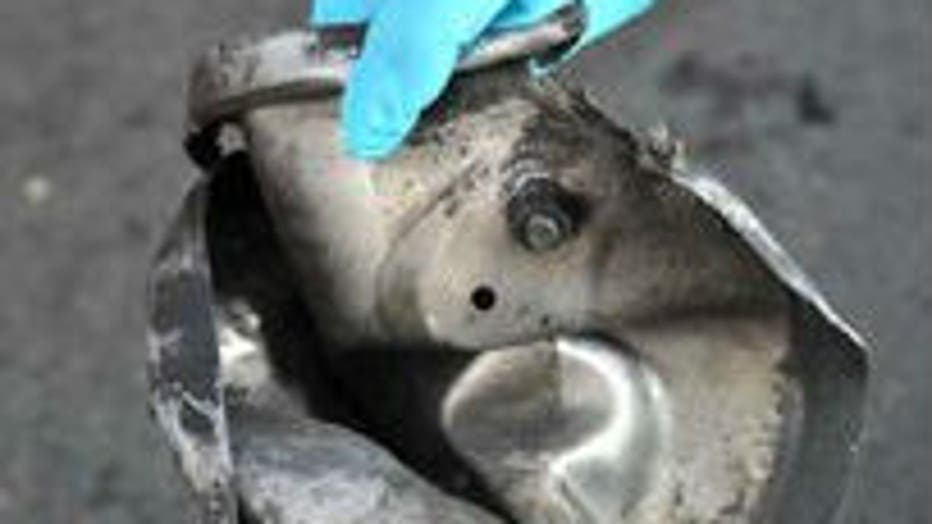 Remaining pieces of the bomb that exploded at the finish line of Monday's Boston Marathon on April 15, 2013.


The U.S. government has warned federal agencies in the past that pressure cookers -- airtight pots used to quickly cook or preserve foods -- have been packed with explosives and shrapnel and detonated with blasting caps.

Photos obtained by CNN showed the remains of a pressure cooker found at the scene, along with a shredded black backpack and what appear to be metal pellets or ball bearings.

Scraps of at least one pressure cooker, nails and nylon bags found at the scene are being sent to the FBI's national laboratory in Virginia, where technicians will try to reconstruct the devices, the federal agent leading the investigation said Tuesday.

The pieces recovered so far suggest the devices could carry 6 liters (1.5 gallons) each, a Boston law enforcement source said. The parts found also include a partial circuit board, which would be used to detonate a device.

A law enforcement official said Monday's bombs were likely detonated by timers. But the FBI said details of the detonating system are still unknown.

The hunt for the attacker

The attack left Boston police with "the most complex crime scene that we've dealt with in the history of our department," Commissioner Ed Davis said.

Authorities are sifting through more than 2,000 tips and a mass of digital photos and video clips, but are asking for the public's help in providing additional leads and images.

"Someone knows who did this," said Rick DesLauriers, the special agent in charge of the FBI's Boston office. "Cooperation from the community will play a crucial role in this investigation."

DesLauriers asked the public to report anyone who talked about targeting the marathon or showed interest in explosives. He urged anyone who might have heard the sounds of explosions in remote areas -- possibly by someone testing a bomb -- or saw someone carrying "an unusually heavy, dark-colored bag" around the time of the attack to come forward.

Exactly who wanted to cause mass destruction -- and whether they acted alone or as part of a group -- remain a giant mystery.

"We really don't know if it's a foreign or domestic threat," said Rep. Michael McCaul, R-Texas, chairman of the House Homeland Security Committee. "We don't know whether this was a homegrown terrorist or part of a wider conspiracy."

And the possibility of a "lone wolf" attacker has some in the intelligence community concerned.

"This is what you worry about the most," a source with knowledge of the investigation said. "No trail, no intelligence."

Clues from inside the hospital

As medical personnel scrambled to treat the wounded, they found disturbing pieces of evidence that suggest the terrorist wanted to maximize the suffering.

Dr. George Velmahos, head of trauma care at Massachusetts General Hospital, said his team found items such as pellets and nail-like objects inside patients' bodies.

"They are numerous. There are people who have 10, 20, 30, 40 of them in their body, or more," Velmahos said.

While most of the patients treated at Brigham and Women's Hospital were injured by "ordinary debris," three were wounded by "perfectly round objects" that were very uniform, consistent and metallic, the hospital's chair of emergency medicine said.

Dr. Ron Walls also said one patient had more than 12 carpenter-type nails.

"There is no question some of these objects were implanted in the device for the purpose of being exploded forward," he said.

A traumatic road ahead

Candace Rispoli was cheering on a friend in the race when the festive atmosphere turned into a "terrifying hell."

"One of my best friends ... was actually trampled and thrown to the blood splattered ground when it first happened," Rispoli told CNN's iReport. "She was able to get up and keep running, but when I turned around to seek all my friends, I could not see her and panicked."

Even though Rispoli suffered only minor injuries, the attack has changed her life forever.

"I know I personally will never participate in an event of this nature in a city in fear that something like this could happen again. My hands have still not stopped shaking," she said.

"I keep replaying the moments of terror over and over in my head and am just still in utter shock. Always seeing terrible things of this nature happen all over the world on TV, my heart would always go out to those directly affected. But I never imagined in a million years I would be a spectator at the Boston Marathon running for my life."




CNN's Dave Alsup, Henry Hanks, Susan Candiotti, Rande Iaboni, Gloria Borger and John King contributed to this report.