Biden nominates Milwaukee Mayor Barrett for foreign policy role
MILWAUKEE - President Joe Biden on Wednesday, Aug. 25 nominated Milwaukee Mayor Tom Barrett to serve as a key leader on U.S. foreign policy and aid.
According to a White House news release, the president's nomination is for U.S. Ambassador to Luxembourg.
"As a lifelong Milwaukeean, I will bring the values of our community to this new posting," Barrett said.
SIGN UP TODAY: Get daily headlines, breaking news emails from FOX6 News
Barrett said he is honored by the nomination, and he will be serving as mayor for a while longer. The White House nomination goes to the U.S. Senate where the Committee on Foreign Relations will host a hearing and vote. The full Senate would then need to confirm Barrett as ambassador. It is at that point that the mayor said he would resign from his current post.
"I will continue to focus my full attention on mayoral duties. My obligation is to the people of this great city," said Barrett.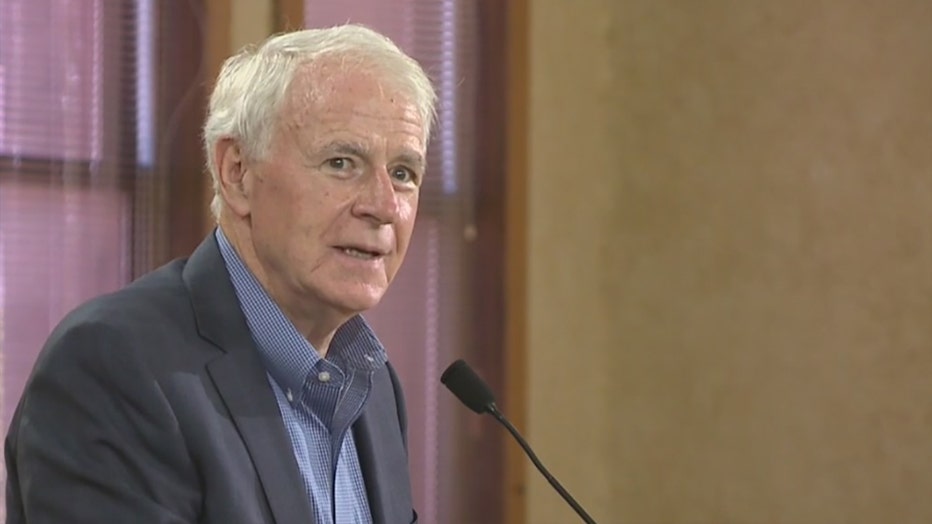 Milwaukee Mayor Tom Barrett
Barrett, who has been Milwaukee's mayor since 2004, is currently the nation's longest-serving "big city" mayor, the White House said. 
"I think there will be considerable chaos, confusion and uncertainty for the next 90, 120, 180 in the city," Alderman Robert Bauman said of Barrett's possible departure. "The new mayor, whoever he or she may be will face a boatload of challenges, which will have a major impact on the direction that the city goes."
FREE DOWNLOAD: Get breaking news alerts in the FOX6 News app for iOS or Android.
Upon the mayor's resignation, Common Council President Cavalier Johnson would take over as Milwaukee's acting mayor. The Common Council would then have to host a special election. Johnson would become the second African-American acting mayor in Milwaukee history. Marvin Pratt was acting mayor for four months in 2004 and was defeated by Barrett.
When then-Mayor John Norquist resigned in 2004 he had been the longest-serving mayor at 16 years. Barrett's resignation would come after 17 years.
Official statements
Mayor Tom Barrett
"I am proud and honored to be nominated by President Biden, and if confirmed by the Senate I look forward to serving as Ambassador to Luxembourg, a longtime NATO Ally and friend of the United States. Until then, I look forward to continuing to serve as mayor of Milwaukee, and will work hard as ever to lead our city through the challenges we face as we work together to build our city back better than ever. Being the Mayor of Milwaukee has been the honor of my life. Milwaukee is where I was born, is where I raised my family, and will always be my home. I love this city"
Common Council President Cavalier Johnson
"In nominating Tom Barrett to serve as a U.S. Ambassador, President Biden has chosen a proven leader with great experience to represent our nation's interests and lead the U.S. embassy located in Luxembourg City.
"Tom has a long track record of success, stretching from his time as a state legislator, to his honorable service in Congress, to leading our city as one of the longest-serving mayors in America. His wealth of experience will serve our nation well as he works to deepen our relationship with one of America's allies.
"On behalf of the Milwaukee Common Council, I congratulate the Mayor on his appointment.
"We will continue to work closely with the Mayor during this time of transition. Until he decides to step down he will remain in that position, and the business at City Hall will continue."
Milwaukee County Sheriff Earnell Lucas
"I congratulate Mayor Barrett for his nomination by President Biden to be the next United States Ambassador to Luxembourg. He has served our city with distinction for 17 years. I wish him, his wife, Kris, and his family the very best."