'Beyond unacceptable:' Falls project misses deadline in run-up to election


MENOMONEE FALLS — A prime piece of real estate. A $4-million dollar tax incentive.  And a project that is way behind schedule.

FOX6 Investigators show you how a controversial development in downtown Menomonee Falls could be an election issue on Tuesday, April 3rd.

In a village that derives its very name from the cascading waters of the Menomonee River, the Main Street real estate along its western bank carries special meaning.

"That piece of property is arguably the best piece of property in our entire community," said Steve Welcenbach of the Menomonee Falls Taxpayers Association.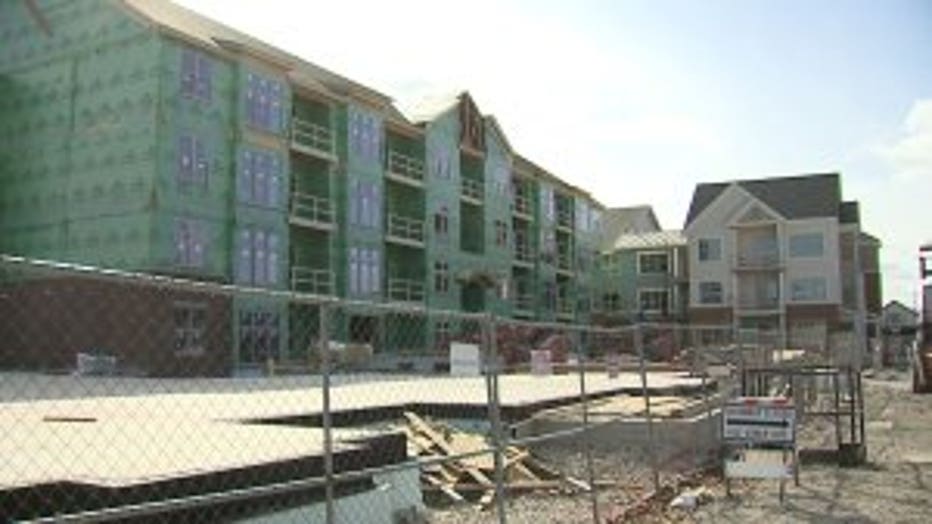 Riverwalk on the Falls is a 114-unit apartment complex comprised of three buildings that were supposed to be completed by Dec. 31, 2017.


The site of what will soon be a luxury apartment complex was, in recent years, an abandoned bank.

"We had this behemoth of a building on Main Street," said David Glasgow, Village Trustee.

Glasgow said the old bank building was 'blighted.'

"Nobody wanted to touch it," he said.

When it comes to private development, blight is a crucial word because it opens the door to massive tax breaks.

"I don't think it was rundown or it was in bad shape," said Katie Kress, Village Trustee.

"The bank was in no way blighted," said Jeremy Walz, another Trustee.

"Really? The best piece of real estate in this community?" Welchenbach said. "If you've got to give incentives to get that developed then you've got other problems in your community."

In 2015, the Falls Village Board narrowly approved a $3.9-million tax incentive for a 114-unit apartment complex. The vote was 4-3. David Glasgow voted for it.

"There's excitement in the downtown area," he said.

Jeremy Walz voted against it.

"I would've loved to have seen a brewpub, some sort of bar or restaurant," he said.

On Tuesday, April 3rd, both are running for Village President.

"This just was not what our village needed," resident, Michelle Pierce said.

In September of 2016, Riverwalk on the Falls started construction and soon after, residents like Michelle Pierce started complaining.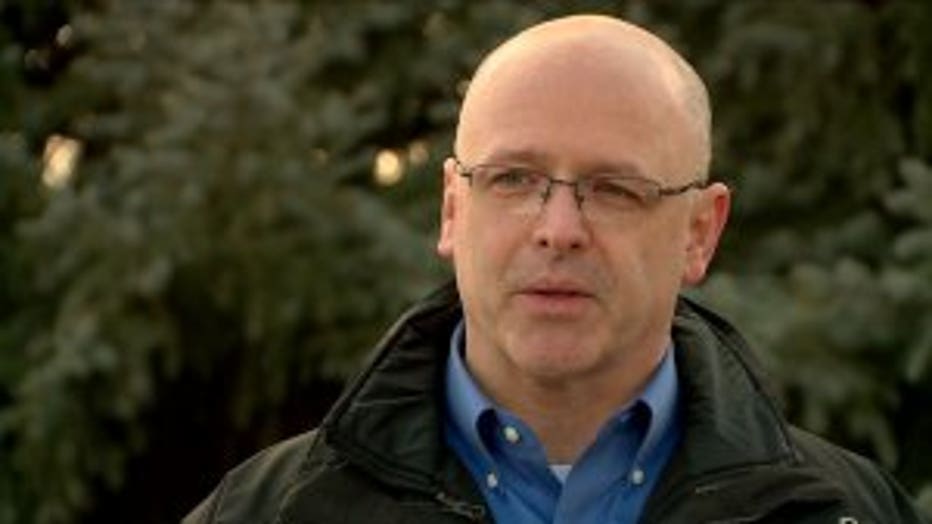 Village Trustee David Glasgow voted for the project, including a $3.9-million dollar tax incentive, in 2015.


"All I see is that building in my face," she said.

"Don't know that we quite needed the monstrosity that this thing is," said another resident, Crystal Goodwill.

Walz says he's heard similar complaints.

"It's too big and it's too close to the street," Walz recalled hearing.

But the number one question he now gets is -- when will the project finally be done?

"It's taken a long time, that's for sure," Walz said.

And that's a problem because the tax incentives in the deal were contingent upon the building being ready for occupancy by December 31, 2017.

"This is something that fell through the cracks," said Paul Tadda, Village Trustee.

Last month, Tadda issued a press release declaring that Village Manager Mark Fitzgerald "forgot about" the developer's deadline.  It's a claim the village manager denied by email when asked about it by the FOX6 Investigators. Tadda, who also received the message, confronted the Village Manager in a reply, insisting Fitzgerald had told him personally by phone that he "forgot" the deadline.


Village Trustee Jeremy Walz voted against the project in 2015, calling it a "prime location" that did not need a $3.9-million dollar taxpayer incentive.


"I want to know how it happened, how it was missed, how we were not informed," Tadda said.

On March 19th, the Menomonee Falls Village Board called a special meeting. The board discussed the delayed development in closed session, then came back before the public to vote on a new agreement.

"We need some additional time," Wimmer said.

Developer Mark Wimmer addressed the board, explaining that his company ran into unexpected issues with bedrock, water infiltration, and site access, all of which put the project behind schedule. The board agreed to cut him a deal. They reduced the total tax incentive by $100,000 in exchange for a new completion deadline of May 2019.

"That's beyond unacceptable," Goodwill said.
"That's another entire year plus," Pierce said.

But it's what Trustee David Glasgow said just before the vote that caught some of his colleagues off guard.

"We've been getting regular status updates from Mark Fitzgerald about the delays and worker shortages," Glasgow said in comments addressed to the developer during the meeting.

His fellow trustee, Katie Kress, said she does not recall any updates given to the board about project delays.

"I was surprised," she said. "I don't believe that is an honest statement."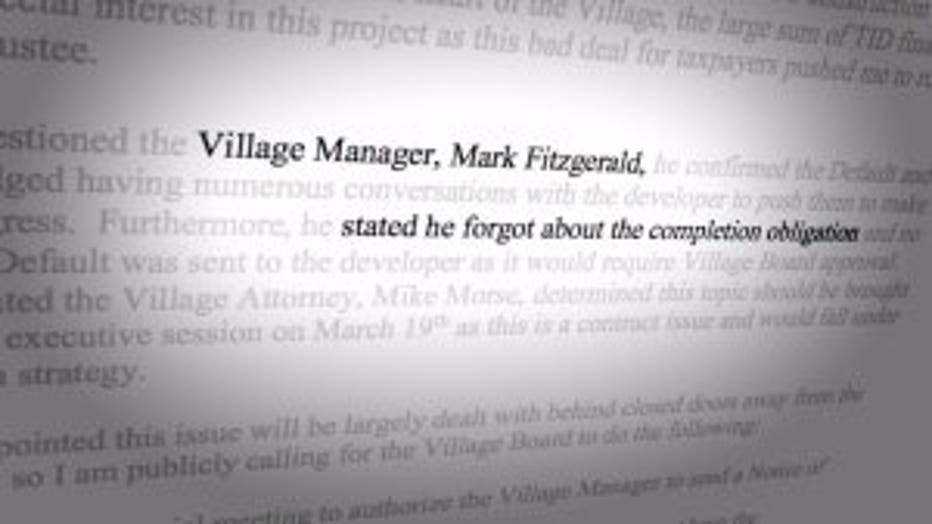 Trustee Paul Tadda issued a press release in late February, stating that the Village Manager had forgotten a key deadline for completion of the project.


Walz also says no updates were given to the board.

"I don't ever recall getting an update on these delays that were happening,."

But in an interview with FOX6 Investigators, Glasgow doubled down on that claim.

"All seven of us have known for quite some time - we're talking 6,7,8 months - of the delays involving the developer and what they were experiencing," he said.

"Were you getting emails? Were you getting memos? How were you getting these updates?" asked FOX6 Investigator Bryan Polcyn.
"In meetings," he replied.

What meetings? Glasgow said it was discussed in at least one closed session in January and possibly open sessions of the Community Development Authority. However, a FOX6 Investigators review of Menomonee Falls Village Board records shows the Riverwalk on the Falls project hasn't appeared as a discussion item on any meeting agenda since 2016 -- open or closed. And Glasgow never did specify a particular meeting in which the delays were discussed.

"I would not have pursued going after Wimmer if I knew there was delays," Kress said.

The delayed construction of a project with substantial tax incentives is a sore subject in Menomonee Falls, which is still reeling from an $18-million dollar loan to build the Radisson Hotel several years ago. The hotel's developers took the loan, then filed for bankruptcy before paying the village back.

"Everybody says this is the Radisson 2.0," said Pierce."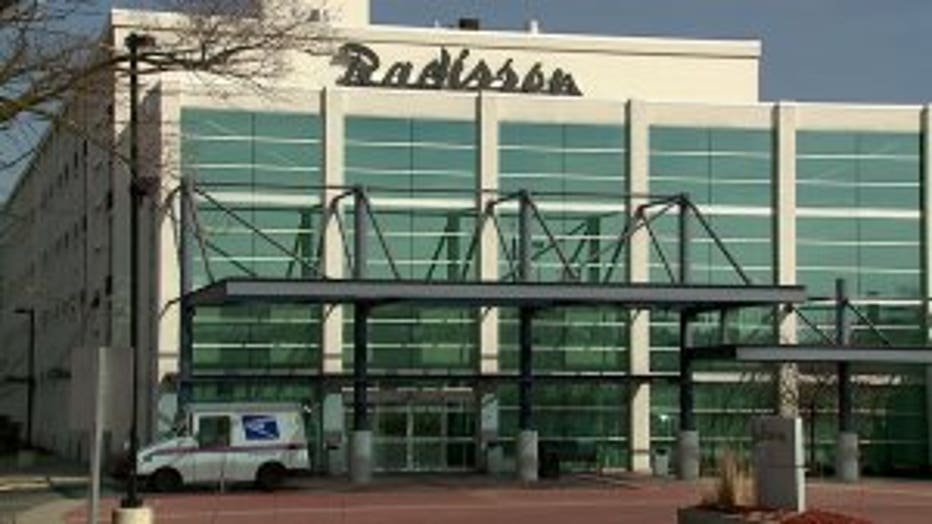 Some residents compare the Riverwalk delays to the once-troubled Radisson hotel, whose original owners defaulted on an $18-million dollar loan from the village. Village Trustee Katie Kress says they are "different situations."


But Kress says those comparisons miss the mark.

"These are different situations," she said.

The hotel development involved tax money up front, while the Riverwalk deal involves a refund on future tax payments once the project is complete -- as part of

a tax incremental financing agreement. Mark Wimmer assures the village his project is on solid financial ground.

"The project is 100% financed," Wimmer said.

If only it were 100 percent finished.

In an email to FOX6 News, village manager Mark Fitzgerald says he did not "forget" about the construction deadline, but he declined to explain why the deadline was allowed to pass without action until after Trustee Tadda's press release. Fitzgerald writes that he discussed that in closed session and cannot elaborate further.


As part of the Riverwalk project's new timeline, the apartment complex will be completed in stages. The south wing and center core section are expected to be open for tenants by the fall of 2018, while the north wing is slated for completion by spring of 2019.