Barn a total loss after four-alarm fire in the Town of Jackson
TOWN OF JACKSON -- A barn in the Town of Jackson was a total loss after a four-alarm fire Thursday afternoon, March 17th. The fire affected a barn on Bridge Road.

The call for this fire came in around 2:45 p.m.

According to the Town of Jackson Fire Department, the fire was upgraded to a four-alarm fire due to the need for water.

There were some minor explosions set off by the fire -- possibly from fuel tanks.

The barn was located approximately 100 feet north of a home, and there were other outbuildings near the barn.

The Jackson Fire Department was paged and quickly upgraded the fire to call in additional departments, including: The West Bend Fire Department, Slinger Fire Dept, Germantown Wisconsin Fire Department, Newburg Fire Department, Richfield Volunteer Fire Company, Cedarburg Fire Department, Hartford Fire & Rescue Wisconsin, Fillmore Fire Department, Saukville Fire Department, and Boltonville Fire Department responded to assist.

The first responding deputy reported smoke and flames coming from a southeast corner of the barn.  The barn was 40 feet by 110 feet in size, which was detached from the residence.

Firefighters began working on extinguishing the fire, and by approximately 4:15 p.m. it was extinguished.

The shed and contents were a total loss.

It is estimated that the barn and contents had a value of $200,000.

The damage was contained to the barn. There was no damage to the residence or any other outbuildings.

The barn was housing for two goats and a pig. They all escaped uninjured.

The origin of the fire is under investigation.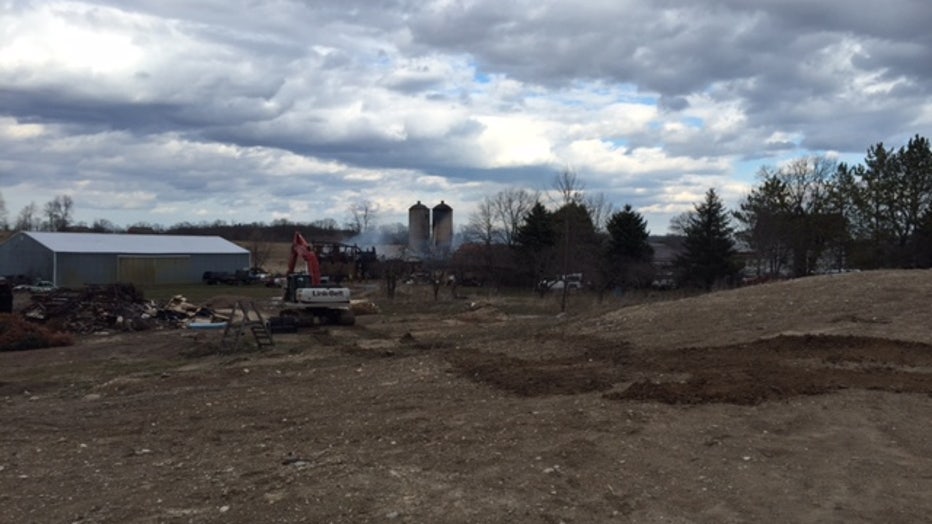 Barn fire in Town of Jackson