Artist's botched attempt to restore Jesus statue upsets parishioners


SUDBURY, Ontario – A Canadian artist's attempt to fix a vandalized baby Jesus statue has parishioners shocked and upset, according to CBC News.

The statue sat headless for a year until recently, when the well-meaning resident tried to repair baby Jesus using terra-cotta clay, despite the statue's white color.

"It really is shocking to the eyes because of the big contrast in color," priest Gerard Lajeunesse told the station.

The statue outside the Sudbury, Ontario church has been vandalized before, according to Lajeunesse, but he's always been able to reattach the head.

"This time we looked high and low. No head. No Jesus," Lajeunesse said.

A custom-built replacement would have cost up to $10,000, a sum the church couldn't afford – especially if the vandals were to return.

So when a concerned local artist offered to fix the statue, Lajeunesse agreed.

She worked for hours trying to rebuild Jesus' head, but had a tough time keeping the clay from falling off. The new head, which has been likened to a Simpsons character, also proved no match for the rain, and began eroding in days.

Meanwhile, Lajeunesse says parishioners' reactions have been a mix of hurt, surprise and disappointment. He called the terra-cotta Jesus a temporary "first go" and hopes that everyone will be pleased with the final result.

It's not the first time that a well-meaning person's attempt to fix a religious artifact has gone sideways.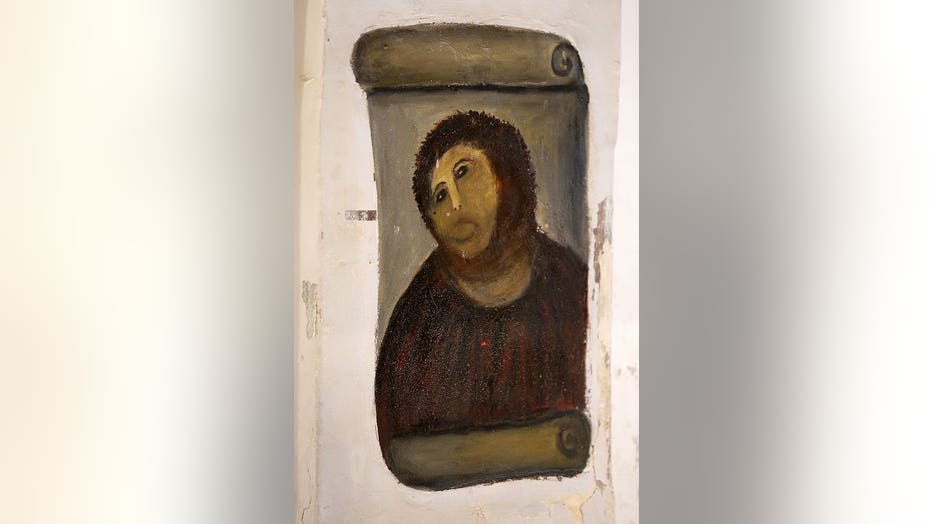 An elderly woman's catastrophic attempt to "restore" a century-old oil painting of Christ in a Spanish church has provoked popular uproar, and amusement. (CESAR MANSO/AFP/GettyImages)


A Spanish woman in her 80s received international attention for her botched attempt to touch up a century-old "ecce homo" fresco depicting Jesus in a crown of thorns.

She later admitted that it was her favorite representation of Jesus at the Santuario de la Misericordia church in Borja, and she was frustrated when moisture caused some of the image to flake off.

She tried to restore the painting on her own, and the final result, resembling a bearded monkey more than Jesus, went viral.