Student collapses at Arrowhead basketball game, AED rushed to scene
HARTLAND, Wis. - There was more on the line at an Arrowhead Union High School boys basketball game than winning or losing Friday night, Feb. 17.
A FOX6 News crew was at the game between Arrowhead and Catholic Memorial when a student collapsed in the stands. Just like when NFL player Damar Hamlin went into cardiac arrest on the field, a quick response may have saved a life.
"The gym was very well-attended, the first and second place team in the conference," said Jeff Staus, who teaches physical education and health at Arrowhead.
SIGN UP TODAY: Get daily headlines, breaking news emails from FOX6 News
More important than fast moves on the court was a quick response in the stands. The game was postponed after the student suddenly collapsed with several minutes left to play.
"It was unsettling," Staus said. "Any emergency situation like that, anybody, when it's a student it's even more in my eyes 'Let's go.'"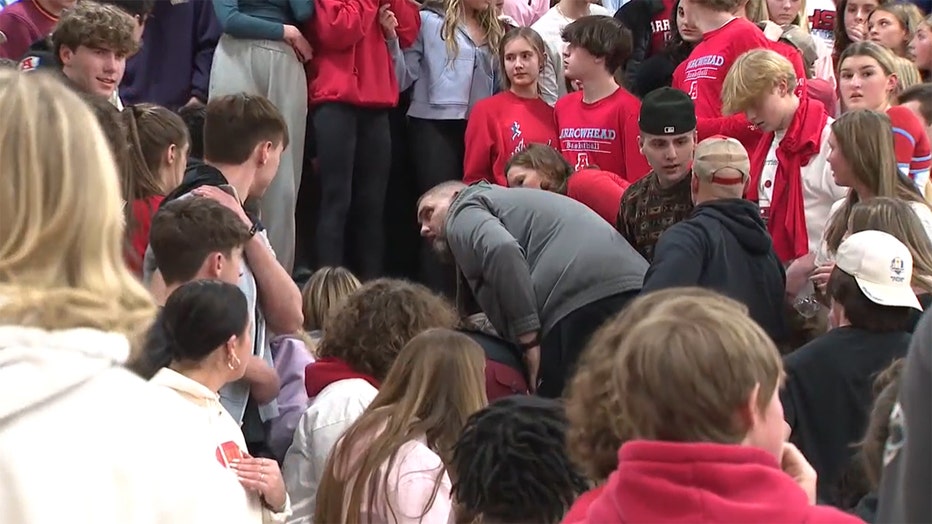 Medical event at Arrowhead High School boys basketball game on Feb. 17
Staus said his son ran down from the student section to sound the alarms. Staus then run up with an AED, but says it was a collaborative effort that included medical professionals.
"It was hectic, it was crazy, but everybody even had a piece in what happened. It wasn't just me," said Staus.
In a statement, the Hartland Fire Department commended the school for its "exceptional and decisive response" while an ambulance was en route to get the student to a hospital. HFD said there was the "reported use of an AED by on-site staff members" on Friday. On Saturday, the fire chief wasn't able to confirm the AED was actually administered, but Staus said he was nearly positive it was used. 
The fire department wasn't able to give an update on the student's condition.
Staus said the student appeared to be OK after the medical response Friday night, but he hasn't heard an update on his condition yet.
Just as important as having a quick response during professional sports, as was the case with Hamlin, is being prepared at schools.
FREE DOWNLOAD: Get breaking news alerts in the FOX6 News app for iOS or Android.
"You can't afford not to have an athletic trainer on staff," said Keith Owsley, president of the Wisconsin Athletic Trainers' Association and a Marquette University associate clinical professor for the Master of Athletic Training program. "Athletic trainers are the forefront of making those policies and developing those EAPs (emergency action plans) along with their athletic administration."
Staus said preparedness is a safety net too important to leave to chance. He said all students learn where to find AEDs and how to use them.
"It's just a great reminder, trying to look at positives out of things, so we can continue to take care of everyone else," he said.
The game resumed Saturday morning. Arrowhead won.