Arrest made in connection with threats directed at Wauwatosa PD after DA's decision in Jay Anderson case
WAUWATOSA -- Wauwatosa police tell FOX6 News they have arrested one person in connection with threats directed at the Wauwatosa Police Department after the Milwaukee County district attorney's decision NOT to issue charges against Officer Joseph Mensah, who shot and killed Jay Anderson in June.

A spokesman for the Wauwatosa Police Department told FOX6 News Wednesday, December 7th there have been five threats to the department since Monday, December 5th -- when the decision was made not to charge the officer.

The one individual arrested was taken into custody on a charge of unlawful use of a telephone.

Anderson was shot and killed by Officer Mensah on June 23rd in Wauwatosa's Madison Park. Officer Mensah opened fire after approaching Anderson, who was believed to be asleep.

Police say Anderson had a gun. Family members believe he did nothing wrong.

There were no witnesses to this shooting, other than Officer Mensah and a 28-second video clip from Officer Mensah's dash camera.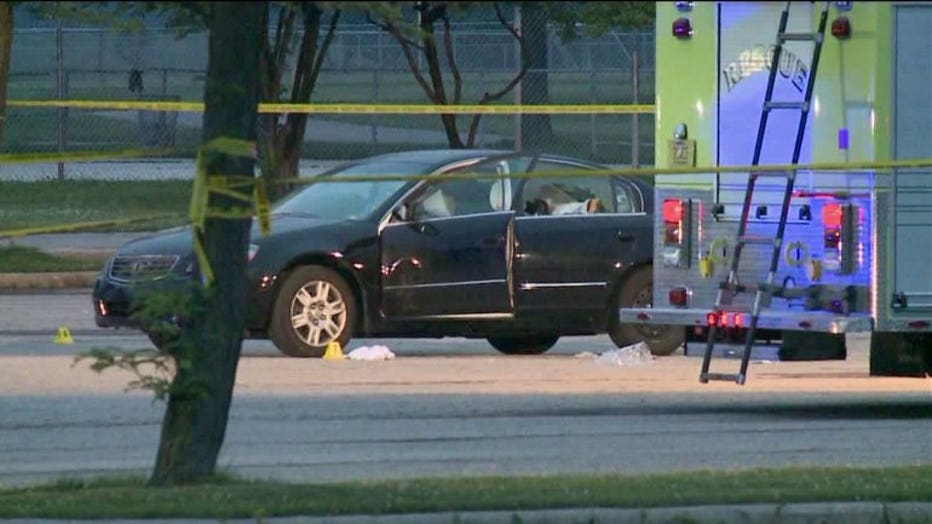 Wauwatosa Police Chief Barry Weber said Monday the Milwaukee County District Attorney's Office decided Officer Mensah's use of force was justified in this case. He will NOT face criminal charges.

"This incident is a tragedy for everyone involved. The Wauwatosa Police Department treats everyone we come into contact with with dignity and respect. Human life is the most important commodity in our society today," Chief Weber said.

Wauwatosa police on Monday released a report from the Milwaukee County District Attorney's Office which includes an official narrative of events that transpired during the early morning hours of June 23rd.

Weber said on June 23rd, Officer Mensah observed Anderson's vehicle in Madison Park during the early morning hours. Officer Mensah investigated, as Weber noted the park closes at 10:00 p.m. and if there are vehicles in the park after hours, officers are supposed to investigate.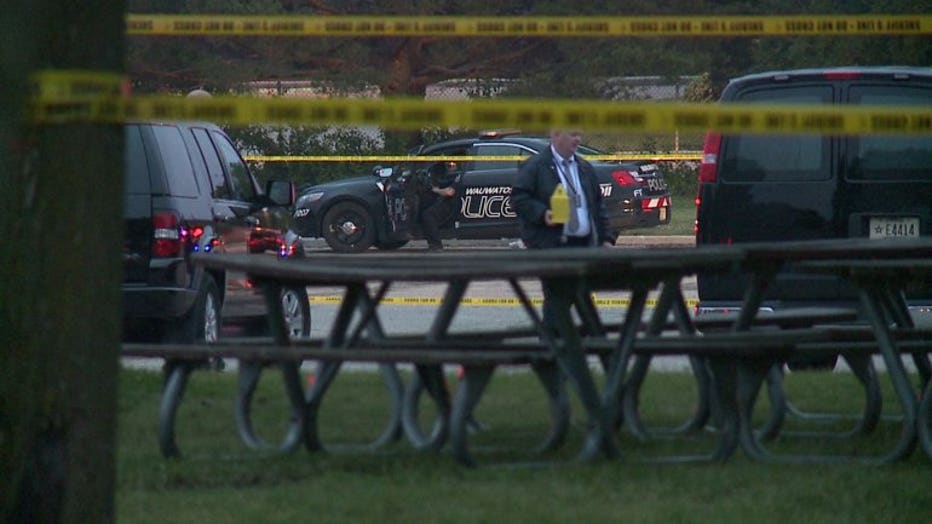 Madison Park officer-involved shooting


Officer Mensah approached Anderson, who appeared to be sleeping in his vehicle.

"When he investigated, he observed a semi-automatic handgun on the passenger side of that vehicle in the park. That weapon turned out to be a Ruger 9mm loaded with 16 rounds of ammunition plus one in the chamber. The officer requested backup and said the subject he was involved with at the park had a gun," Weber said.

Weber said Officer Mensah told Anderson he could see the gun and took out his firearm -- ordering Anderson to raise his hands, and to not reach for the gun. Anderson allegedly lowered his arm towards the gun at least three times.

"The subject raised his hands above his shoulders, suggesting he was complying with the officer's orders. On several occasions, the subject started leaning his right arm towards the front passenger seat where gun was located. On each occasion, the officer directed verbal commands to the subject to not reach for the weapon and keep his hands up. The subject suddenly reached for the gun with his right hand, and fearing for his safety, the officer discharged his weapon as he disengaged from the vehicle," Weber said.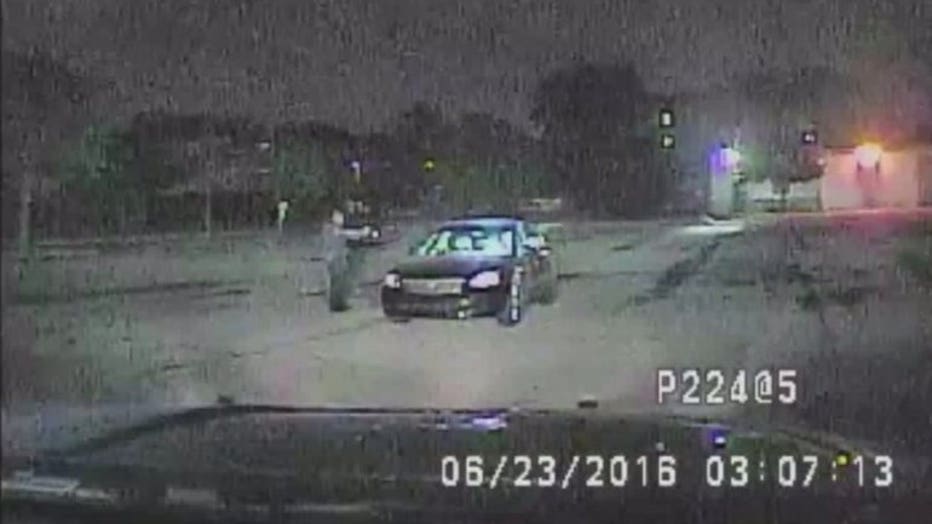 Immediately after the shots were fired, Officer Mensah remotely activated the camera in his squad car -- which retroactively recorded 20 seconds prior to him hitting the button.

Wauwatosa police on Monday released a DVD of dash camera footage -- 28 seconds of video recorded of the shooting. It does not include audio.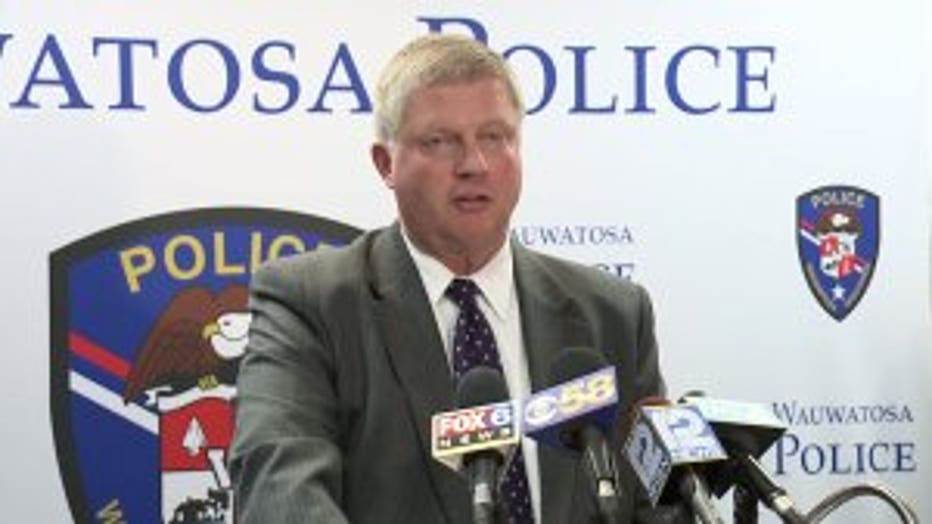 Wauwatosa Police Chief Barry Weber


"I have watched this video at least 20 times, and I was able to watch it in slow motion -- forwards, backwards, frame by frame. I could take as much time as I needed. The police officer had less than one second to make the decision. A trained police officer who reasonably believes there is an imminent threat of death or great bodily harm is authorized by law to use deadly force," Weber said.

Below, you can take a look at the dash camera video from this incident. There are several reiterations of the video -- where the video zooms and slows.

WARNING: This video is graphic and may not be suitable for all audiences. Viewer discretion is advised.

According to the Milwaukee County District Attorney's Office, an autopsy revealed Anderson had marijuana in his system, and was in possession of 12.41 grams of marijuana.

"The subject was later determined to be legally intoxicated and also had marijuana in his system at the time," Weber said.

The report indicates a check of Officer Mensah's gun revealed he discharged six times.

Weber said Officer Mensah has had counseling, and has been cleared to return to duty. Weber said Officer Mensah has received death threats since this incident.

"The officer involved in this incident will be returned to duty," Weber said.

Weber said Officer Mensah was clearly in a dangerous situation on June 23rd in Madison Park.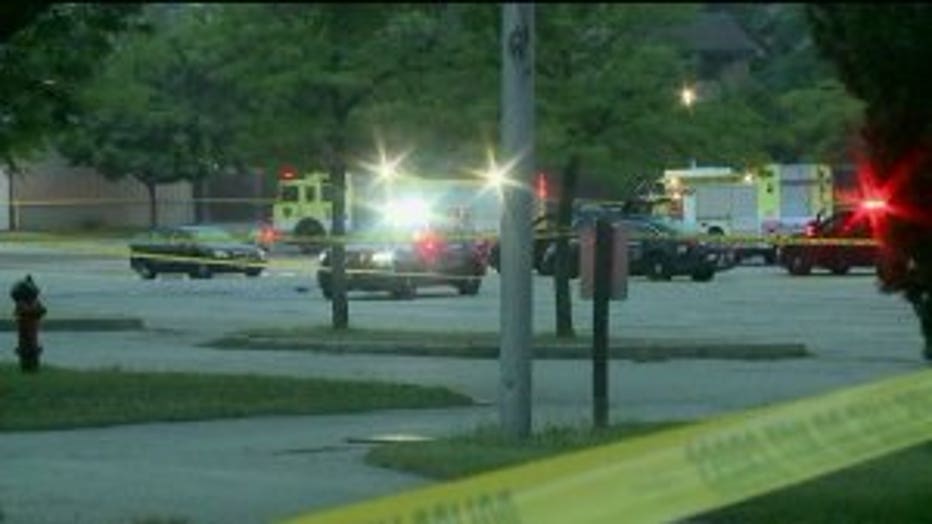 Mensah was also involved in a shooting death that happened in July of 2015. Weber said Mensah was approached by a man with a sword.

FOX6 News asked Chief Weber Monday whether body cameras are something the Wauwatosa Police Department is considering after this incident.

"We`re in the testing phase," Weber said.






News of no charges against Officer Mensah in this case was not the news the Anderson family was hoping for.

"The Anderson family has received the decision they were dreading.  The District Attorney's Office has advised that they will not be issuing criminal charges against Wauwatosa Police Officer Joseph Mensah," Jonathan Safran, the family's attorney said.

During the nearly six months since this shooting happened, the Anderson family has pushed for the officer's name to be made public, and for dash camera video from this incident be released -- something that wasn't done until Monday, after the district attorney's decision regarding charges was announced. The family has urged a boycott of businesses in Wauwatosa -- especially Mayfair Mall this holiday season -- in an effort to increase transparency.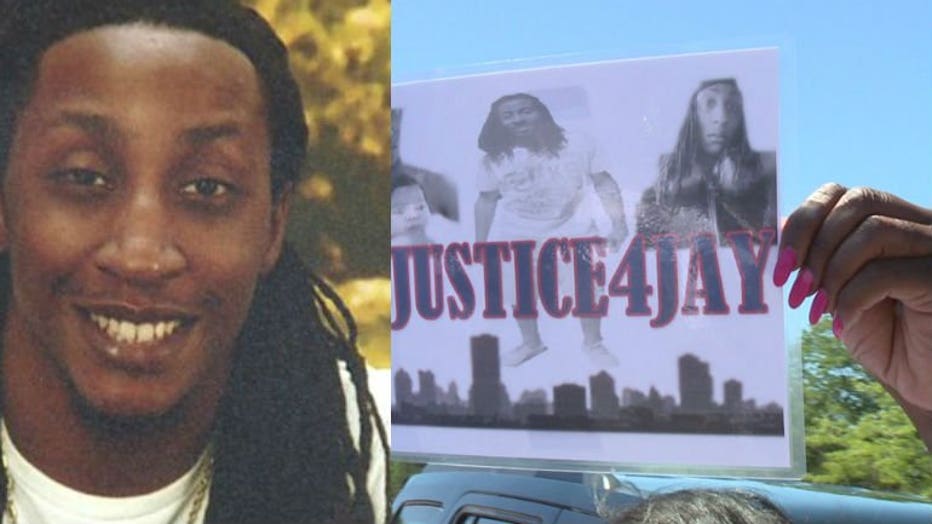 Anderson's family now plans to seek federal charges with the U.S. Attorney's Office. They want prosecutors to investigate whether criminal civil rights charges are warranted.

We're told federal officials have indicated they would do that review.

The family said Monday they're extremely disappointed in the justice system. They said they're skeptical about the police investigation in this case -- claiming a lack of transparency. They said the dash camera video leaves many unanswered questions.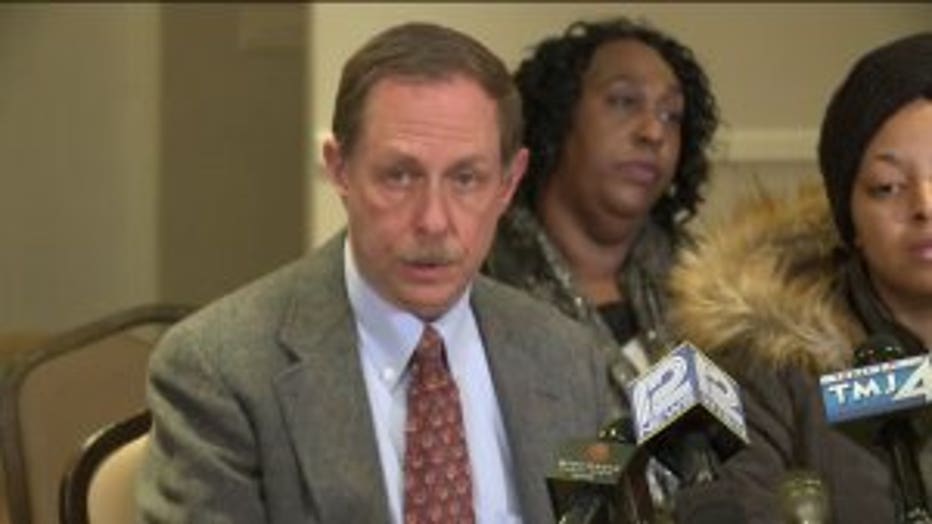 "At least twice, the video recording depicts Mr. Anderson's hands falling down and his head slump forward as if he were falling asleep or passing out," Safran said.

Police claim Anderson was reaching for the firearm they say was on the passenger seat in his vehicle.

"There is no evidence that Mr. Anderson lunged for, touched, raised or pointed any gun that may have been in the vehicle," Safran said.

"The gun was removed. There were things that were done that were very suspect," Michael Kemet, Anderson family friend said.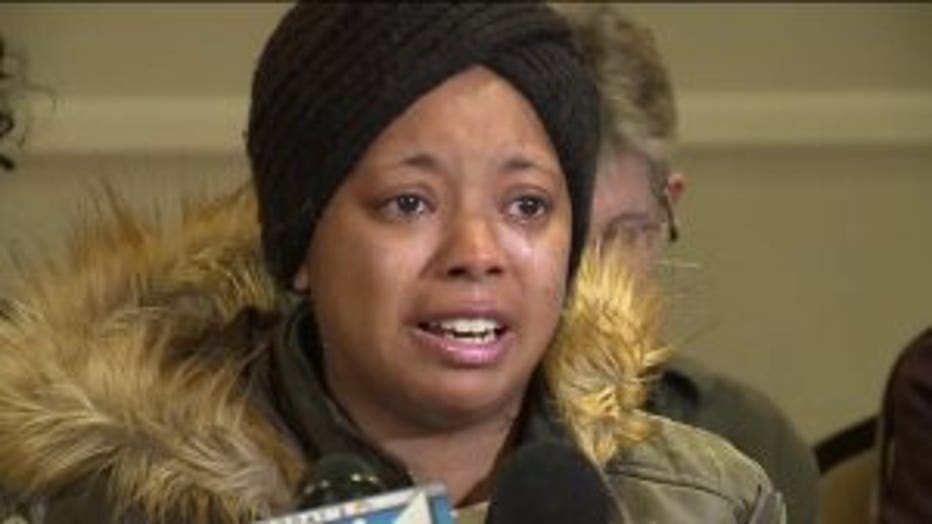 Star Delarosa, Jay Anderson's fiancee


Anderson's fiancee and mother of his child said Monday she's "sick to her stomach" over the decision for no charges in this case.

"I feel sick to my stomach knowing he will be back on the force, but my daughter will never get to see her dad again. It's not right. My baby asks about him daily," Star Delarosa, Anderson's fiancee said.

"It's disgusting. This man gets to walk the Earth and my son is dead," Linda Anderson, Jay Anderson's mother said.



Wauwatosa police said Officer Mensah will return to work -- and Wauwatosa PD will conduct their own internal investigation to see whether he followed procedure.