Wisconsin armed security requires less training than manicures
MILWAUKEE - If you want to cut hair in the state of Wisconsin, you need more than 1,000 hours of training to get a license. If you want to wear a badge and carry a gun, three hours is enough. That's because of a change in state law that made firearms training for private security guards optional.
As police resources are stretched, more business owners are turning to private security agencies to protect their property. Many of those security guards have guns, but that doesn't necessarily mean they know how or when to use them.
Consider what happened on a summer night in June 2022 at the Qdoba restaurant on Brady Street. It's approaching 3 o'clock on a Saturday morning and surveillance video shows customers are still streaming in.
"'Cause they're drunk and they want their tacos," explained Sonja Wilson, a Qdoba security guard who was on duty that night. 
SIGN UP TODAY: Get daily headlines, breaking news emails from FOX6 News
Wilson said it was the store's policy to lock one of the two entrances late at night on weekends to control the crowds leaving nearby taverns. About 2:40am, store security video shows customers leaving through the door that's supposed to lock behind them. Instead, they hold the door open for a man and woman who walk in. 
Wilson approaches and tells them they have to back out and enter through a different door. 
38-year-old Randolph Bohannon stares back at Wilson, then ignores her instruction and attempts to walk around her toward the food counter. Wilson quickly places her right hand on the 9mm Ruger pistol holstered on her hip. 
"She instantly touched her gun," Bohannon's girlfriend would later tell police. 
That only seems to anger the man, who begins arguing with Wilson.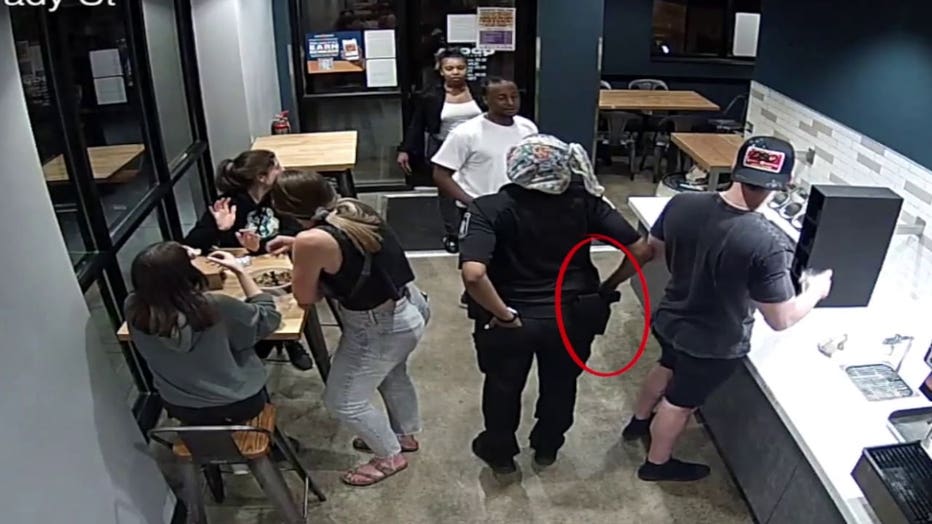 Sonja Wilson, a security guard working at Qdoba in June 2022, places her right hand on her Ruger 9mm handgun when a customer refuses to use a different door to enter the restaurant.
"He's like, 'Why are you grabbing for you gun? What are you reaching for your gun for?'" the girlfriend said.
The guard argues back, but begins to walk backward, away from Bohannon. He continues walking toward her. 
FREE DOWNLOAD: Get breaking news alerts in the FOX6 News app for iOS or Android
That's when Wilson upholsters her weapon and points it directly at Bohannon, inches from his chest.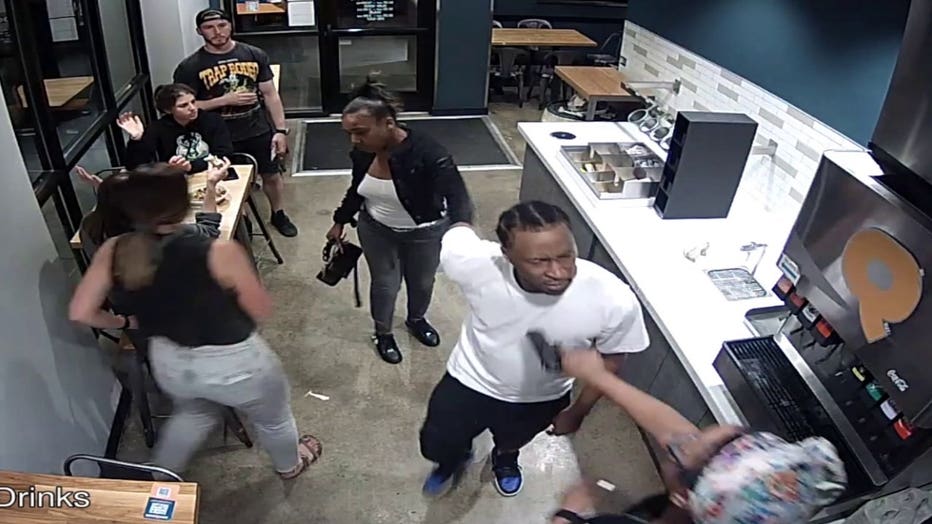 Wilson points the weapon directly at the customer, Randolph Bohannon, moments before lowering the gun and shooting him in the groin.
"You better back up, b****!" Bohannon demands, continuing to walk toward Wilson.
"And then what happened?" a Milwaukee police detective would later ask.
"I shot him," Wilson said.
On the restaurant security video, you can hear Wilson say, "If this is what you want, this is what you want," moments before pulling the trigger and shooting Bohannon in his groin. He winces in pain, places his hand on the wound, limps out of the restaurant, and goes to the hospital.
Police arrested Wilson and, in a video recorded interview, detective Shamara Gonzalez asked her why she fired the gun.
"Because I was in fear for my life," Wilson said.
But when the detective asked what, specifically, made her so afraid, Wilson struggled to put her finger on it.
"He didn't lunge at you," Gonzalez said. 
"Not in a sweeping motion, no," Wilson responded.
"He didn't threaten to harm you, right?" Gonzalez asked.
"Uh… no," Wilson replied.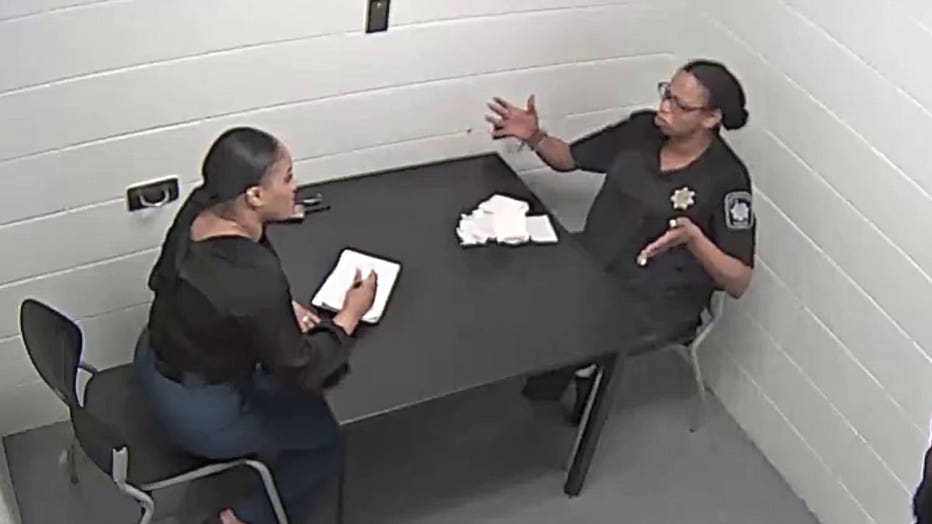 Wilson tells a Milwaukee Police detective she never received "formal training" on how and when to use a firearm on the job.
Wilson said she never heard any threat. Instead, she repeated that Bohannon and his girlfriend refused the leave the restaurant.
"They did not heed the warning," she said.
"The fact that you pulled out your gun is that a warning as well?" the detective asked.
"Yes," Wilson answered.
"Is that how you were trained?" Gonzalez asked.
"No," the security guard said.
"How were you trained?" Gonzalez asked.
"There really isn't a lot of training with that," Wilson said.
Turns out, Sonja Wilson has never been trained when to shoot and when not to.
"Formal training, no. But I've been to the shooting range before with my brother," she said.
In fact, according to the Wisconsin Department of Safety and Professional Services – or DSPS – she doesn't even have a private security license.
Still, eight months after the shooting, no one has been criminally charged. And DSPS has yet to take any action.
"It is truly, truly outrageous," said William Sulton, an attorney who is suing Wilson, her employer, Central Private Police, and its owner, Hope Hankes, on behalf of Bohannon.
Sulton is also suing another private security company – Marshal Public Safety and its owner, Enoch Wilson - for another shooting incident last summer at El Rey supermarket.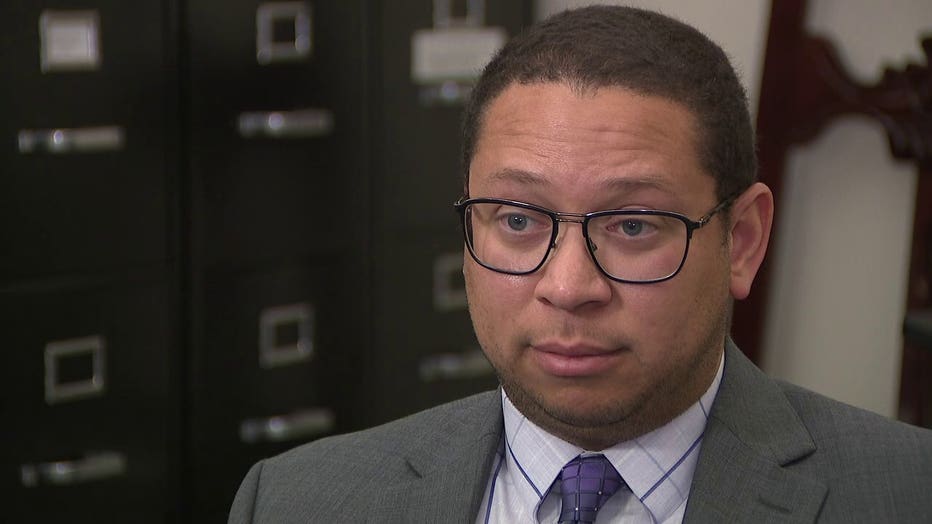 Attorney William Sulton is suing Wilson and her employer, Central Private Police, on behalf of Randolph Bohannon.
"It says to me we have an industry that's out of control," Sulton said.
Records obtained by the FOX6 Investigators show more than six-thousand people in Wisconsin have a license to provide private security services. Many others work illegally, without a license.
With police resources stretched thin, the demand for those workers to be armed is increasing. Tom Sipin says that should require professional training.
"How can you put them in a position where you're expecting them to use force if you don't train them what the laws are?" Sipin said.
Sipin is a state-certified firearms instructor whose company - Four Winds Martial Arts - trains private security guards under the name "Training Solutions." But Sipin's connection to the industry goes back decades. He was once part of the regulatory board that developed statewide training standards for private security license holders.
"I helped write a lot of the laws in the manual," Sipin said.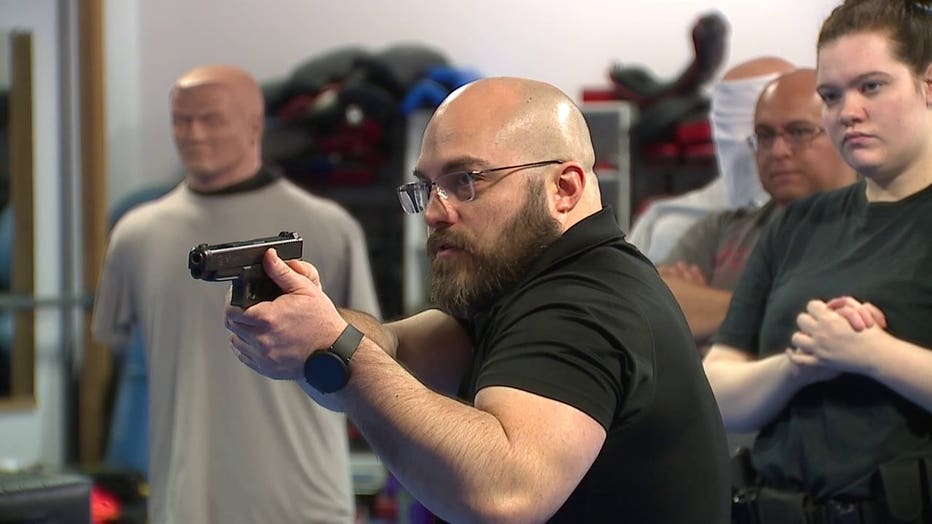 State regulations used to require 36 hours of training before a security guard could apply for a permit to be armed on duty. Wisconsin's concealed carry law effectively eliminated that training requirement.
Sipin says the state's biggest security firms, like Allied International, still pay for that kind of training. But two-thirds of all security agencies in Wisconsin have fewer than 10 employees. And many of those smaller agencies, he says, are cutting training out of the budget.
"It's expensive," Sipin said. 
"Any expense you can cut out of a business makes you more competitive," said Curt Bennett, owner of Advanced Private Police. 
Bennett says it's a constant source of frustration for agencies like his that prioritize training and have to incorporate that into what they charge.
"So the corner cutters can basically out-compete," asked FOX6 Investigator Bryan Polcyn.
"Yes," Bennett said. "But they can't out quality."
The state used to require all private security guards who want to carry guns on the job to compete a 36-hour training course in firearms proficiency, but a landmark change in state law more than a decade ago has had a profound impact on the private security industry.
The state's concealed carry law, passed in 2011, allowed private citizens to carry concealed weapons for self-defense, but it also effectively eliminated the 36-hour training requirement before security guards could work while armed.
"Unintended consequences," Sipin said.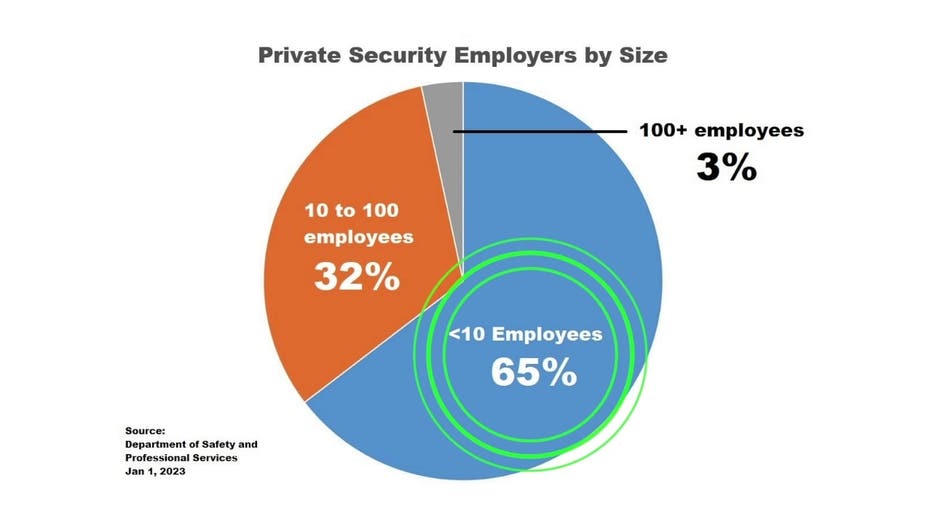 Data provided to FOX6 News by the Wisconsin Department of Safety and Professional Services shows two-thirds of the businesses that employ private security officers have 10 or fewer employees. Some of those smaller companies are electing not to pay fo
Now, DSPS says licensees can either pass the 36-hour state certification or get a concealed-carry license.
"You can get your CCW permit if you go and watch a 2 or 3-hour presentation, never touch a firearm," Sipin said.
State regulations require you to have more than 1,500 hours of training to become a licensed cosmetologist.
More than 1,000 hours of training to be a licensed barber.
And more than 300 hours of training to do manicures.
But, you can qualify for armed security detail in a single afternoon.
Sipin says that may be fine for personal self-defense, but for professional use it's "not nearly enough." 
Wilson told police she got her CCW specifically to work security.
"It can lead to people getting hurt," Bennett said. That's why he went to State Representative Jessie Rodriguez.
The Oak Creek Republican filed a bill in 2022 that would have reinstated the 36-hour training standard for security guards to be armed.
"You want to protect the public," Rodriguez said.
Sipin testified in favor of the bill. 
"You're putting someone in a position they might have to use force," he told lawmakers.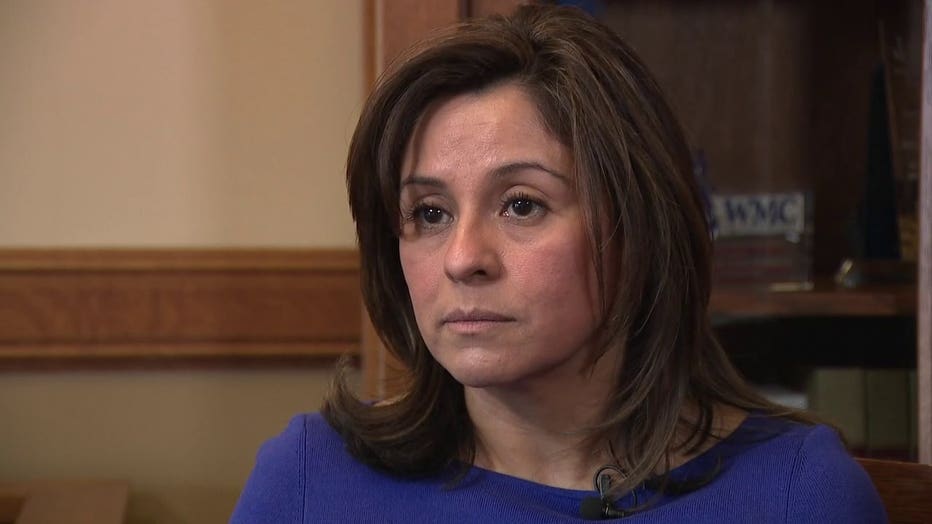 State Representative Jessie Rodriguez (R-Oak Creek) introduced a bill in 2022 to reinstate the 36-hour training requirement. The bill stalled in committee. She is not yet certain if she will bring the legislation back in 2023.
"There is also a perception of the public, that when you see someone in uniform that you're going to be dealing with a professional," Bennett told the Assmebly committee. "And that has standards."
The Wisconsin Police Chiefs Association supported the return to more stringent firearms training.
"Having training is paramount," said Steven Roux, President of WCPA.
The organization also supported another aspect of the bill.
"Having local law enforcement do the investigation," Roux said. 
It would have given local police the authority to investigate private security licensing issues.
"Are they a legitimate security officer? Is it a legitimate security company? Too often the answer is no," Bennett said.
That's something Milwaukee police used to do nearly 30 years ago.
"They had a unit," Sipin recalled. "They would go around and check private security licenses."
Today, that authority rests with DSPS and no one else.
"The agency is understaffed," Rodriguez said.
DSPS tells FOX6 it has nine consumer investigators to monitor thousands of licensees in dozens of professions, so it only responds to complaints. When it comes to private security, the agency says it has only received 61 formal complaints since 2018.
But Bennett says those complaints are the tip of the iceberg.
"There are companies that never bother to file a license," he said. "Companies that have felons working as armed security officers."
Still, Rodriguez's bill failed to get any traction.
"There was not a lot of support for it," she said.
And that leaves what she calls an "understaffed" agency to rely on others to keep it informed.
"DSPS didn't even know about this incident," Sulton said about the Qdoba shooting.
State law requires private security employers to notify DSPS after any shooting, but the agency says neither Sonja Wilson nor her employer reported anything.
It was attorney Sulton who reported the shooting, which is now part of a pending investigation.
Meanwhile, Sulton says it's not just his client who Wilson put at risk. She fired her weapon  inside a busy restaurant.
"Were you scared that you were going to strike somebody else?" Detective Rodriguez asked.
"That didn't cross my mind," Wilson said.
Then again, that's the kind of thing they might talk about in training.
FOX6 reached Sonja Wilson by phone, but she said she wanted to confer with her attorney before answering any questions. She did not call back after that. FOX6 also reached out to Hope Hankes at Central Private Police. We received no response.

A DSPS spokesperson says they are still investigating complaints against both Central Private Police and Hankes. Assistant Deputy Secretary Jennifer Garrett declined our request for an interview, but did send the following statement:

The Department of Safety and Professional Services is a complaint-based agency, meaning that a complaint is the first step of the disciplinary process. Requirements for professions and available disciplinary recourse are established in statute and vary widely. Any change in licensure requirements, such as mandatory training or continuing education, or our authority to regulate licenses would come from legislation. There are tools, such as the authority to levy forfeitures, that are used in the regulation of other professions that are not currently available for private security licenses. 
There are 9 Consumer Protection Investigators assigned to the Department to conduct investigations.  DSPS receives approximately 3,000 complaints each year.  Some of those complaints allege unlicensed practice while the majority of complaints are against credential holders. 
From Jan. 1, 2018 through Nov. 4, 2022, DSPS received 61 complaints that involved private security persons.
Pursuant to 2011 Wis. Act 35, the Legislature created an exemption to the training requirements for those who have a CCW license.