"An amazing, unbelievable, heartfelt gift:" Waukesha stabbing victim receives anonymous military Purple Heart


WAUKESHA (WITI) -- Her favorite color is purple. That's why the family of the 12-year-old girl stabbed 19 times by two 12-year-old classmates in the woods in Waukesha asked the community to send purple hearts to show support and love for the girl. But one recent purple heart has them in shock.

The family of the victim has issued a statement -- and have provided an update on a very special purple heart received by the victim.

The statement reads as follows:

"Our family continues to be so moved by the prayers, well wishes, packages, financial support and purple hearts from around the world.  Our little girl has received thousands of purple hearts from numerous countries and from every state in the United States."

Recently she received a very heartfelt and special gift—a military Purple Heart, given anonymously.   With it was a card that read, "The Only Heart I Could Find – Be Strong."

"She's healing. She is getting better," family spokesperson Steve Lyons said.

Lyons says the family isn't ready to talk yet. They are still working on getting back to normal after what happened in the woods in late May.

12-year-old Morgan Geyser and 12-year-old Anissa Weier are charged with attempted homicide -- after prosecutors say they lured the girl into the woods and stabbed her to impress a fictional online character called "Slenderman."

"She is an amazing little girl," Lyons said.

Lyons says helping with the recovery are the hearts that continue to arrive by the van load!

"The family receives hundreds, if not thousands of purple hearts," Lyons said.

The recent arrival of the military Purple Heart blew the family away.

"It is an amazing, unbelievable, heartfelt gift. This is someone who's wounded, defending our country, who said to our little girl, 'this is for you,'" Lyons said.

The family contacted Wisconsin Secretary of Veterans Affairs John Scocos.  Upon hearing of the gift to the little girl, Secretary Scocos stated:

"Those who receive this military recognition do so because they have been wounded or killed in an action against an enemy of the United States or as a result of an act of any such enemy or opposing armed forces. American service men and women are also moms and dads, uncles and aunts – brothers and sisters. It does not surprise me that a decorated veteran unselfishly gave this amazingly brave and courageous little girl something from his or her heart."

The Department of Veterans Affairs tells FOX6 News they've never heard of a Purple Heart being given away to a stranger.

Who sent it, or even where it came from, remain a mystery.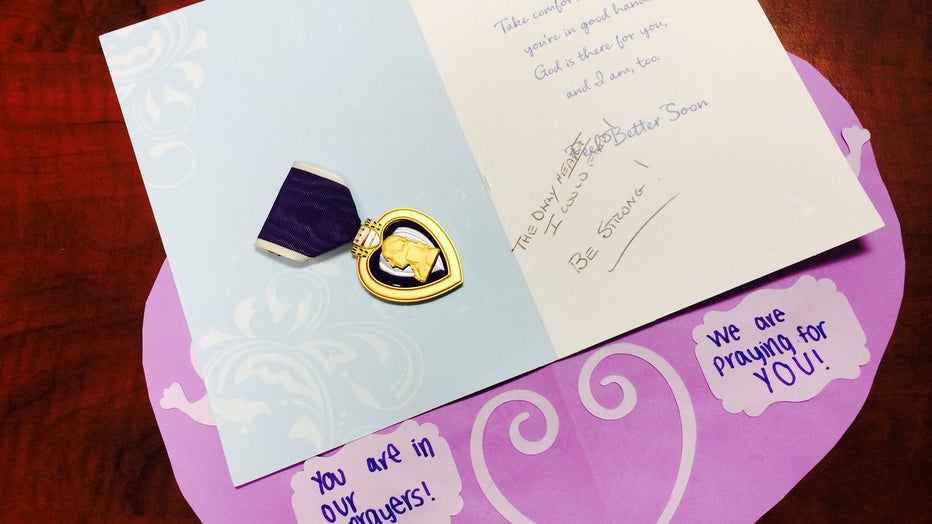 The family has been so touched and moved by this act of kindness that they would like to personally thank the individual, publicly or privately, for the gift and for their sacrifice for our country.

The family would also like to thank those who have donated to the "Hearts for Healing Fund" and have held events for the family.  Supporters have donated over $50,000 to assist the family in their goal of $250,000 to help with mounting medical expenses.

Supporters are encouraged to make donations online at (http://www.gofundme.com/HeartsForHealingWI) or visit any BMO Harris Bank branch.

Related stories: