'Americans, murderers of peoples:' Thousands in Greece protest US-led missile attack in Syria
ATHENS -- Greek police say about 6,000 to 7,000 people turned up at a rally and march in central Athens organized by Greece's Communist Party to protest the U.S.-led missile attack against Syria.

The protesters gathered at Athens' central Syntagma Square before marching to the U.S. embassy, chanting anti-U.S. slogans and holding banners. Once there, they wrote "Americans, murderers of peoples" on the pavement in red paint and tried, unsuccessfully, to lob paint into the embassy's courtyard.

Police vehicles barricaded access to the embassy, and there was a heavy police presence. Protesters left peacefully.

The U.S., Britain and France launched joint airstrikes in Syria earlier Saturday in response to a suspected chemical attack on civilians by Syrian President Bashar Assad's government. The suspected chemical attack April 7 killed at least 40 people.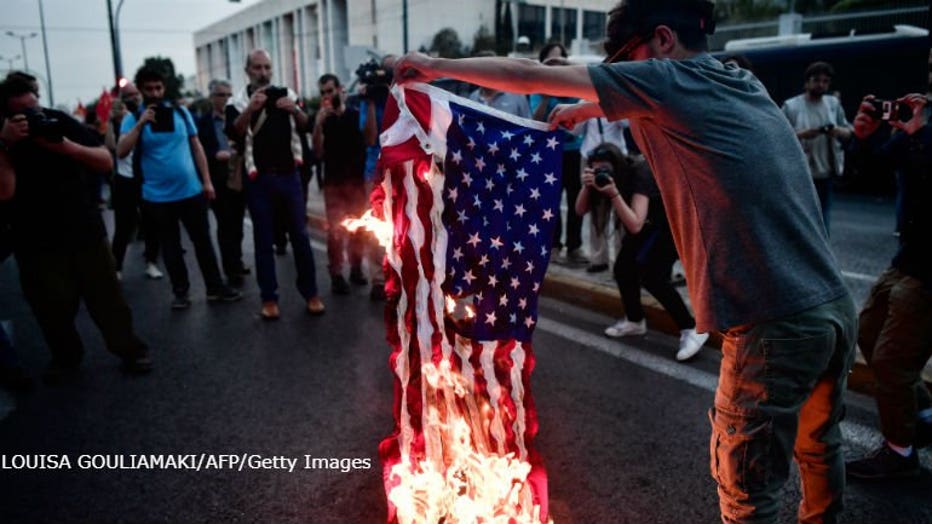 A protester burns an US flag outside the US Embassy in Athens on April 14, 2018 during a rally against US military intervention in Syria. Communist party supporters and leftist protesters staged two separate demonstrations against the attacks. / AFP