"All the bartenders walked off," and group calls for boycott of popular East Side bar -- but why?


MILWAUKEE (WITI) -- An East Side bar owner is issuing an apology and looking for new employees. That's because a few of them quit this weekend after the bar's owner allegedly tossed some patrons out because of their race.

"Two Bucks" is a popular bar on Milwaukee's East Side. For the last couple of nights, it has been closed. This, after an incident this weekend that has some calling for a boycott of the bar.

Former Two Bucks employees and former customers were among those hanging posters on the East Side Sunday. They are urging the community to boycott the popular bar after a group of African-American patrons claim they experienced racism by the bar's owner.

A Facebook group encouraging the boycott had more than 1,200 "likes" Sunday evening.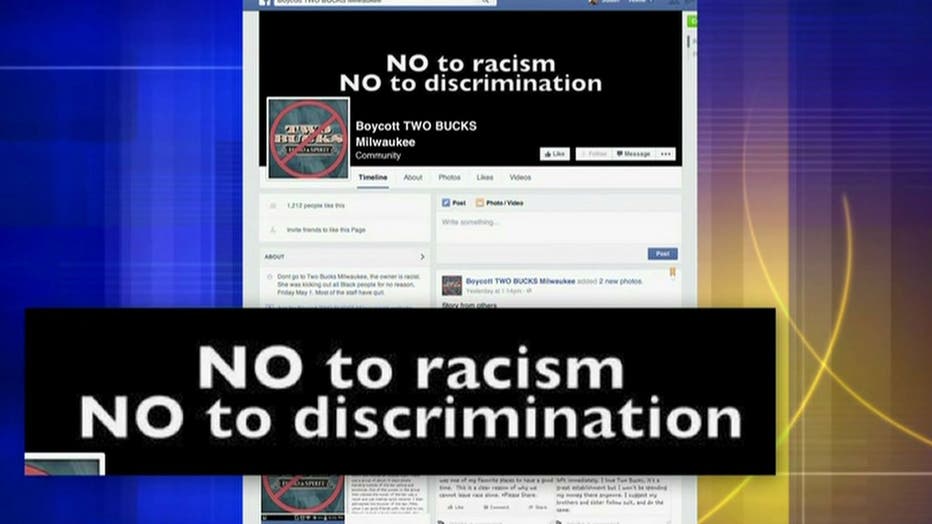 "She was just kicking the blacks out, so that was pure racism to me," Anye Ngwa said.

Ngwa says Two Bucks was his favorite bar -- so he was confused when, after ordering drinks around 12:30 a.m. Saturday, he says the bar's owner approached him and told him if he wasn't drinking, he had to leave.

"When she first said she was owner of the bar it really got me confused -- like owner of the bar wants to kick people out? The bar where you want to make money?" Ngwa said.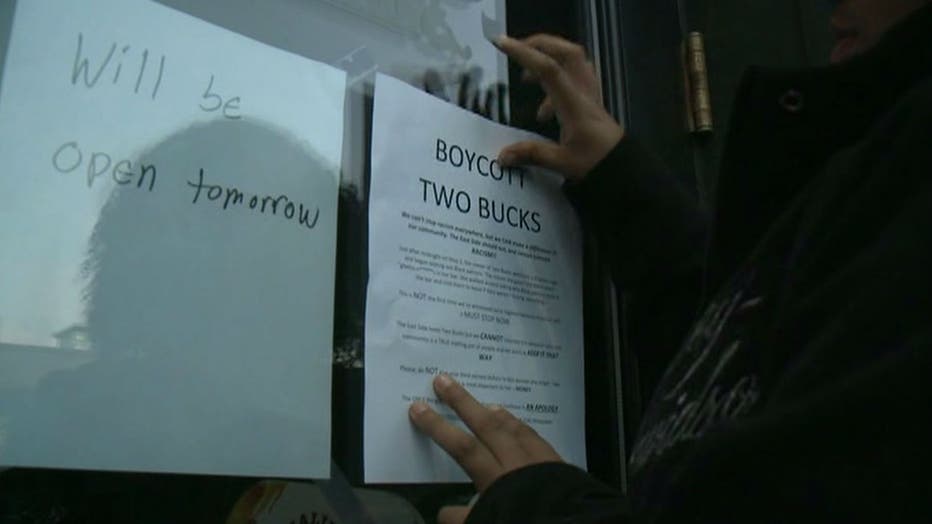 "She starts pushing all these people out the bar and the bouncers like, 'what did these people do? We didn`t see them do anything,'" former Two Bucks bartender Oval Reid said.

Reid says he was having a drink at the bar Saturday night, but he left when things became tense, as the owner started ejecting African-American customers. Hours later, Reid texted the owner that he was quitting -- and he says he wasn't the only one.

"All the bartenders walked off. Even the bouncer that was bouncing at the time -- he was a black gentleman that she hired recently and he's like 'I'm not gonna stand for this' and he walked off," Reid said.

Reid showed a text from the bar's owner to a FOX6 News crew. In it, the bar's owner apologizes, and says she understands Reid's decision to quit.

Lynn Forthaus sent a statement to FOX6 News, saying:

"There was an unfortunate incident at Two Bucks late Friday, May 1st. I apologize that this occurred. It does not reflect the views of the company, owners or employees of Two Bucks. We embrace diversity and have already taken steps so this will never happen again."

Those hanging posters around the East Side Sunday told FOX6 News they've reached out to the NAACP.

A sign on Two Bucks' door says the bar will reopen Monday.