Alkaline hydrolysis: Wisconsin 'water cremation' bill dies in Madison
MADISON, Wis. - At 68 years old, Carol Murphy has collected a lifetime of memories.  
"Everything seems like yesterday," she said while flipping through a family photo album.
After a health scare in fall 2022, Murphy started thinking about how her story will end. She bought a book called, "I'm Dead. Now What?" to make sure her son and daughter knew her final wishes. When she dies, Murphy wants her body cremated. There's only one problem: the type of flameless cremation she wants isn't legal in Wisconsin. Murphy found out about alkaline hydrolysis after searching on the internet.
SIGN UP TODAY: Get daily headlines, breaking news emails from FOX6 News
"It's very natural," she said. "It's very non-violent. It just seems like the way to go!"
To find out more about alkaline hydrolysis, FOX6 went to Olson Funeral Home and Cremation Service in Sheboygan.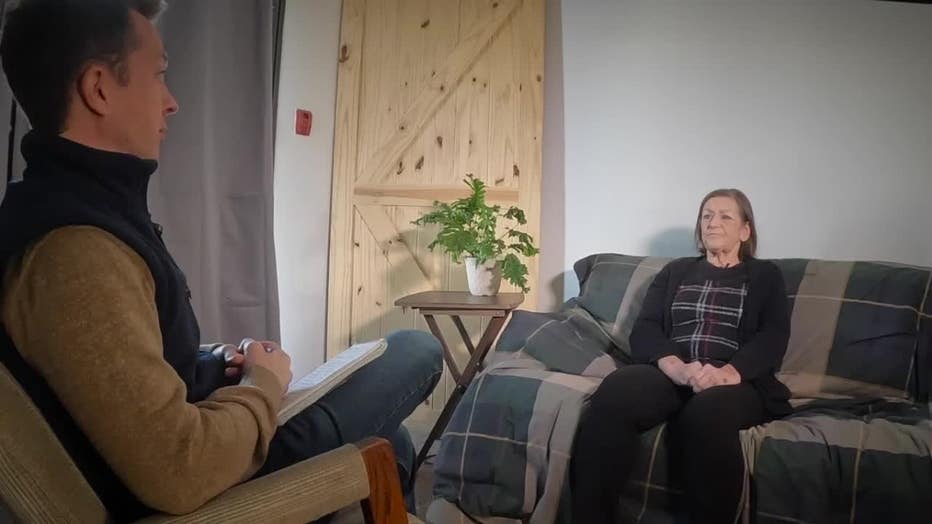 "With alkaline hydrolysis, we use water to break the body down. Instead of using flame, we use the water and the base and, in the end, when we open the machine, we have the same things. We have the skeleton," explained Jimmy Olson, owner and funeral director. "We take those bones out. We put them in machines called the cremulator and pulverize them and give them back. What people call ashes is actually pulverized bone."
Olson used to be a music teacher in Connecticut until he found his real passion as a funeral director. He purchased the Sheboygan business in 2001.
"We do natural burials – there are green cemeteries," Olson said as he showed us the products in his funeral home. Olson focuses on environmentally friendly practices. He said alkaline hydrolysis – also known as "aquamation" or "water cremation" – saves energy and avoids incineration.
FREE DOWNLOAD: Get breaking news alerts in the FOX6 News app for iOS or Android.
During his time as president of the Wisconsin Funeral Directors Association, Olson helped a bipartisan group of state lawmakers draft a bill (SB 228) to legalize alkaline hydrolysis.  
"We had a Senate committee hearing. It went very well," he said. "It passed on a vote – a voice vote, which never happens."
But after months of debates, in March 2022 the bill died. Olson said the bill's only opposition at the time came from the Wisconsin Catholic Conference. In a letter dated April 2021, the group's then-Executive Director, Kim Vercauteren, wrote a letter to State Senator Patrick Testin and members of the Senate Committee on Health.  Vercauteren wrote, in part, "With alkaline hydrolysis, remains are washed into a wastewater system as though the body created by God never existed. Wastewater does not honor the sacredness of the body."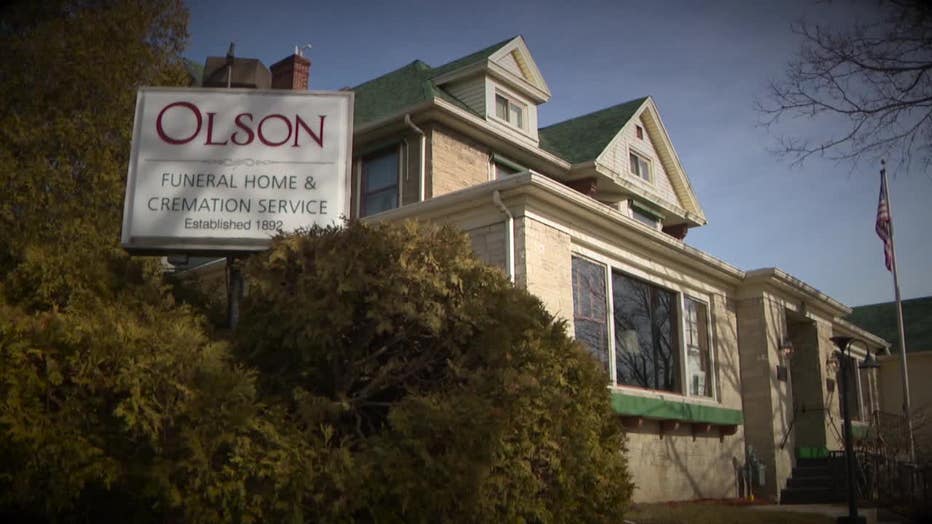 Olson Funeral Home and Cremation Service in Sheboygan
Olson, who is now a spokesman for the National Funeral Directors Association, said loved ones get 30% more remains back through alkaline hydrolysis.  
"What happens to the tissue, the skin – everything else that's broken down – where does that go?" FOX6's Bret Lemoine asked. 
"What's left in the end is amino acids, peptides and salt," said Olson. "That's what your body is made of. That then simply goes down the drain. When we are incinerating or using high heat, 1,500 to 1,800 degrees, most of that goes up the chimney."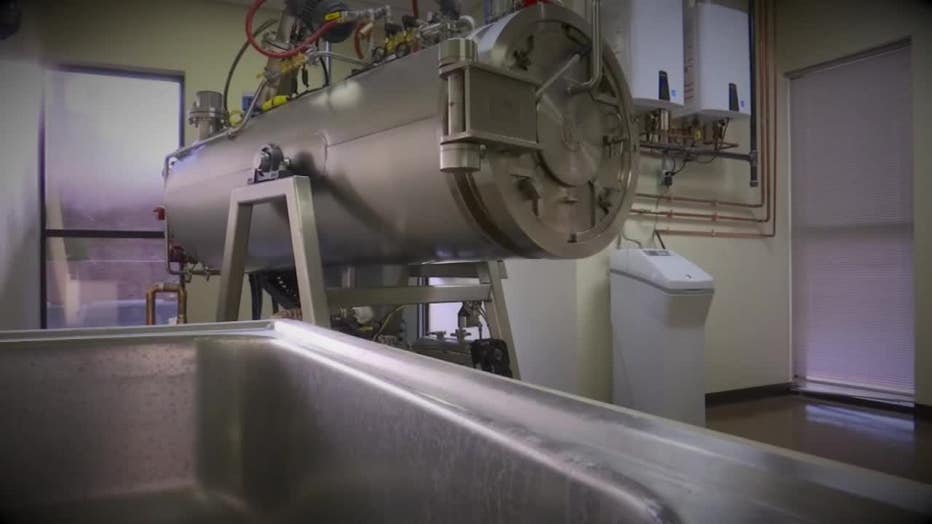 Alkaline hydrolysis "water cremation" equipment
Environmental reasons aside, Olson said there's a bigger reason for the state to legalize alkaline hydrolysis. He said cremation has surpassed traditional burial in the United States. Olson said Wisconsin can't keep up with the demand.  
"Right now, we have about 400 funeral homes in the state of Wisconsin and about 70 crematories with machines capable of doing that," said Olson.
Murphy is saving up money to have her body shipped to a neighboring state, like Illinois or Minnesota, where alkaline hydrolysis is legal.  
"The transportation costs would be almost $5,000," Murphy said.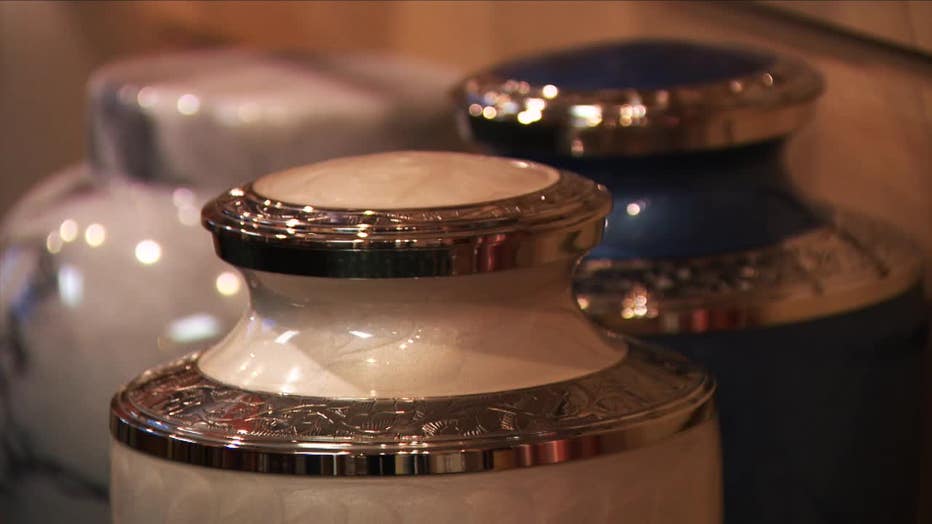 She's still holding out hope she'll get her final wish here in Wisconsin.
"Everybody scratches their heads," Murphy said with a laugh. "I explain to them what it is, and it's funny because a lot of people are very interested in having it themselves."
FOX6 reached out to Wisconsin Catholic Conference in February. Barbara Sella, the current executive director told us the group's position on alkaline hydrolysis has not changed since they testified on SB 228.
State Senator Testin, a Republican who represents the Stevens Point area, was the bill's primary sponsor. A spokesman declined FOX6's request for an interview but told us Testin thought it was a good bill and could possibly re-introduce it in the future.