9,000 lb. stones hoisted into place as part of Basilica of St. Josaphat restoration project
MILWAUKEE -- Five large stones weighing approximately 9,000 pounds each were hoisted into the air by crane on Monday, August 22nd -- and put into place on The Basilica of St. Josaphat.

Those stones are replacing some of the damaged sandstone at the Basilica. The largest of the stones was to be placed right over the Visitors Center on the building's west side.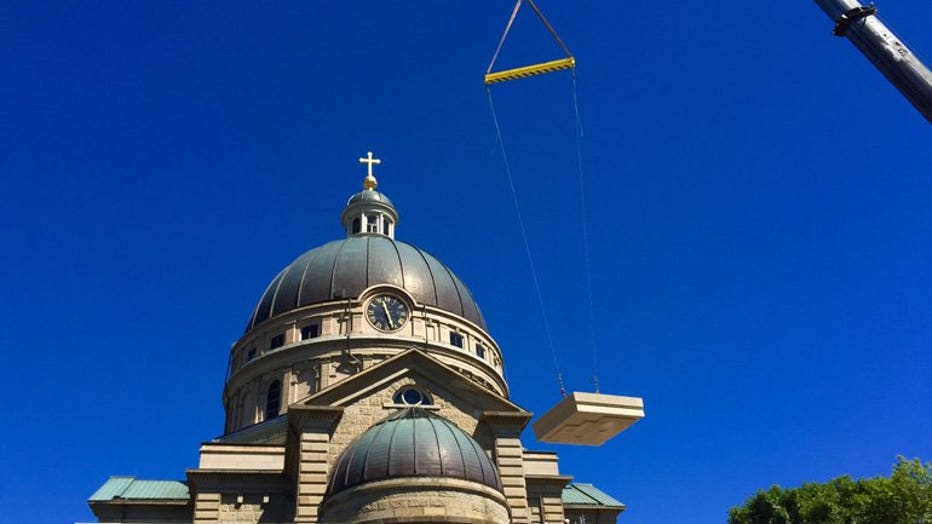 These replacement stones are a portion of the first 'emergency phase' of the Basilica Foundation's current capital campaign to raise $7.5 million for restoration of the Basilica. Several masonry areas are in need of immediate attention, so the project is taking place this summer rather than waiting for the funding to be completed.

The stones need to be replaced to slow the loss of building ornamentation, prevent water infiltration, improve safety from falling pieces and restore the decorative elements. It will also prevent further deterioration and damage of the priceless artworks on the interior ceilings and walls of the Basilica.

The Basilica is in need of the community's support to complete its fundraising campaign and finish the critical restorations.  CLICK HERE if you would like to make a donation to the St. Josaphat Basilica Foundation's efforts.

PHOTO GALLERY