7 officers, firefighter hurt amid unrest near 40th and Lloyd; 3 shot after 2 girls reported missing


MILWAUKEE -- Seven police officers and one firefighter were hurt when fires were set in the neighborhood near 40th Street and Lloyd Street Tuesday, June 23 -- unrest sparked by a case involving two missing teenagers. During the unrest, three people were shot and wounded following an initial report of shots fired Tuesday morning.

Earlier Tuesday, Milwaukee police said 15-year-old Tydrianna and 13-year-old Gilbreanna were last seen near 21st Street and Locust Street around 5 p.m. on Sunday, June 21. They left a residence from that area and did not return. Milwaukee police said the girls were not considered to be "critically missing."

Gilbreana was described as a female, African American, 13 years old, 5'8" tall, 110 pounds, with black hair and brown eyes. She was last seen wearing a pink knee-length dress.

Tydrianna was described as a female, African American, 15 years old, 5'4" tall, 150 pounds, with black hair and brown eyes. She was last seen wearing a blue and white shirt, light blue shorts and black furry sandals.

Milwaukee Police Chief Alfonso Morales said Tuesday night one teenager was found, and police were working to find the other. Family earlier Tuesday told FOX6 News the girls were found safe. Chief Morales said police had "not received the cooperation we would expect from family."

An MPD spokeswoman said the 13-year-old girl was found safe in "another location" that was not in the area near 40th and Lloyd.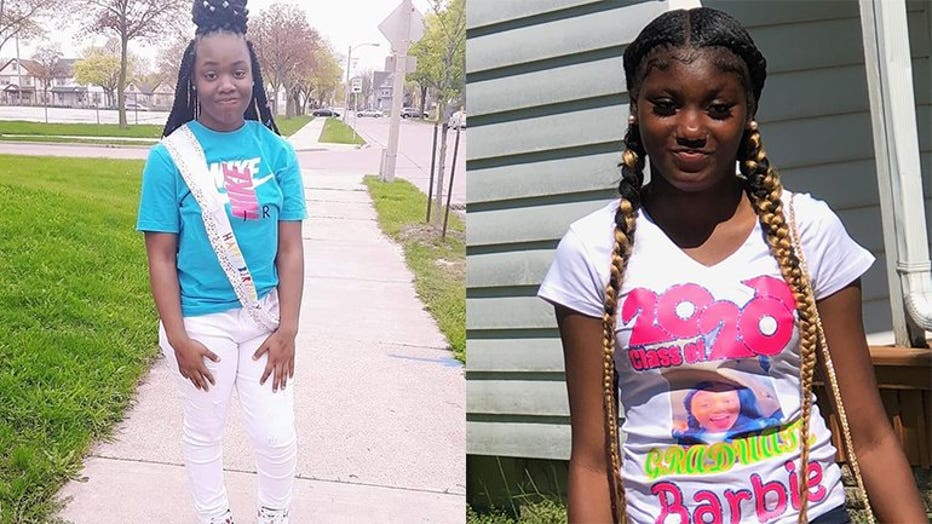 Chief Morales said after the girls were reported missing, a home in the neighborhood near 40th and Lloyd was checked on "multiple occasions" amid the search for these missing girls, including on Tuesday. They were not found in the home.

Around 11 a.m. Tuesday, Morales said a group attempted to enter the home to search for the girls and there was an exchange of gunfire between someone inside the home and someone from the group trying to enter.

As officers investigated, Morales said the crowd in the neighborhood grew and became "unruly." Morales said people began throwing "large bricks" at officers -- resulting in a request for extra help at the scene.

During the unrest, Morales said a couch was set on fire, a vehicle was set on fire and ultimately, a home in the neighborhood burned.

Morales said one firefighter was hurt, along with seven officers -- suffering minor injuries.

FOX6's cameras captured the chaotic scene Tuesday after family members of the missing girls said after reporting the children missing, they didn't hear much from police about what was being done to find them -- so on Tuesday morning, they showed up at a home in the area with a search party. There was no answer at the door, but soon, FOX6 crews on scene heard about five gunshots and everyone ran.

PHOTO GALLERY



Those at the scene said they don't want violence, but are frustrated because they've spoken out about human trafficking in the neighborhood for years.

Shortly before 6 p.m., FOX6's cameras captured the fires in the neighborhood.




According to the Milwaukee Police Department, two teens were injured in a shooting that happened in the area of the unrest around 5:25 p.m. The victims -- a 14-year-old boy and a 14-year-old girl -- was struck near 41st and Lloyd and walked to the hospital for treatment of non-life threatening injuries.

Just after 7:30 p.m., Milwaukee police said a 24-year-old Milwaukee man in a vehicle near 40th and North was hurt when shots were fired at the vehicle. Police said he walked into MPD's District Three station to report the shooting, and refused medical treatment.

Emotions ran high not only among those directly affected by the day's incidents, but also among community members who watched it unfold. Dozens were in the area of 40th and Lloyd for several hours until things began to disperse around 8 p.m.

Many of the people who gathered, FOX6 News was told, had joined the search party for the missing girls. However, many also looked on amid the flames.

Near the scene, FOX6 spoke with Reggie Moore, director of Milwaukee's Office of Violence Prevention, who said he came to the area in an effort to de-escalate tensions.

"At the end of the day, understanding that people are enraged and care about what happened to children in our community," Moore said. "At the same time, now we have a house that has to be rebuilt at some point or torn down. So, understand the frustration, but as a city, we have to do everything possible to protect our children so these incidents don't happen in the first place."

Again -- the two missing girls are safe, according to family, though bruised and shaken. Family said Tuesday afternoon they had not had a chance to speak with them about what happened, and why they were gone for three days.