4 sought in arson, shots fired near 40th and Lloyd; police say no evidence to suggest missing girls were there


MILWAUKEE -- Ten police officers and one firefighter were hurt when fire was set in the neighborhood near 40th Street and Lloyd Street Tuesday, June 23 -- unrest sparked by a case involving two missing teenagers -- believed to be in danger. During the unrest, three people were shot and wounded following an initial report of shots fired Tuesday morning. Milwaukee police on Wednesday released photos and video -- seeking those responsible for the arson of a home and van in the neighborhood, and a shots fired incident.

In an update Wednesday, Milwaukee police said officers responded to the home near 40th and Lloyd to check for a missing 13-year-old girl and a missing 15-year-old girl. The officers searched the residence multiple times. However, the teenagers were not located.

On Tuesday around 10 a.m., police said officers were dispatched to a "trouble with subject" call at the same location and were notified that individuals attempted to enter the residence to conduct their own missing check. Officers searched the residence again. However, the teenagers were once again not located.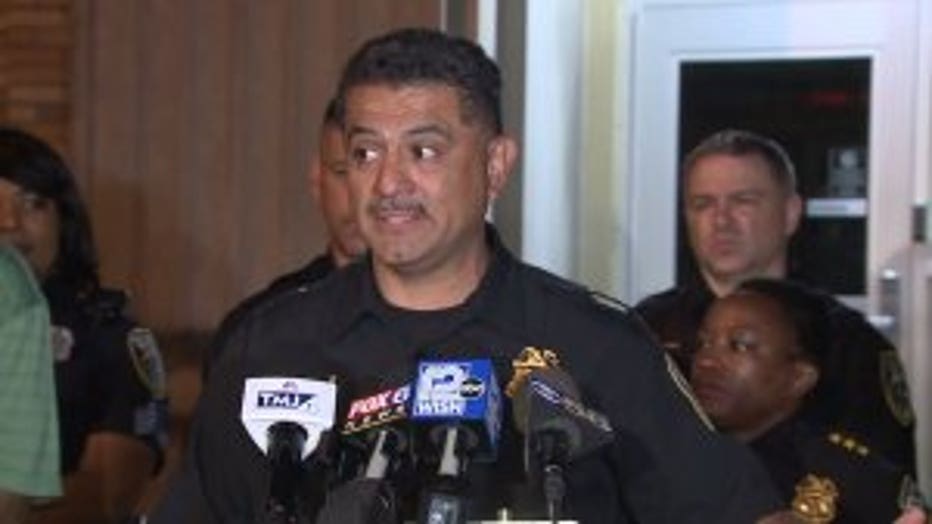 Milwaukee Police Chief Alfonso Morales


An hour later, at approximately 11 a.m., officers responded to a ShotSpotter activation at the same house. Officers discovered shots were exchanged between the residents of the home and the group of individuals who were attempting to enter the residence. People who were escorted from the home Tuesday were the residents who live there, police said, taken from the home for their safety due to threats to burn it down. An MPD spokeswoman said Wednesday those people lost their home.

"We investigate the information given to us, and we can't allow an unruly crowd to deter what that investigation is," said Milwaukee Police Chief Alfonso Morales Tuesday night. "What you had today is vigilantism. You had people take the law into their own hands and run off information that has not been proven. We need to investigate that. That's what the police is here for. We have to determine what crimes have been committed. When you don't get the cooperation from the families and the witnesses to allow us to move forward, how can we give an investigation the proper attention it deserves?"

Chief Morales said the unrest was fueled by speculation and internet rumors. FOX6 News was told by those at the scene the house was linked to sex trafficking.

"Even though it's not our kid, we are still concerned," said an individual at the scene Tuesday. "We have little ones like these. We don't want them to come missing either."

"Rumors are just rumors," said Tracey Dent, community organizer. "If it's nothing factual, it's just rumors. You guys got to slow down. Let's get the facts first before you start reacting, so you don't have what happened yesterday happen again."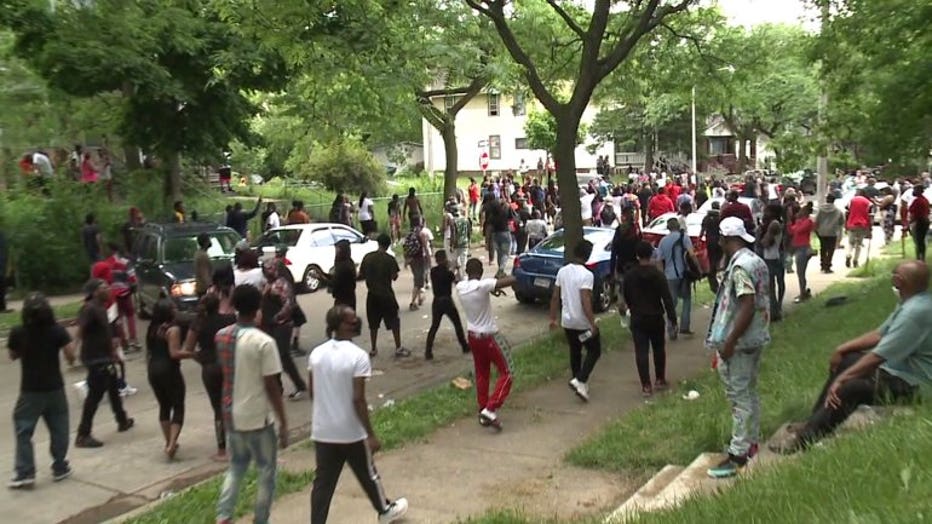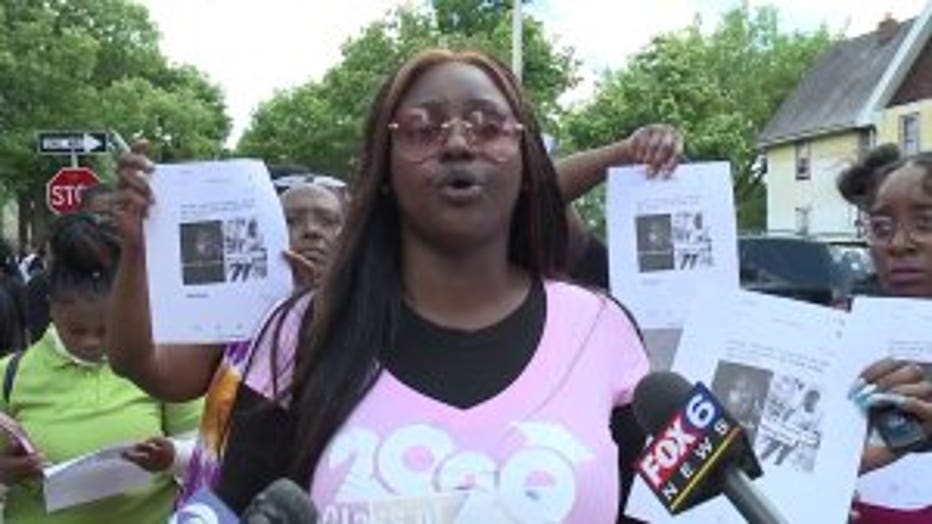 While officers were on scene, Milwaukee police said the crowd continued to grow and individuals began to throw bricks and pieces of concrete at officers, which resulted in two officers being injured. Due to the large crowd and their behavior, the officers who were at the location requested back up. Prior to additional officers arriving at the scene, the crowd surrounded the rear of the residence and set a couch, a vehicle, and a house on fire.

During the chaos throughout the day, the mother of one of the missing girls said the unrest was not about her daughter.

"I'm actually about to leave right now because there's a lot of stuff going on that's taking away from us finding these kids," said Selcy Perkins.

As the fires burned, Milwaukee police had to escort members of the Milwaukee Fire Department to the scene in order for them to be able to safely extinguish them. One member of the Milwaukee Fire Department sustained a non-life threatening injury and was taken to a hospital.

"This whole chain of events could have been avoided," said Chief Morales. "And my heart goes out to the people in this community. As I was out there, I was able to talk to residents. There are people who want to live in normalcy. There are people who are living in these communities who are being affected. Some people can say property doesn't matter, but if you live in this area in the city of Milwaukee, the houses are very close. You allow one house to burn, that means you allow the entire block to burn, and there are people in these residences that aren't going to move. They choose to live where they choose, and that's what we're all here for -- to preserve life. We cannot let this stuff happen."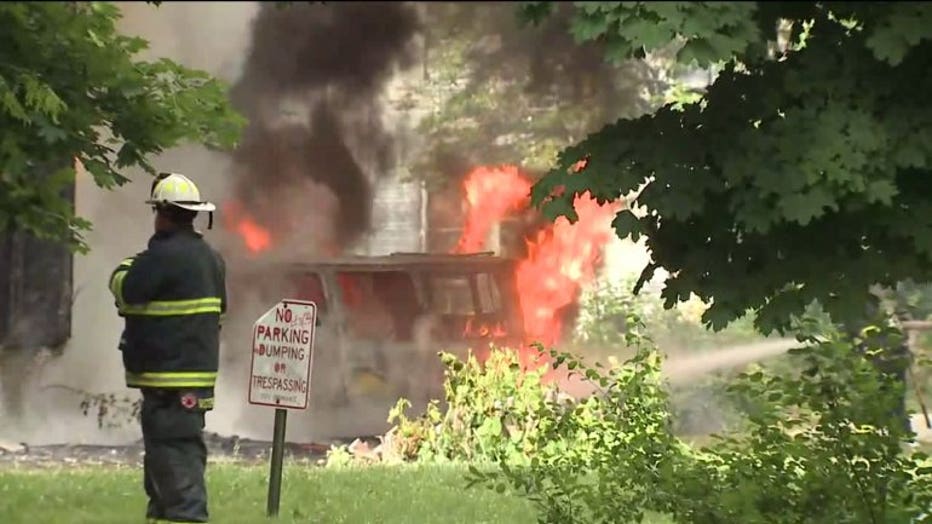 Unrest near 40th and Lloyd after girls reported missing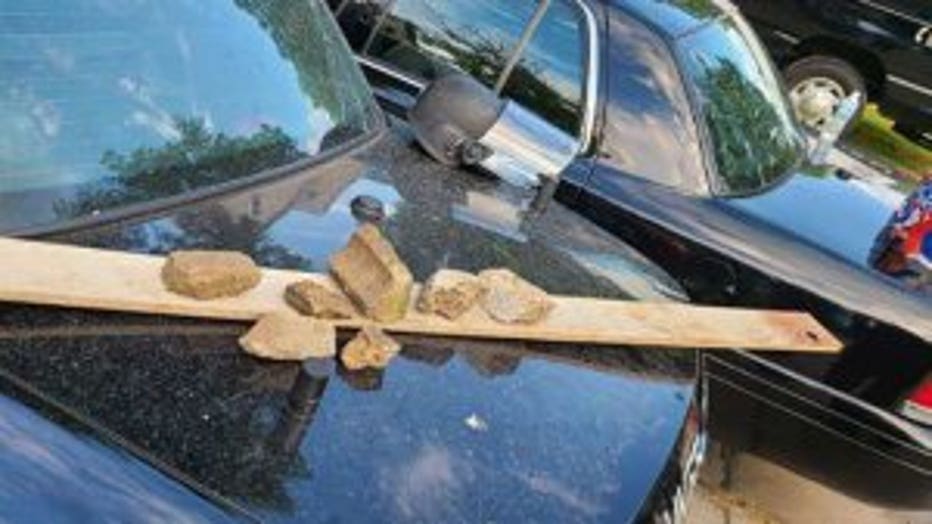 Pieces of concrete that were thrown at officers (Courtesy: Milwaukee Police Department)


Meanwhile, police said several shots were fired by individuals in the crowd and three individuals sustained non-life threatening gunshot injuries. The victims of those non-fatal shootings were taken to a hospital.

Later in the evening, police said the crowd returned and reignited the fire to the residence. Officers intervened, but three officers were injured by individuals who were in the crowd who struck them with bricks, police said.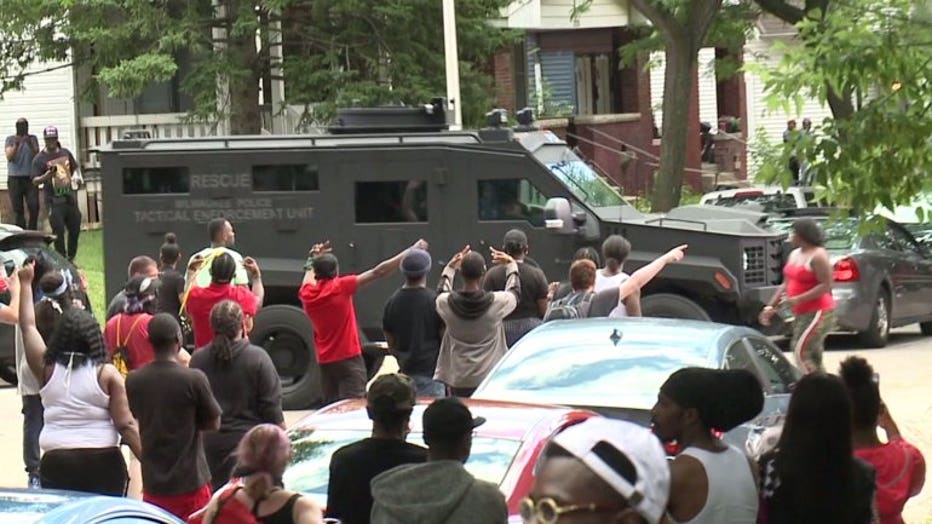 Unrest near 40th and Lloyd after girls reported missing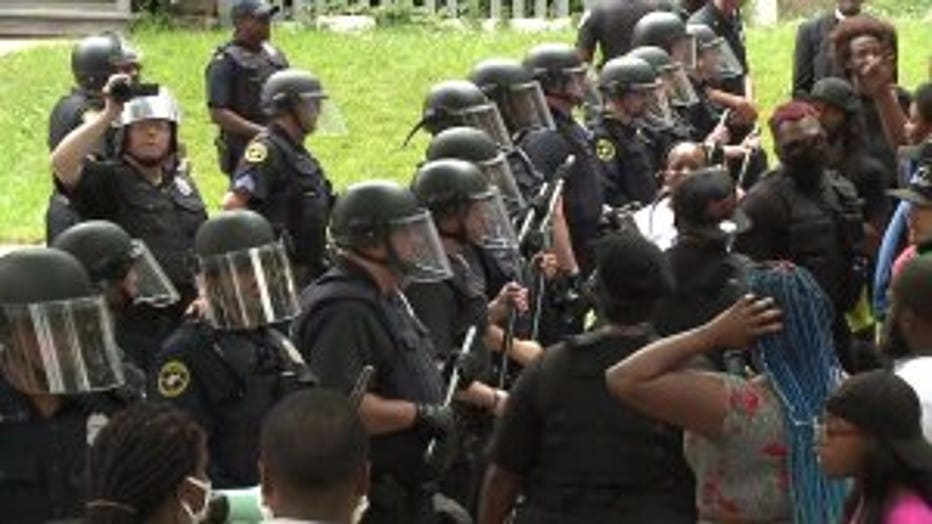 Chief Morales defended the use of force by the department, which included gas and, according to witnesses, rubber bullets. Police said those were "foam projectiles."

"We had to go out and do a rescue in the middle of an angry crowd," said Chief Morales, regarding a shooting victim in the crowd. ""Imagine how difficult that was. Imagine how difficult that is for the fire department to put out a fire when there's bricks and all other projectiles being thrown not only at police, but at the fire department, so yeah, this was a pretty chaotic scene and yes, we did use less lethal."

MPD issued this statement Wednesday:

"To disperse the individuals in the unruly crowd where shots were fired by the citizens, property was damaged and where 3 people were shot, MPD used the less lethal munitions which consist of smoke, foam projectiles, oleoresin capsicum gas and chlorobenzalmalononitrile gas."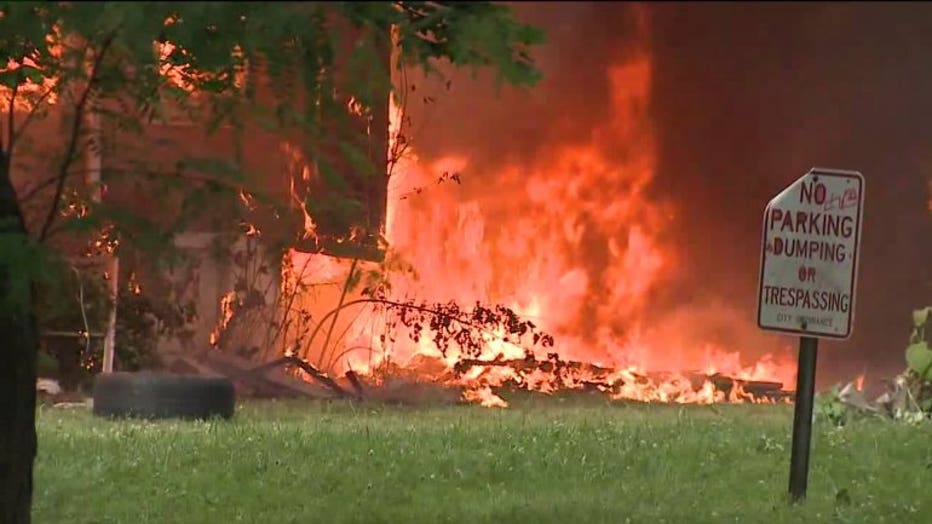 The Milwaukee Police Department confirmed on Wednesday both missing teenagers were located and with their families. MPD interviewed both teenagers who denied going to or being at the residence and denied meeting or knowing anyone who lived at that residence. Police added there's no evidence to substantiate that human trafficking occurred at that location.

The preliminary investigation revealed that no information provided to MPD to suggest that the teenagers were at the residence that was set on fire or that any foul play occurred at that location.

An MPD spokeswoman added there were eight calls for service at the lower unit of the home in 2020. Six of those calls were related to the missing checks, threats and the fire that occurred on Monday and Tuesday. None of the calls were related to prostitution, sex trafficking or human trafficking, she said.




On Wednesday evening, Milwaukee police asked for help identifying and locating a man wanted for recklessly endangering safety amid the unrest.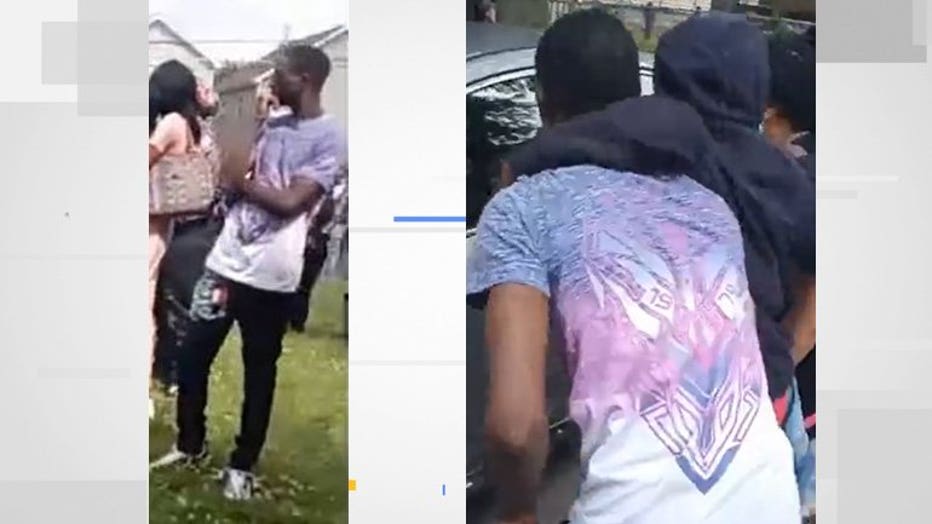 Shooting suspect near 40th and Lloyd (Courtesy: Milwaukee Police Department)


Police said he fired multiple shots into an occupied vehicle -- shown in the above video -- striking a victim.

The shooter was described as a male, African American, 18-25 years old, 5'8" to 5'10" tall and around 150-160 pounds with a thin build and short black hair. He was seen wearing a blue, purple and white T-shirt, black pants and white shoes.




Milwaukee police also asked for help identifying and locating men wanted in connection with an arson that took place in the neighborhood around 5 p.m. Tuesday. Police said the individuals pictured below intentionally started a van and house on fire.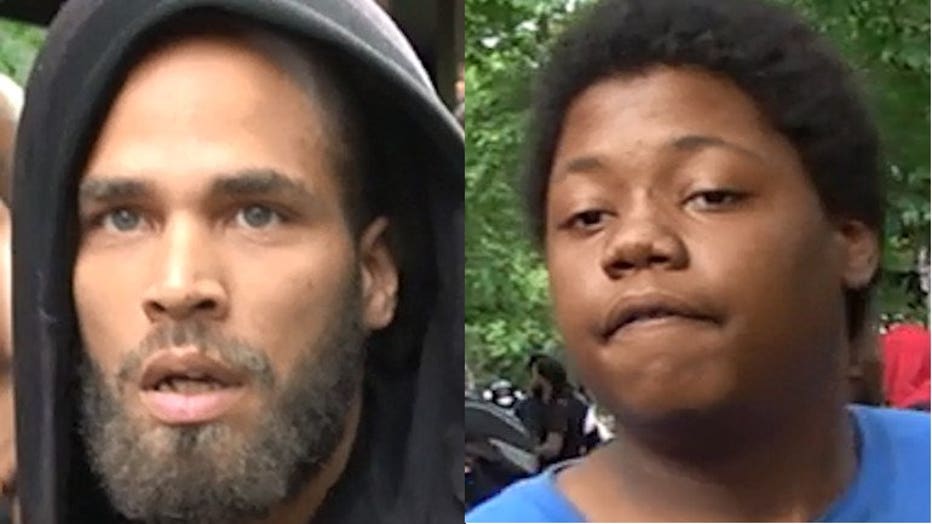 One was described as a male, African American, 25-30 years old, thin build, light complexion and full beard. He had a birthmark on the left side of his neck. He was last seen wearing a black T-shirt, black hooded jacket, dark pants and black sandals with black socks.

The other was described as a male, African American, 16 -19 years old, 5'9"-5'11" tall and around 240 pounds with black hair. He was last seen wearing a blue T-shirt and blue jeans.

Another suspect is described as a male, African American, 20-25-years-old, 5'11", 150 pounds, with dreads and a beard. He was last seen wearing a black Nike t-shirt and black shorts.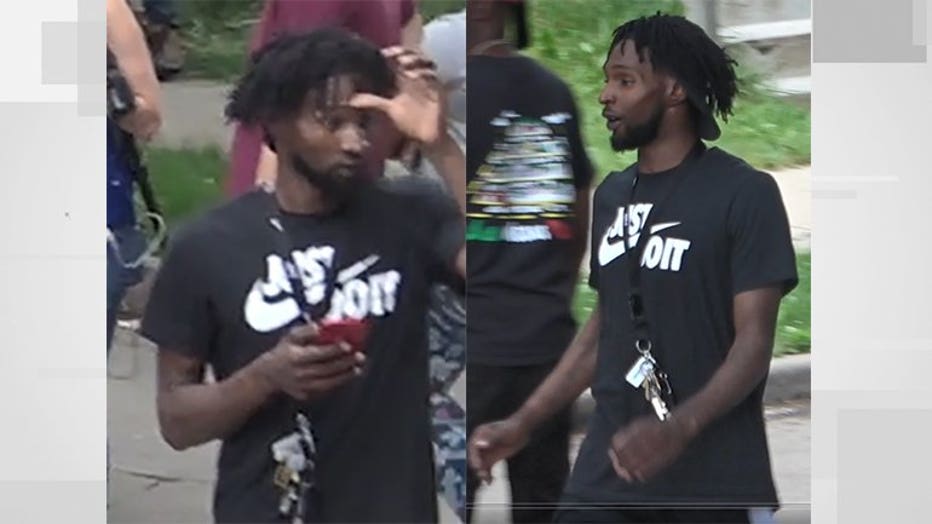 FOX6 News learned a woman lived in the upstairs of the home that burned near 40th and Lloyd, along with a 2-year-old boy. The woman was at the hospital giving birth at the time of the unrest. A GoFundMe.com account was set up to help get her back on her feet. CLICK HERE to make a donation.

If anyone has any information regarding this incident they are asked to call Milwaukee police at 414-935-7360 or Milwaukee Crime Stoppers at 414-224-TIPS for a cash reward.