'31 flavors:' Packed Democratic field for governor wrestles for attention at party's convention


MILWAUKEE -- Wisconsin Democrats say having 10 candidates running for governor shows they're fired up to take on Gov. Scott Walker, but some delegates raised concerns at the annual state convention this weekend about the size of the field.

"Boy, I'm telling you, we've got so many candidates for governor," said U.S. Rep. Gwen Moore, D-Milwaukee, during her speech in Oshkosh on Friday night. "It's a good problem, because any generic Democrat can beat sorry Scott Walker."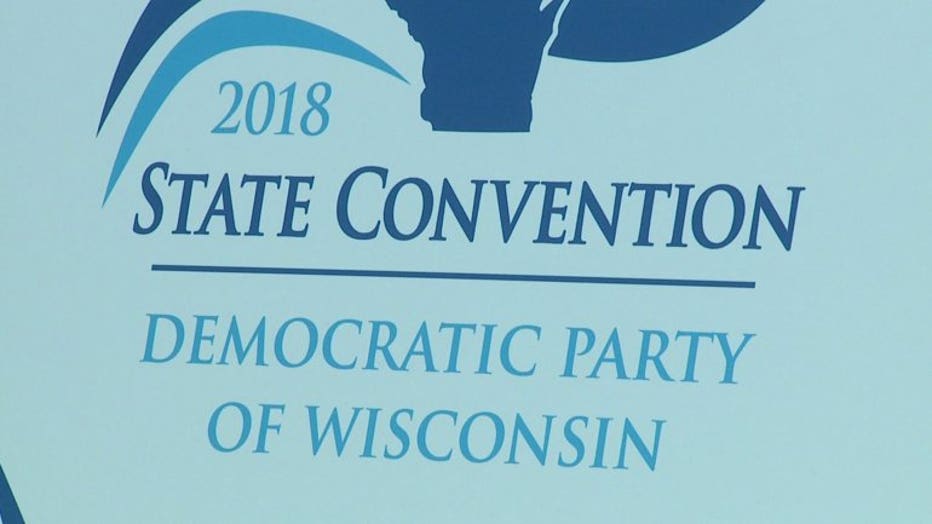 None of the candidates have broken away from the pack ahead of the Aug. 14 primary. All of them tried to get attention at the party's convention, with varying degrees of success.

Convention attendee Larry Hulbert of Green Lake said he was glad Democrats didn't repeat the process from 2014, when businesswoman Mary Burke was the party's clear nominee heading into the convention and lost to Walker in the general election. But he said there were "too many" candidates this year.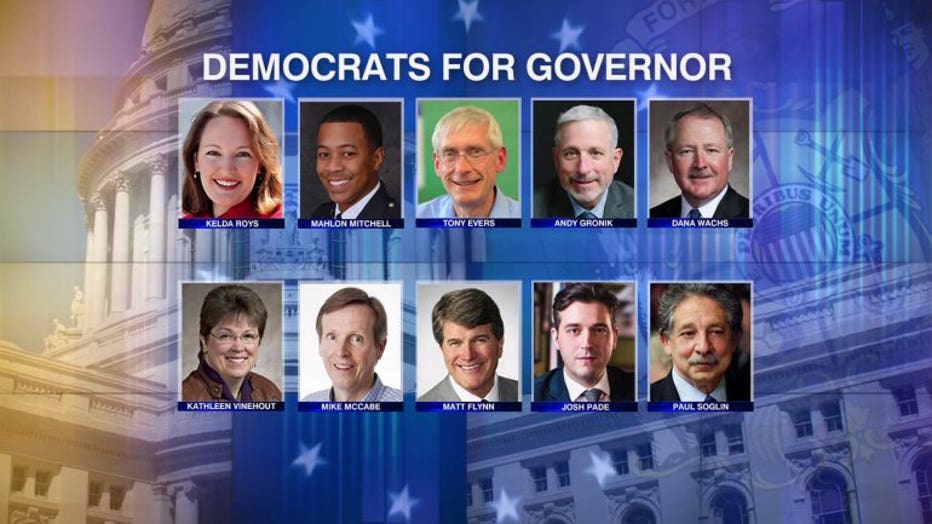 "I hate how the smoke filled room picks my governor candidate for me, and this year I wanted to be able to pick one," Hulbert said. "I get to pick one all right, but we went a little too far."

On stage, the 10 candidates did their best to grab the spotlight despite a strict five-minute time limit that left some candidates baffled when their microphone cut off.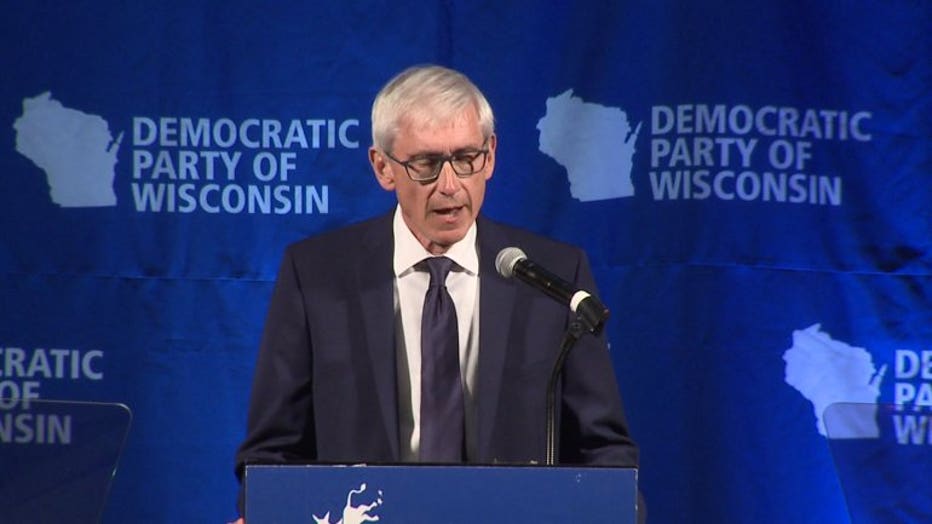 "I'm running for governor because I'm goddamn sick and tired of Scott Walker gutting our public schools," said state schools superintendent Tony Evers.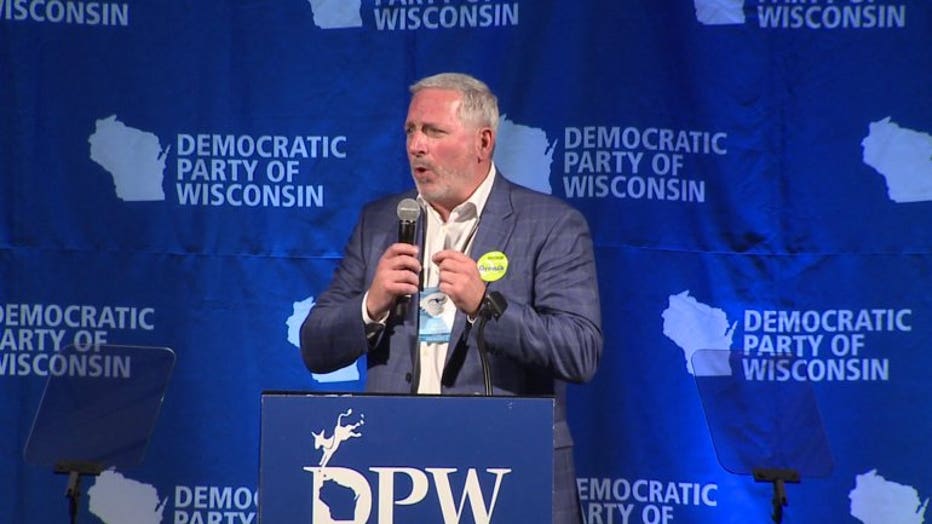 Milwaukee businessman Andy Gronik said Democrats need a different kind of candidate, positioning himself as the political outsider in the race.

"Scott Walker has beaten the establishment politician three times in a row," Gronik told attendees.

Former state representative Kelda Roys of Madison won the WisPolitics.com straw poll with 23 percent of the 789 votes cast. Roys nearly doubled firefighters union representative Mahlon Mitchell, who finished second with 12 percent.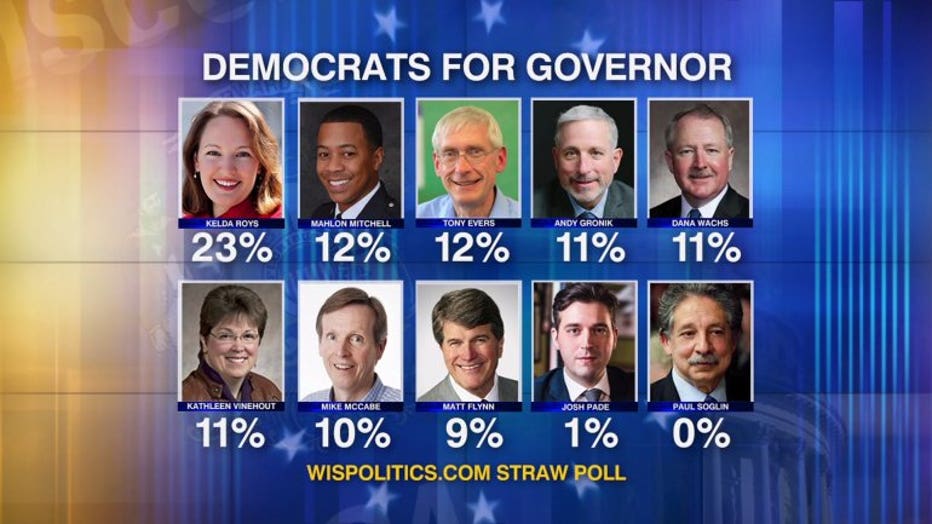 Madison Mayor Paul Soglin finished last in the straw poll, earning a single vote.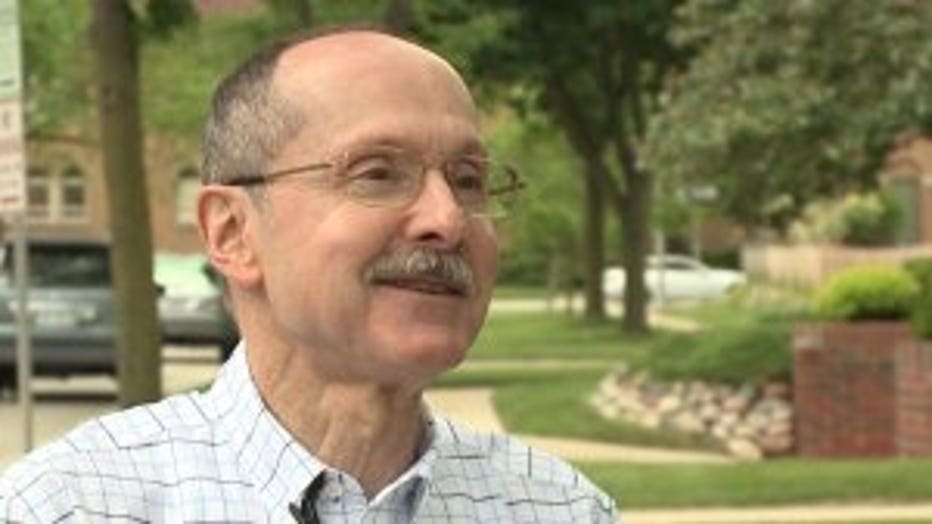 "You can have any flavor you want. It's like going to 31 flavors," said Mordecai Lee, a University of Wisconsin-Milwaukee professor, as he assessed the Democratic field. "The bad news is that it's really hard for a candidate to break through."

Lee said the size of the field will make it difficult for Democratic voters to decide who should take on Walker.

"I think somebody is going to become the Democratic nominee with 20 percent of the vote -- maybe even less than 20 percent of the vote," said Lee. In Wisconsin, a candidate only needs to get more votes than everyone else to win a partisan primary.

Republicans delighted in the enormous field.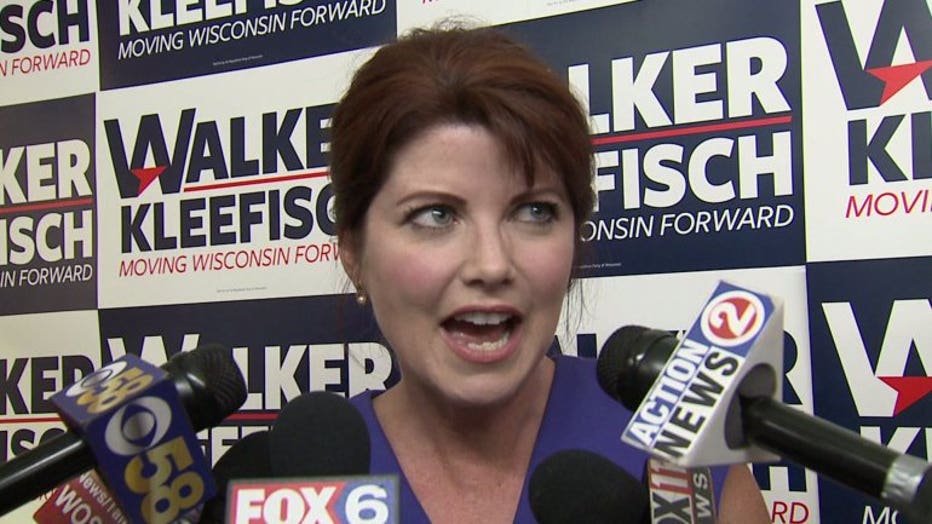 Lt. Gov. Rebecca Kleefisch


"They're just too fractured. There's too many factions," said Lt. Gov. Rebecca Kleefisch at a GOP event near the Democratic convention in Oshkosh.