3 protesters out of jail after Justice for Jacob Blake rally in Kenosha
KENOSHA, Wis. - Three men arrested after a peaceful demonstration on Sunday, April 25 in Kenosha are out of jail. They were part of a group demanding justice for Jacob Blake by blocking the entrance to the police department for hours.
The group said they would not move until Kenosha's police chief came out to hear their list of demands. That never happened. 
"We weren't being violent. We were sitting in peace for justice for Jacob Blake," said Justin Blake, Jacob Blake's uncle.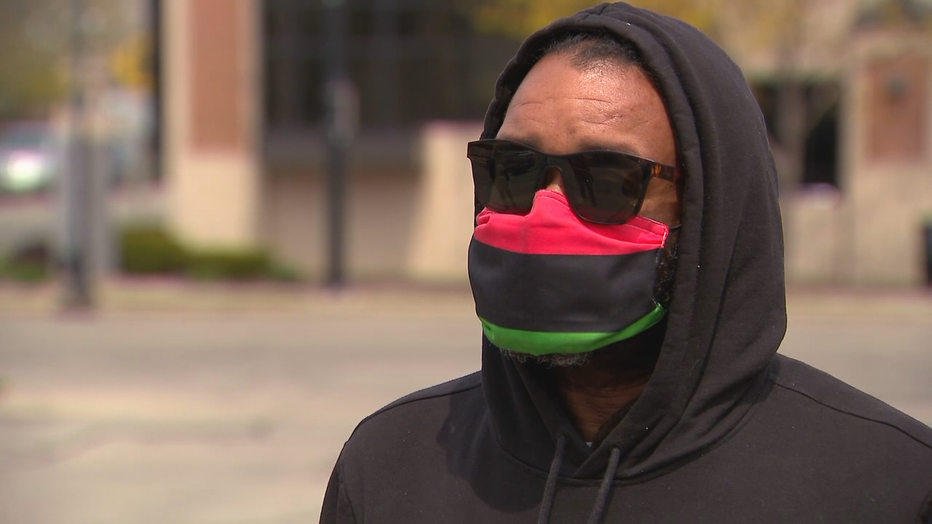 But when Blake was arrested Sunday night after a roughly six-hour protest, it still came as a surprise. 
"Big things are on the line and sometimes you have to make big sacrifices," Blake said.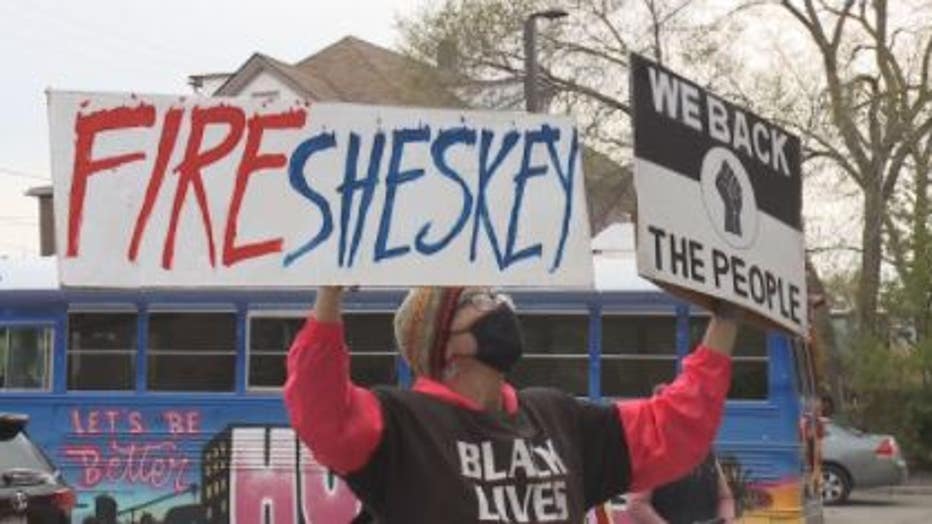 The group started with a march through Kenosha's streets Sunday afternoon. They were drawing attention to several demands they have for the Kenosha Police Department. At the top of the list, the group is demanding the firing of Officer Rustin Sheskey, the officer who was cleared of any wrongdoing in the shooting of Blake last August. Sheskey is back from administrative leave.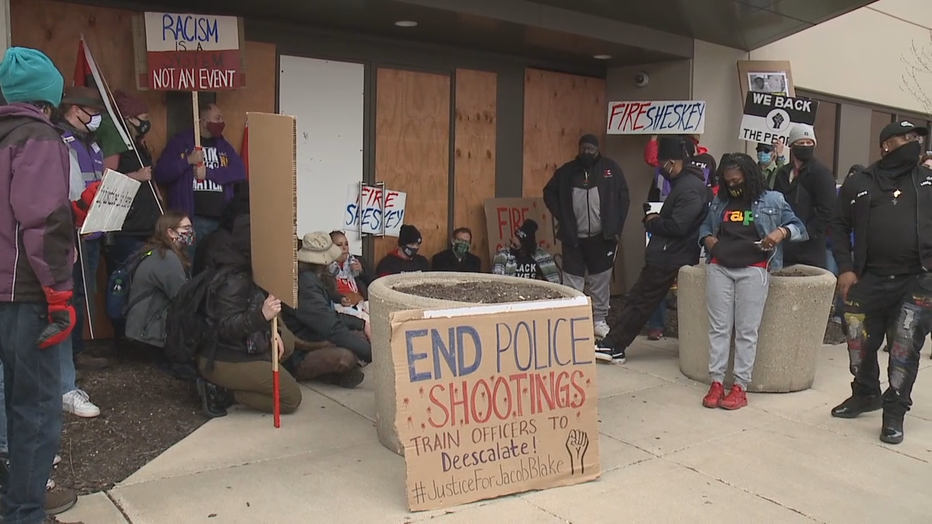 "The community has to be a part of this solution and leaving us out and not letting us know what's happening is not a part of the solution. It's just more of the same," said Tanya McLean, Leaders of Kenosha Exec. Director.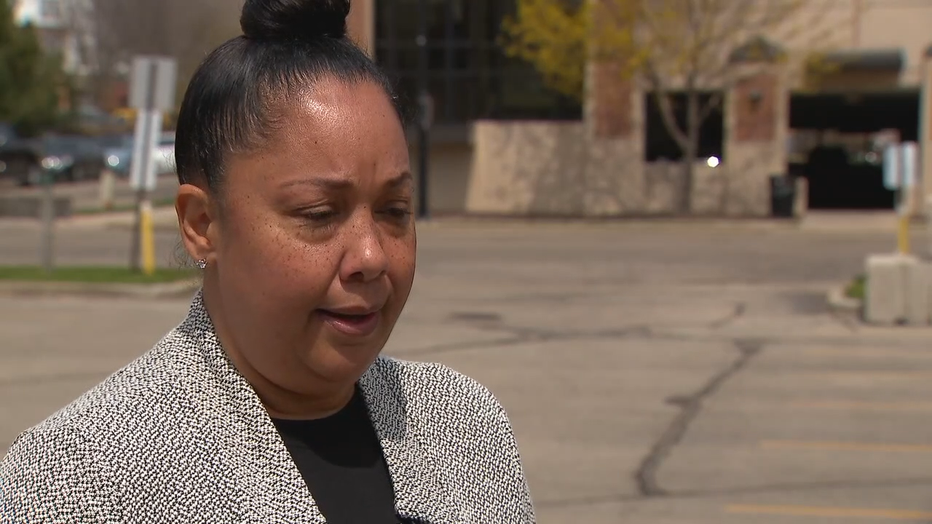 Four protesters blocked the public entrance of the police department. One of them moved when sheriff's deputies arrive. The three that did not move were arrested. They were all charged with disorderly conduct. Justin Blake faces an additional charge of obstructing an officer.
"When you're not obedient to a police officer, they sometimes take that really personal," Blake said.
FOX6 News spoke with Justin Blake moments after his release.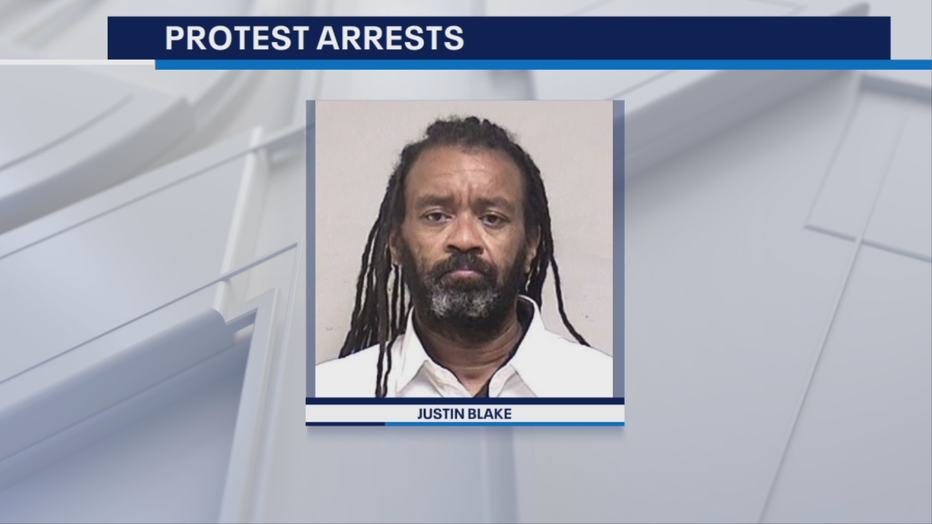 "I'm glad they are handling themselves in this way.  It shows they don't want any change.  It shows how deep racism and systemic racism runs throughout this government," Blake said.
On Monday afternoon, Kenosha Police Chief Daniel Miskinis issued the following statement:
"As Kenosha's Chief of Police I am extremely disappointed that some of the people making demands are people who have had regular contact with me or a member of my executive staff.
"We are always open to constructive communication; however, we cannot effectively communicate with those that seek a spotlight to create and further facilitate a false narrative. Community growth, building relationships - these ideas need to be our focus, not creating barriers.
"Kenosha Police will not respond to demands, nor will we entertain the unlawful termination of a police officer.
"We have met with many people in our community, participated in listening sessions and we are active in Mayor Antaramian's plan for equity and inclusion. We routinely evaluate and enhance our policies and seek out additional training for our staff. Our body worn camera program is progressing and is anticipated to be implemented later this year. These steps are progress and we will continue working to improve our relationships with all of Kenosha."
The Kenosha Police Department is shared with the Kenosha County Sheriff's Department. Deputies made the arrests. In a statement, a spokesperson said, "Everyone has the right to peacefully protest on public property...but cannot block access to a government building."