1 dead, 1 seriously injured after Waukesha County motorcycle crash, authorities say
WAUKESHA COUNTY -- One man was killed and another seriously injured after a motorcycle crash in Waukesha County on Saturday afternoon, June 27.

It happened near WIS-67 and CTH-ZZ in the unincorporated town of Ottawa.

From the initial investigation, it appears a 33-year-old man from Elgin, Illinois was traveling on a motorcycle southbound on WIS-67. That driver lost control of the motorcycle and entered into the northbound lane of WIS-67. The southbound motorcycle struck a northbound motorcycle that was operated by a 37-year-old man from New Berlin.

The 33-year-old man was pronounced deceased at the scene. The 37-year-old was taken from the scene with non-life-threatening injuries.

Authorities with the Waukesha County Sheriff's Office said drugs or alcohol are not believed to be a factor in the crash.

WIS-67 was shut down for several hours.

Photos from the scene show a Flight for Life helicopter and personnel with the Western Lakes Fire District responding.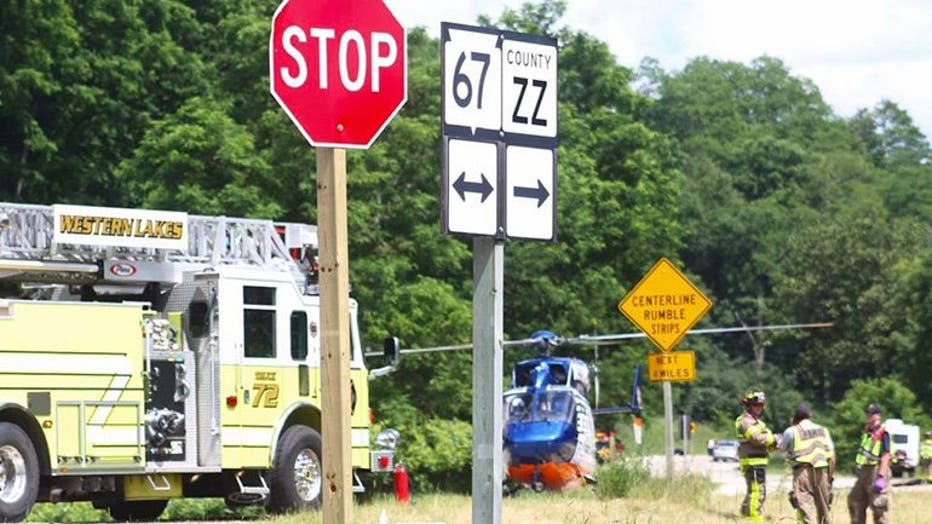 Waukesha County crash (Courtesy: Tim Snopek)