Looking for ways to add veggies to your diet? Tips for preparing healthy meals


MILWAUKEE -- We know that eating fruits and veggies can help lower our risk for obesity, type 2 diabetes and heart disease. However, Americans are not eating the recommended 2-3 cups of veggies per day and 1 ½ -2 cups of fruits per day.

Meijer Healthy Living Advisor, Maribel Alchin, joins FOX6 WakeUp with three easy ways to eat more veggies.

Blend- Add 1 cup of spinach, kale or other baby greens to your smoothies to get one serving of veggies. Greens are low in calories and provide essential B vitamins vitamin A and antioxidants. Nutrients that are essential for heart health including healthy blood pressure. Smoothies are perfect for breakfast on-the-go, an afternoon snack or dessert. Enjoy your smoothie with a *Kashi Organic Dark Chocolate Coconut Ginger Chewy Granola Bar.

Mango Refresher
Serves 2

• 3/4 cup True Goodness™ by Meijer ™100% Orange Juice
• 1 cup baby greens, such as Earthbound Farm® baby spinach*
• 1/2 ripe banana
• 1 cup Earthbound Farm® frozen mango chunks*
• 3/4 cup or 6oz. container Meijer plain Greek yogurt
• 1/2 Tbsp. ground flaxseed
• Dash McCormick®* ground nutmeg or cinnamon
• 1/2 cup (120 ml) ice cubes (optional)

1. Put juice in blender and add remaining ingredients; blend until smooth. For thicker smoothie, add ice and blend well. For thinner smoothie add a small amount of water or additional juice.

Nutrition Information per serving: Calories 238, Fat 6g, Cholesterol 19 mg, Sodium: 70 mg,
Potassium: 562 mg, Carbohydrate 40g, Fiber 4g, Protein 5g.

Grill -- Grilling enhances the natural sweetness in vegetables and gives it a smoky flavor. Try
these grilling tips:
• Use skewers or a grill basket. Soak wooden skewers in water for 30 minutes to prevent them from burning.
• Coat the grill rack with nonstick cooking spray before heating up the grill to prevent from sticking.
• Turn vegetables halfway through grilling time and cook until tender.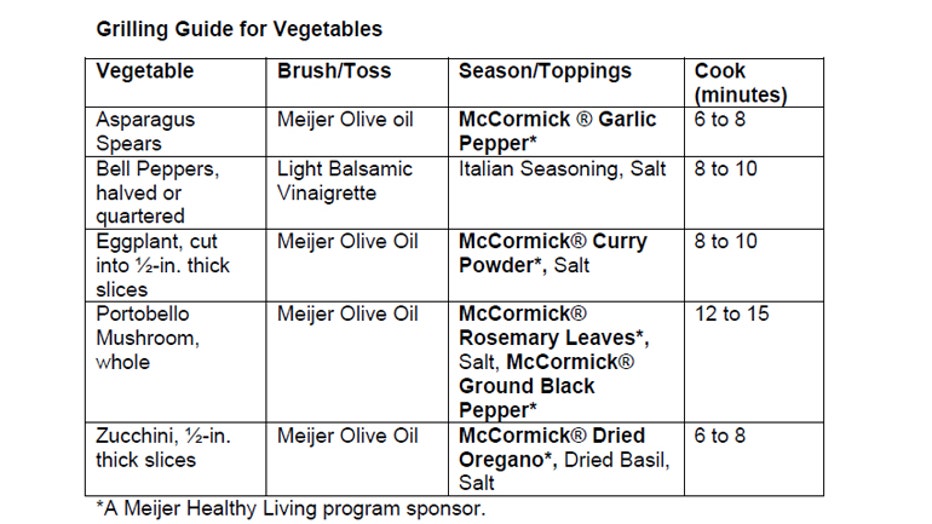 Grilling guide for vegetables


Leftover grilled veggie ideas
• Toss whole grain pasta with grilled veggies, olive oil, and chopped fresh basil. Top with low-fat crumbled feta cheese.
• Wrap grilled veggies in whole grain tortilla spread with hummus.
• Mix grilled veggies with cooked quinoa
• Add grilled veggies to soup
• Top pizza with grilled veggies
• Veggie sandwich: spread pesto on grilled/toasted whole grain bread and top with grilled veggies.
• Mini veggie quiche: combine 4 eggs, ¾ cup grilled veggies, ½ cup low-fat shredded cheese and ¼ cup low-fat milk. Pour into 6 nonstick muffin cups. Bake at 350° F for 20 minutes.
• Layer the grilled veggies into your lasagna.

Stuff: Make veggies the center of your plate or main course. Bell peppers, poblano peppers, zucchini, portabella mushroom caps, acorn squash, butternut squash, potatoes, tomatoes or eggplant can be used as a shell for stuffing. Fill these veggies with hearty whole grains, lean
protein, fresh herbs, and low-fat sharp shredded cheese for a robust flavor.

Demo:

Chipotle Black Bean Stuffed Zucchini
Serves 4
• 2 medium locally grown zucchini
• 1 (12 oz.) pkg. MorningStar Farms® Chipotle Black Bean Crumbles™
• 1 (10 oz.) bag Birds Eye Steamfresh® Brown & Wild Rice with Corn, Carrots & Peas
• ½ cup reduced fat Mexican shredded cheese
1. Preheat oven to 350°F. Cut zucchini in half lengthwise; scoop out pulp, leaving a ½ inch shell. Finely chop pulp.
2. Combine cooked crumbles, cooked rice, and zucchini pulp.
3. Spoon bean and rice mixture into the zucchini shells. Place in greased 11x8 inch baking dish. Bake covered at 350°F for 25-30 minutes or until zucchini is tender. Top with shredded cheese.

Source: Chef Maribel Alchin, MBA, RD, LDN, Meijer Dietitian & Healthy Living Advisor. Nutrition Information (per serving): 241 calories, 8g fat, 8 mg cholesterol, 525mg sodium, 29g carbohydrate, 5g fiber, 18g protein Serve with Greek nonfat yogurt topped with grilled peach slices, sliced almonds. Drizzle with True Goodness™ by Meijer™ Organic Honey.