Enlightened Brewing Company to bring 3 local businesses together for pop-up brunch in Milwaukee


MILWAUKEE -- Enlightened Brewing Company is bringing together three other local businesses to put together their first-ever pop-up brunch on Sunday, June 3.

The pop-up brunch will be featuring Press. waffles, cold brew from Pilcrow Coffee, Bloodies from Twisted Path Distillery and Beer from Enlightened Brewing Company.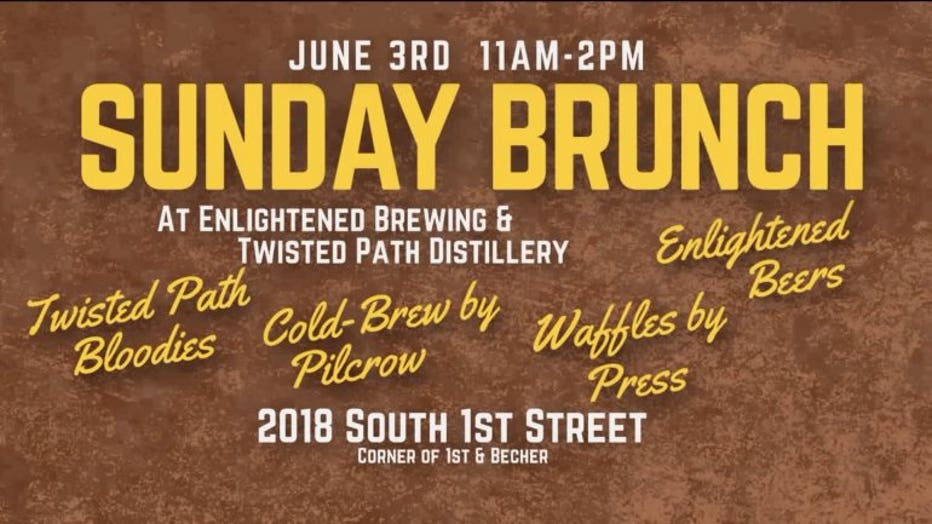 About Enlightened Brewing Company

Enlightened Brewing is a partnership between Tommy Vandervort and James Larson. Tommy got a Bachelor's Degree is Philosophy and Political Science and James got a Master's degree in Brewing and Distilling from Heriot-Watt University in Edinburgh, Scotland.

Enlightened has been around since 2013 and began brewing in the Lincoln Warehouse 15 gallons at a time. We started in a 500 square foot space on the 2nd floor and sold our first keg in February of 2015.

Our goal is to make tasty straightforward beer in styles that we feel like drinking that can be appreciated several glasses over. Most of our beers fall in the 4% to 7% ABV range and try to showcase the beauty of fresh beer with simple recipes

For the pop-up brunch, we'll be bringing the beer chaser to Twisted Path's Bloody Mary either in our 5oz beaker tasting glasses, or in full pints. We think Cream City Brix works perfectly as a chaser to balance a savory bloody mary, but you can try it with anything we have on tap.

About Press. 

We make a traditional Belgian Liège Waffle, which is made from a brioche dough instead of batter. Another unique aspect of Liège waffles is that we fold Belgian Pearl Sugar into the dough, and as we cook the waffles the sugar pearls caramelize on the outside and leaves sweet pockets on the inside. We've been serving them with a dusting of powdered sugar or with unique topping combinations at area farmers markets, events, and from our vintage camper since 2015. We'll hopefully be sharing some exciting news later this summer about a more permanent location as well.

About Twisted Path Distillery 

Twisted Path Distillery (next to Enlightened Brewing at the corner of 1st & Becher, in Bay View) makes certified organic spirits entirely from scratch.

We are happy the weather is finally cooperating - our new tasting room we opened in December has an entire wall that is glass garage doors, now we can finally open them up and feel like we are sitting outside - and our live music is sort of indoor/outdoor.

At the brunch, we will be serving a new product we'll be launching in the coming months, a new way to make a bloody mary. A bloody mary vodka. All you do is add tomato juice and it makes an amazing bloody mary - certified organic, gluten-free, vegan, no preservatives, no flavorings. All real ingredients, from scratch.

At the brunch, in addition to several ways to customize the bloody Marys, we're doing a special brunch cocktail menu with interesting cocktails that you've never had before.