It hasn't been this cold in a while
MILWAUKEE (WITI) -- Last week, "anchor extraordinaire" Anne State popped into the weather office looking for an update on our weather. My response? "Another day, another advisory".
No doubt this winter has flexed its muscle. For those under 30 years old it may be the coldest they've ever lived through. The last time we started winter this frigid, we had a toy called the Rubik's Cube to help pass the time if our DeLorean wouldn't start in the cold.

For baby boomers and the older Gen-X'ers, this winter is more of a throwback to a time when a winter this harsh wasn't so uncommon.
So far, through January 28th our average December-January temperature in Milwaukee is 17.6°. It's the result of a December that was 5.5° below normal and a January that is 8.4° below normal.
By the numbers the first 2 months of meteorological winter makes the honor roll but will not take the stage as valedictorian. Does it seem rougher than that? If so, it's probably because we haven not seen a winter replicate these conditions on a consistent basis in so long.
If winter ended today (wouldn't that be nice) this would be the 17th coldest winter out of 145 winters on record. It is also the coldest since the winter of 1983-1984 when we averaged 16.4°.
In addition, we've had to get outside and face the cold to shovel, plow, or snow blow the +40" of snow that has already fallen which is a little more than 1.5 times the normal amount.
If the start of this winter fell in the 25 year span from the late 50s to early 80s it would probably wouldn't get so much attention. 7 of those 25 years land in the top 20 for coldest through the same dates. 1976-1977 takes the top spot nearly 5 degrees colder than what we're experiencing right now.
The decades that preceded and followed that stretch offered zero top 20 starts to winter, indicating possible warm and cold periods. Of course to fully draw a conclusion like that temperatures for the other 3 seasons would be needed but this is a blog, not a research paper.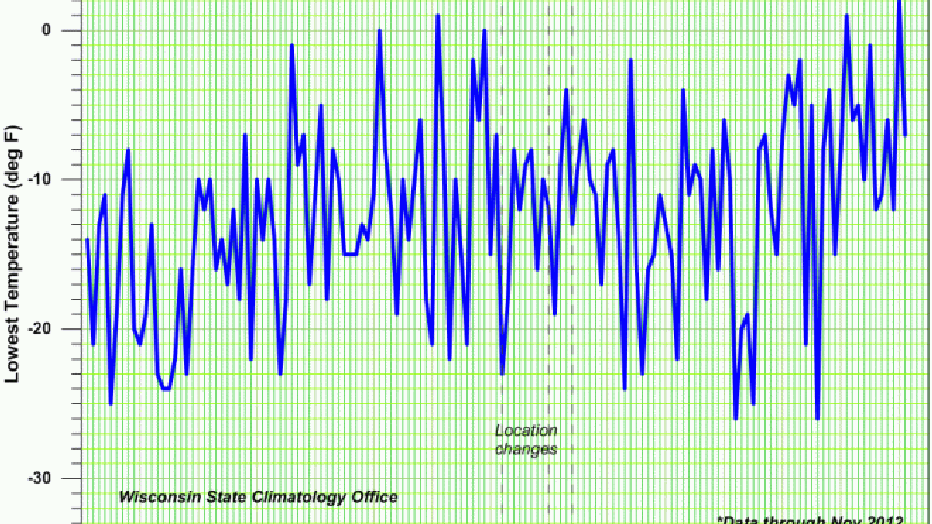 Blue line indicates the coldest Milwaukee temperature each year. The coldest temps in recent years have not been as brutal.
But enough about our start to winter, how about the finish? What does February hold for us? While my confidence in a forecast beyond 6-7 days is usually meager it does appear below normal temps are here for at least the next 2 weeks.
In addition, NOAA's Climate Prediction Center slightly favors below normal temps for Wisconsin in a straight up match vs. normal temps or above normal temps.
And if you prefer the 4 legged forecast, the groundhog will make his prediction on Sunday. If he refuses to come out at all, I think we know what that means for the rest of the season.