Wisconsin Badgers drafted: Tippmann, Benton highlight class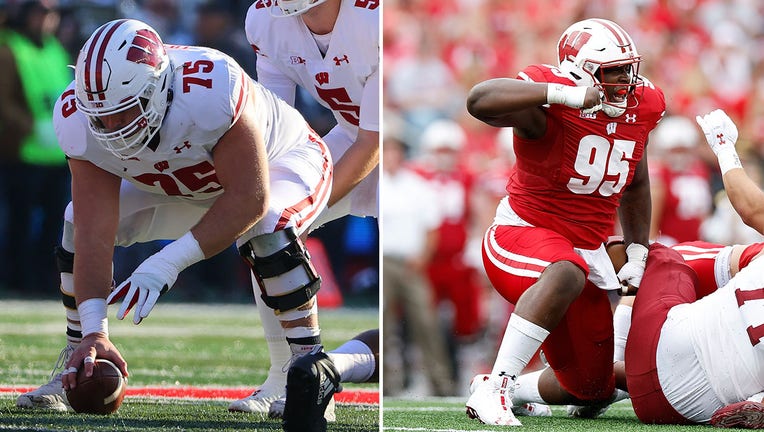 article
FLORHAM PARK, N.J. - Wisconsin offensive lineman Joe Tippmann became the first Badgers player picked in the 2023 NFL draft Friday night, April 28.
Shortly after Tippmann went 43rd overall to the New York Jets, the Pittsburgh Steelers took defensive lineman Keanu Benton at no. 49. 
Tippmann, listed by the Jets at 6-foot-6 and 313 pounds, was a two-year starter at center for the Badgers. He was an honorable mention All-Big Ten selection the past two seasons. Tippmann allowed only one sack and five pressures in 338 pass blocking snaps last season.
"I'm a physical, dominant player," Tippmann said during a video call. "Athletic as well. I'm someone who's hopefully going to be able to get out and pull."
He drew laughs from reporters while discussing his ability to ride a unicycle and his propensity for leaping over parked vehicles to show off his jumping skills.
"The next thing I'll be jumping over is (offensive) tackles, that's it," a smiling McDonald said. "I'm officially retired from jumping over cars."
The Steelers addressed a need with their second selection of the second round by taking Benton. He will likely be given time to develop behind a group that includes longtime captain Cam Heyward.
The third and final Badgers player off the board in 2023, edge rusher Nick Herbig will join some familiar company – also picked by the Steelers in Round 4. He is coming off a season in which he earned unanimous first-team All-Big Ten honors with a conference-best 11 sacks in 11 games.
The Associated Press contributed to this report.