Packers beat Patriots at Lambeau Field, 27-24 in OT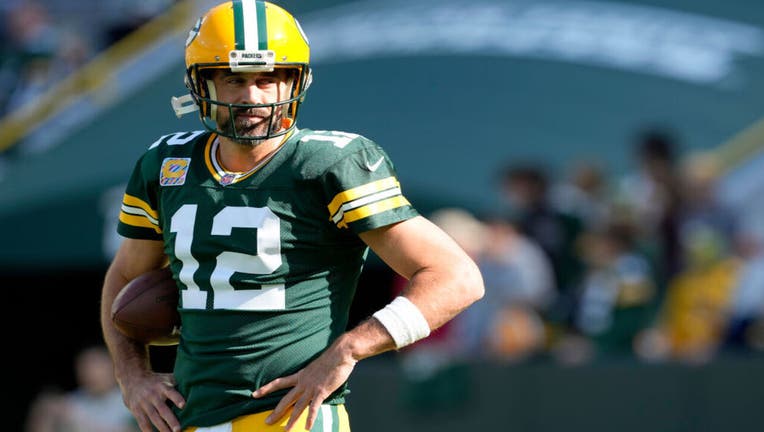 GREEN BAY, Wis. - Mason Crosby made a 31-yard field goal as time expired in overtime, and the Green Bay Packers topped the New England Patriots 27-24 on Sunday, spoiling rookie quarterback Bailey Zappe's NFL debut.
Zappe, a fourth-round pick from Western Kentucky, played the majority of the game after Brian Hoyer left with a head injury. Hoyer made his first start since 2020 in place of Mac Jones, who injured his left ankle during last weekend's 37-26 loss to Baltimore.
Hoyer led New England to Nick Folk's 37-yard field goal on the game's opening drive, but he got sacked by Rashan Gary on the team's next series and departed.
RELATED: Check out the new and improved FOX Sports app
Zappe and the Patriots (1-3) still played well enough to force overtime, but Aaron Rodgers bounced back from a dreadful first half to continue his recent home mastery of AFC teams. The Packers (3-1) are 18-1 in the last 19 home games Rodgers has started against AFC foes.
After the Packers went three-and-out on the opening possession of overtime, Marcus Jones' 20-yard punt return gave New England the ball at its 49-yard line. But the Patriots also went three-and-out.
The Packers then marched 77 yards in a 12-play drive that lasted nearly seven minutes before Crosby made his winning kick.
SIGN UP TODAY: Get daily headlines, breaking news emails from FOX6 
Green Bay had tied the game at 24 on Rodgers' 13-yard touchdown pass to rookie Romeo Doubs with 6:14 remaining. They nearly connected again in the closing minutes of regulation.
With the Packers facing third-and-8 from the New England 40, Rodgers threw deep to a diving Doubs in the right corner of the end zone. Dobbs got past Jonathan Jones and caught the pass, but the ball slipped out of his hands after he landed.
Rodgers went 4 of 11 for 44 yards for an 11.2 passer rating in the first half, the worst rating the four-time MVP had ever recorded for any half in his 18-year career, according to ESPN Stats & Info. That included a New England touchdown on Jack Jones' 40-yard interception return, which lifted the Patriots to a 10-7 halftime lead.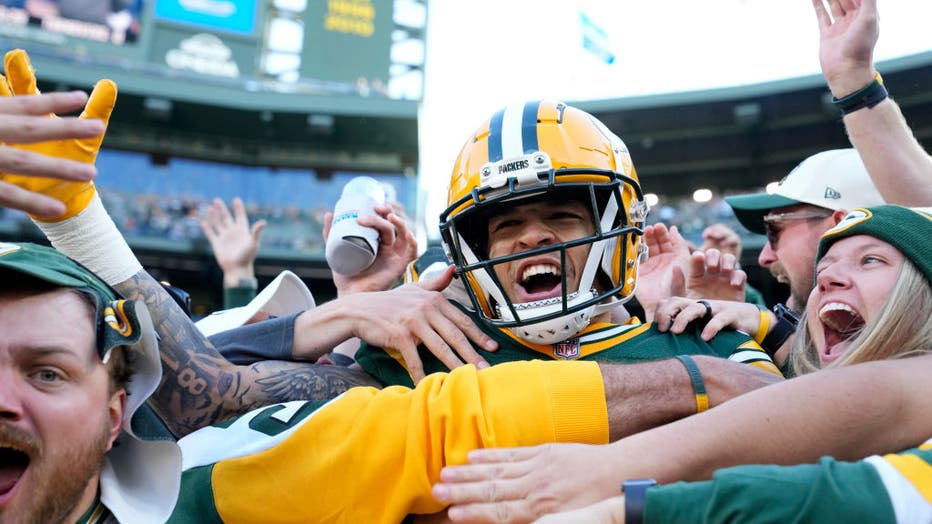 (Photo by Patrick McDermott/Getty Images)
It was Rodgers' first pick-6 since Tampa Bay's Jamel Dean scored on a 32-yard interception return in the Buccaneers' 38-10 victory over the Packers on Oct. 18, 2020.
Rodgers rebounded after halftime and ended up going 21 of 35 for 251 yards with touchdown passes to Doubs and Robert Tonyan for the tight end's first score since tearing an anterior cruciate ligament last season. Aaron Jones rushed for 110 yards to lead Green Bay's 188-yard attack on the ground.
Zappe was 10 of 15 for 99 yards, including a 25-yard touchdown pass to DeVante Parker. The ball appeared to get snapped after the play clock had expired on Parker's touchdown, but no penalty was called.
New England's Damien Harris rushed for 86 yards and a touchdown on 18 carries. Rhamondre Stevenson ran 14 times for 66 yards.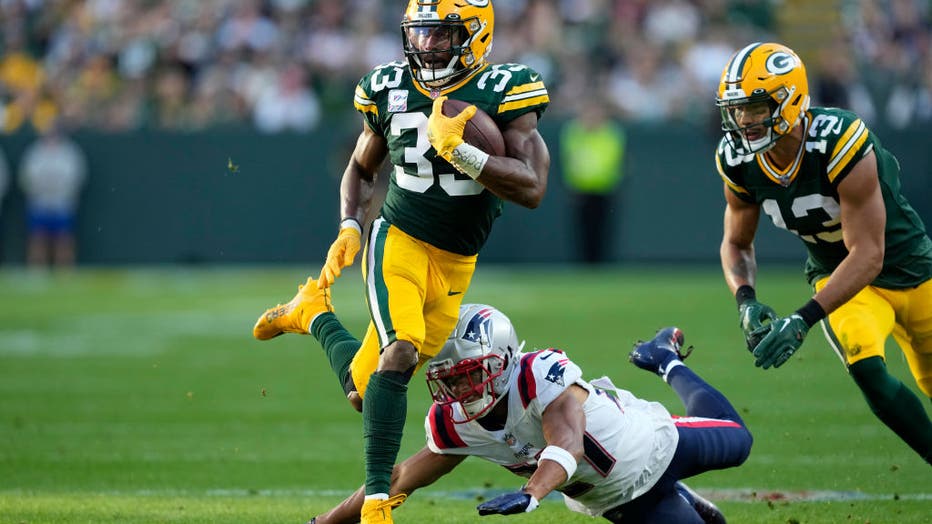 (Photo by Patrick McDermott/Getty Images)
Play action
The Patriots got on the board during their opening drive with a field goal, bringing the score to 3-0. 
The Packers got to midfield with a pass from Rodgers to Allen Lazard, but Romeo Doubs fumbled and the Patriots' Jack Jones recovered. 
Green Bay turned the Packers away off that turnover with a sack of Patriots QB Brian Hoyer by Rashan Gary on third down, his fourth. 
Rodgers ended up getting sacked on third down. 
The Patriots led 3-0 at the end of the first quarter.
The Packers were the first to score a touchdown, courtesy Christian Watson with a 15-yard run early in the second quarter. It was his first NFL TD. Mason Crosby's extra point was good, bringing the score to 7-3. This, 2 minutes into the second quarter.
Also, early in the second quarter, Patriots QB Brian Hoyer was ruled out due to a head injury. 
Rashan Gary completed his second sack of the game less than two minutes before halftime, and in the process, he forced a fumble. The ball was recovered by Green Bay. 
The Patriots answered with a Pick 6 by Jack Jones. That put New England in the lead just before halftime, 10-7. 
As play got underway in the second half, Packers' Allen Lazard made a diving catch for 32 yards. Aaron Jones ran for a Packers' first down. Jones had another 17-yard pickup on fourth and one.
A Robert Tonyan touchdown put the Packers back in the lead, 14-10. 
The Patriots quickly recaptured the lead, with QB Bailey Zappe throwing a touchdown, bringing the score to 17-14. 
Mason Crosby tied the game with seconds left in the third quarter with a 38-yard field goal. 
New England broke the tie with a touchdown by Damien Harris, bringing the score to 24-17 with less than 12 minutes left in the game. 
Packers' Romeo Doubs tied the game again with less than 8 minutes remaining, scoring Rodgers' 500th career passing touchdown. The extra point made it 24-all. 
Doubs was close to another touchdown with about 2 minutes remaining but was ruled incomplete. That led to a challenge by LaFleur. The Packers lost the challenge and the call stood – no touchdown. 
This sent the game into overtime. 
The Packers' offense went 3-and-out in their first OT possession. 
The Patriots were forced to punt after a near-interception by Rudy Ford.
This all came down to a Mason Crosby field goal, and he was good from 31 yards. The Packers improved to 3-1, beating the Patriots 27-24. 
The Associated Press contributed to this report.