"Means a lot:" West Bend West, East soccer teams support breast cancer patients in rivalry game


WEST BEND -- High school rivals recently met on the soccer field, but it's how they came together off the field that's doing some good in the fight against breast cancer.

"It's kind of a long-standing tradition," Blake Furlano, West Bend East soccer captain said.

There's always a lot on the line.

"Between two schools, always during homecoming week, no matter how good or bad the teams are, this is by far the best game we come out to play," Furlano said.

The competition is fierce.

"This game has always been huge. East vs. West. We go to the same school. We are in the same building. Every sport -- we want to rail the other team. It's just a sense of pride, which school is better," Jacob Boelter, West Bend West soccer captain said.

"Bragging rights for the rest of the year. That's huge. It's huge," Furlano said.

But even as the rivalry intensifies, there's a sense of togetherness as well.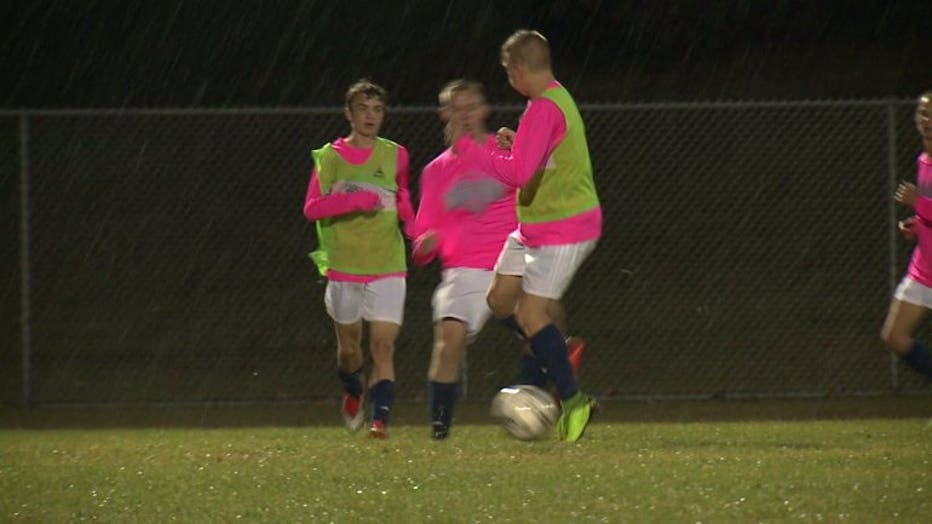 "We are raising money for Metavivor -- for breast cancer awareness," Boelter said.

This year and every year, they hold something called a "goal-a-thon."

"People make pledges, like a certain amount of money for every goal scored and afterwards, all the money goes to Metavivor," Furlano said.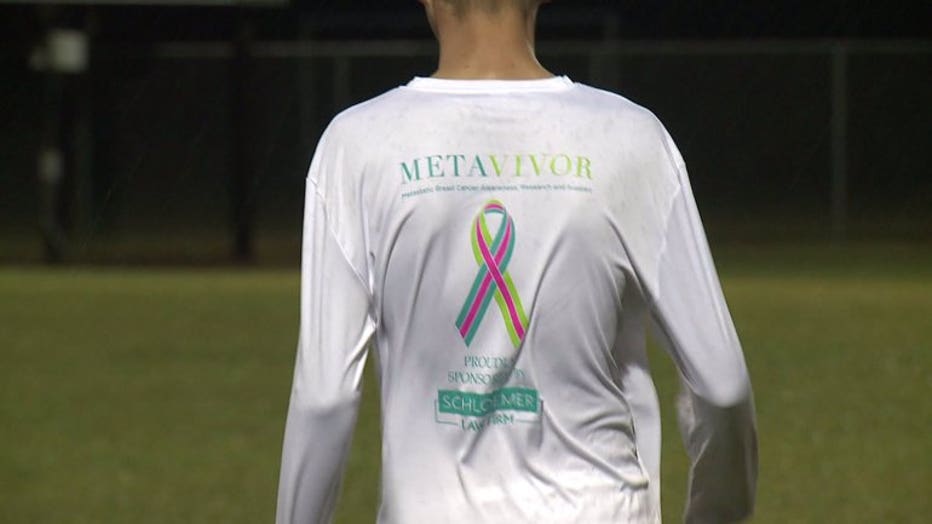 Metavivor is an organization that gives 100 percent of the money raised towards funding late stage breast cancer research, which adds to the importance of the goal-a-thon for Furlano, East's captain.

"I didn't know about it before, but it's nice to have these things so you can learn about new stuff to help," Furlano said.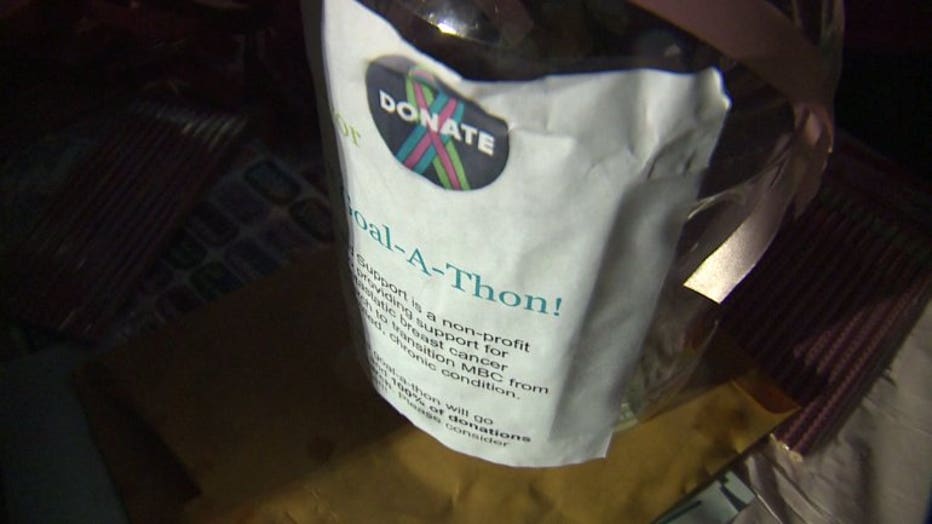 Christine Otto's feelings about the competition are even more personal.

"I was diagnosed with metastatic breast cancer, which is advanced stage breast cancer on July 4th of 2015, so I've had it now for about 2.5 years, and right now I'm doing an oral chemo and the cancer is in my bones and it's currently at bay," Otto said.

She's the reason Metavivor was chosen by the soccer teams to be the beneficiary of the game's fundraising.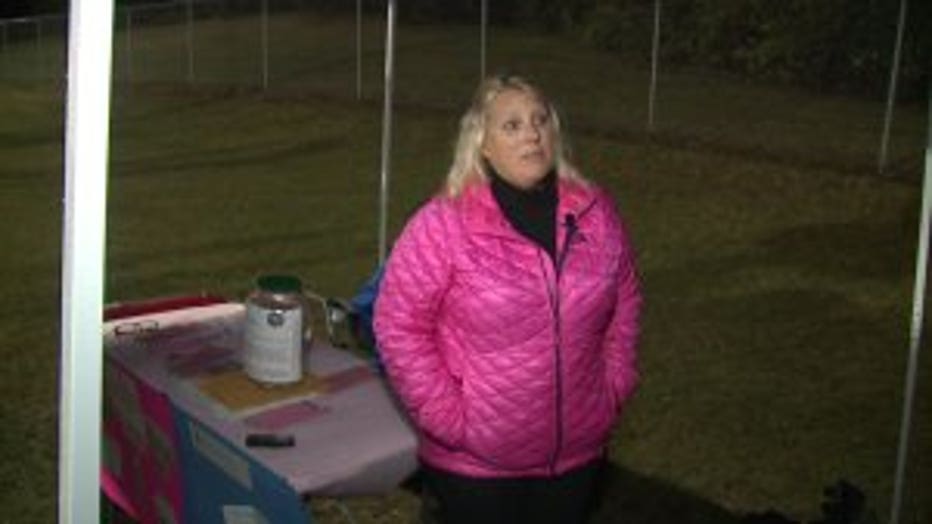 "A lot of people that want to donate don't know about these small organizations like Metavivor so it really means a lot to me to participate in an evening like this and have them give their proceeds," Otto said.

"I think that it shows that there is a community. We are like, pretty close, but then on the field, it is game time. There's a rivalry, so it's pretty cool that there is a double relationship to that," Boelter said.

The teams battled it out on the field, as the battle for Otto continues off-field.

"They told me during my diagnosis that I would live, on average, three years, so I am sitting at about 27 months into my diagnosis now. For being this far along in my diagnosis, I can say that I'm lucky and if there is a positive side to my diagnosis, I can say it's only in my bones right and that's treatable. It's not curable, but it is treatable, so with that, and organizations like Metavivor, new data coming out every day, I hope to take it just one day at a time," Otto said.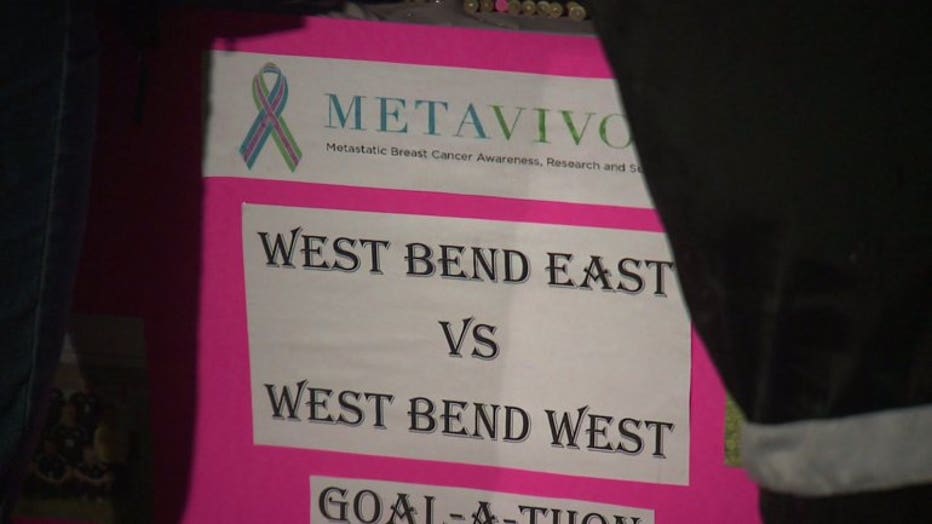 West won this matchup 3-2, but more importantly, five goals were scored and $2,700 was raised for Metavivor.

CLICK HERE to learn more about Metavivor, or to make a donation.