Marquette women's lacrosse goalie no stranger to making history
MILWAUKEE - Brynna Nixon is the imposing force in front of the net for the surging Marquette women's lacrosse team. 
The sophomore goalie for the Golden Eagles has had a memorable season in her first year as a starter – setting records goalie wins and goalie minutes played in a season. 
"It's kind of expected because I hold myself to that high standard of playing well," said Nixon. "It's been really, really nice because you work hard."
RELATED: Check out the new and improved FOX Sports app
Nixon's goalkeeping has helped the Golden Eagles finish their regular season with a 15-2 record. It's their best season to date in program history, and a complete change from their 8-10 record last year.
"We're all just committed, and we're all in all the time," Nixon said. "There was kind of like an attitude shift from this year to last year. I think we've completely turned it around this year."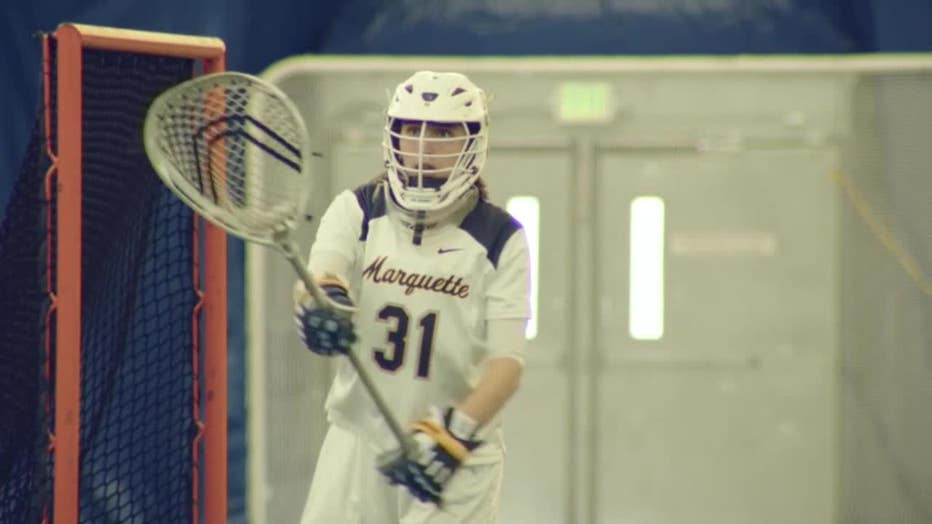 Brynna Nixon, Marquette women's lacrosse goalie
Even better, Nixon is learning from one of her idols. 
"I could tell right from the beginning that we were going to get along really well," said Jill Rizzo, Marquette women's lacrosse assistant coach. She was also a standout goalie at Ohio State.
"When I found out she was coming here, I was like, 'No way this is crazy, let's go,'" said Nixon. "She's taught me everything honestly, like, completely changed the way I look at the position, like how I play."
SIGN UP TODAY: Get daily headlines, breaking news emails from FOX6 News
"I think every single game she's gotten better and better and that's not a surprise at all," said Rizzo. "She plays the game, watches the film, we talk through it, and then she makes the changes immediately in practice and then into the next game, so she is just going to continue to get better."
Being a goalie in lacrosse isn't an easy job, but it's one Nixon loves. 
"It was like a combination of all the sports that I played, like I was playing basketball, softball, football, lacrosse, soccer," said Nixon. "It's a completely different view because I can just sit back, and I see the entire field." 
That is true. Nixon has the best view by far, from the lacrosse field to the gridiron. Football has been her longtime love, and she started playing in the third grade.  
"I saw a flyer for a junior flag football league," said Nixon. "I was like, 'Mom, I want to try that,' because we would all watch Sunday Night Football every time and so I tried it, loved it and I was like, 'I want to play tackle football, I can do this.'"
Over time, Nixon excelled as a quarterback. In her junior year, she put together an unforgettable season in 2019. That year, she not only attended a Seattle Seahawks practice where she met former Seahawks quarterback Russell Wilson and head coach Pete Carroll, but she also turned heads on the football field. 
Brynna Nixon meets NFL quarterback Russell Wilson
"Our starting quarterback went down with a rib injury in the third or fourth quarter," said Nixon. "I went in, and we called basically a fade route to the outside, and then I rolled out and threw a touchdown pass." 
That touchdown throw made her the first girl in her high school's history to throw a touchdown pass. It's also believed to be the first touchdown pass thrown by a female quarterback in a varsity high school game in Washington state history.
And the following year, Nixon capped off her senior season by earning the starting quarterback role. 
FREE DOWNLOAD: Get breaking news alerts in the FOX6 News app for iOS or Android.
"It was really cool because I'd always have girls come up to me and be like I'm playing football, or I want to play football, and I was like, 'Go for it,'" said Nixon. "There's nothing stopping you at all."
Now in college, Nixon may have hung up her helmet for the time being, but the toughness and self-belief she learned from football has transferred over to lacrosse. And having broken barriers 2,000 miles away, Nixon's looking to help her Golden Eagles do the same right here in her new home.
"Our season isn't done yet and we've done all these things, so it's just exciting to see what we can still do and how much potential we still have left in the season," said Nixon. 
The Golden Eagles will take aim at their first Big East women's lacrosse title. The Big East women's lacrosse championship semifinals begins Friday. Marquette is the No. 2 seed and will take on No. 3 seed Connecticut.