Indoor golf at American Family Field; Brewers, X-Golf partner
MILWAUKEE - The Milwaukee Brewers and X-Golf America announced plans on Thursday, March 10 for a new experience at American Family Field.
The partnership brings a state-of-the-art indoor golf experience to the home of the Brewers. It will be a first of its kind entertainment venue in a major league baseball ballpark – and the first-ever X-Golf location in a sports stadium. 
"We're so incredibly excited to – I still can't even say it – partner with the Milwaukee Brewers," said X-Golf owner Shawn DeMain.
SIGN UP TODAY: Get daily headlines, breaking news emails from FOX6 News
DeMain and Luke Larson, who childhood best friends, grew up loving the game of golf and the Brewers. The two partnered to run multiple X-Golf locations – the indoor golf venue is meant for golf-lovers and families alike. 
"The meeting that we had to plan to this was actually at a Brewers game, and it was a 17-inning game against the Pirates, so we had all that time to put it together," DeMain said.
Indoor golf at American Family Field
A news release said the 11,000 square foot facility is set to open late in the 2022 baseball season, with seven bays on two floors in what was previously the Stadium Club on the Cub Level. Three bays will offer views of the field.
"Creating an interactive golf experience in the stadium – how cool is it going to be to play Pebble Beach or closest to the pin or a scramble with your friends while you're watching the Brewers beat up on the Central Division opponents," Larson said.
FREE DOWNLOAD: Get breaking news alerts in the FOX6 News app for iOS or Android.
"It's a ballpark, and it's a great facility, but the reality is we're looking to integrate other experiences and other things we can do to invest in the ballpark," said Rick Schlesinger, Brewers president of business operations. "This, from our perspective, was an easy one because it merges the passion of our fans."
Whether cheering for a home run or going for a hole in one, fans hope it enhances the experience.
"My son plays baseball, and he loves golf," said fan Jamie Dean. "For him to be able to experience both of those at the same time should create some great memories."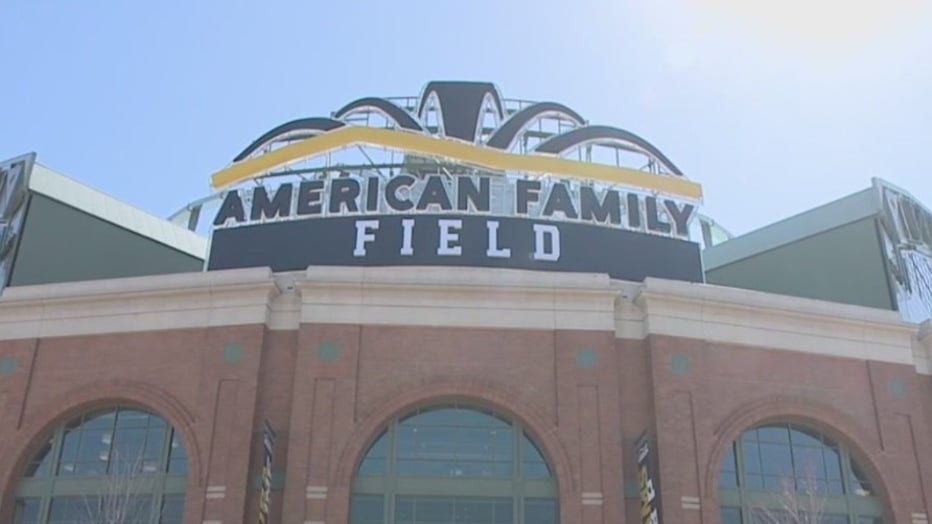 "I think people like to golf and like baseball, so once people see what its like and the venue, it's going to be big," fan Jon Larson said.
Featuring traditional country club and mid-century modern décor, the space will also boast two full bars and unique seating areas with views of the game. Fans will be able to make reservations to reserve simulators on game days (Brewers game tickets are required.)
It will be open year-round, during Brewers games and on non-game days. X-Golf at American Family Field will also be home to golf leagues and tournaments throughout the year.