Brewers, Corbin Burnes arbitration case; pitcher 'disappointed'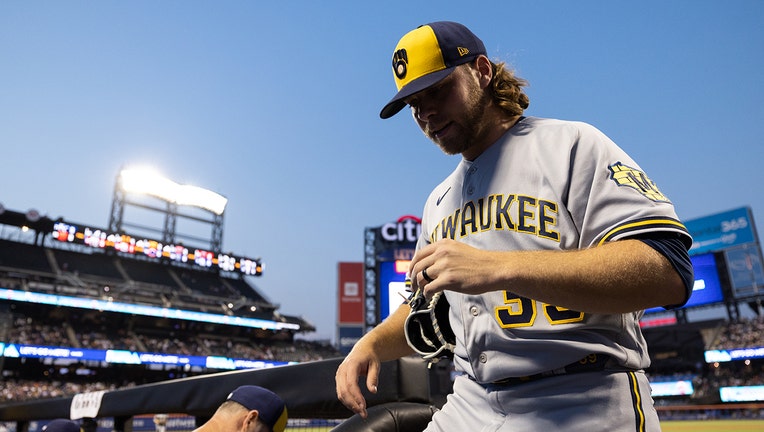 article
For Corbin Burnes, the disappointment wasn't from losing his salary arbitration case so much as hearing the words the Milwaukee Brewers used during the proceedings to determine his 2023 salary.
They stung.
The 2021 NL Cy Young Award winner attended his case and came away with hard feelings. He lost his hearing and will receive $10.01 million from the Brewers rather than his $10.75 million request.
RELATED: Check out the new and improved FOX Sports app
"Obviously, it's tough to hear. It's tough to take. They're trying to do what they can to win a hearing," Burnes told reporters at spring training in Phoenix. "There's no denying that the relationship is definitely hurt from what (transpired) over the last couple weeks. There's really no way of getting around that."
A five-year veteran, Burnes is 35-19 with a 3.21 ERA. He is eligible for free agency after the 2024 World Series.
"You kind of find out your true value," the right-hander said. "You think you work hard for seven years in the organization, and five years with the big-league team, and you get in there and basically they value you much different than what you thought you'd contributed to the organization.
"They won it. But when it came down to winning or losing the hearing, it was more than that for me." 
Burnes felt like he was put "in the forefront" of the reason why the Brewers didn't make the postseason in 2022.
"That's something that probably doesn't need to be said," explained Burnes, who led the National League with 243 strikeouts in compiling a 12-8 record with a 2.94 ERA. "We can go about a hearing without having to do that."
SIGN UP TODAY: Get daily headlines, breaking news emails from FOX6 News
Brewers president of baseball operations Matt Arnold explained in a statement, "the arbitration process always presents uncomfortable situations for both the club and player involved. It is never easy to present a case against a member of the Brewers family.
"I'd like to reiterate that we view Corbin as one of the leaders of our franchise and value him as an elite talent in the game. Corbin is a major contributor to the organization both on and off the field, and we look forward to another outstanding season from him in 2023."
One of the fears of a player attending their own proceeding is he hears unflattering words from the team. The chatter isn't all rosy when money's at stake.
"There was no attacking of character or the person who I was," Burnes said. "But just some of the stuff that was said, that definitely didn't need to be said, is something that I think kind of disappointed everyone."