Watch again: World's first 3D-printed rocket fails to make orbit after Florida launch
CAPE CANAVERAL, Fla. - The third time was the charm!  Well, sort of. 
After two scrubbed attempts, Relativity Space successfully launched the world's first 3D-printed rocket from Launch Complex 16 at Cape Canaveral, Florida. However, the rocket failed to make orbit following an "anomaly" with Terran's second stage.
The nighttime launch did provide a slightly different flame trailing behind the methane rocket compared to the ones Floridians are familiar with seeing behind NASA or SpaceX rockets.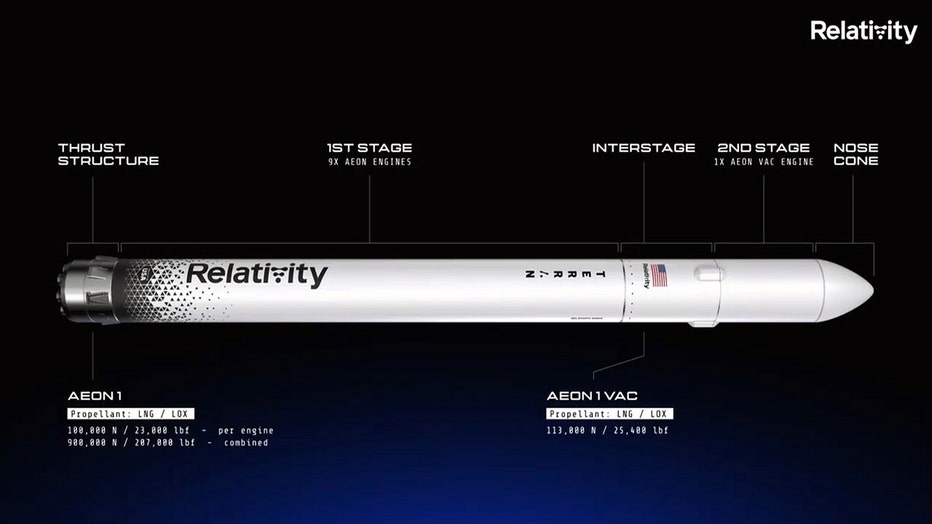 The one-of-a-kind rocket – known as Good Luck, Have Fun Terran 1 – was supposed to launch on Saturday, March 11, but due to wind and other circumstances, the launch was ultimately scrubbed. 
RELATED: NASA debuts new Axiom spacesuit for Artemis III mission to the moon
The first launch attempt was on Wednesday, March 15, but during the countdown, officials reported problems with oxygen temperatures in the rocket's second stage.
"Delays are always expected, and we got to remember safety is paramount," Dr. Ken Kremer told FOX 35. "This must succeed. It is much better to keep the rocket on the ground than to launch it and have it blow up or go off course."
The launch is the first orbital attempt for Terran 1. Even though it wasn't a complete success, it's still a big deal in the aerospace world because it is taking a simplified and reusable approach to rocket launches.  Relativity Space spokespersons said a setback like this is to be expected with a maiden launch.
RELATED: SpaceX launches OneWeb communication satellites from Florida
A rocket normally takes two years or more to build, but this 3D-printed one can be completed in two months.  Standing at 110 feet tall and 7.5 feet wide, the Terran 1 is the largest 3D-printed object to exist and attempt orbital flight, officials have said.
About 85% of it is 3D-printed and uses liquid oxygen and liquid natural gas, which scientists say is not only best for rocket propulsion, but also for reusability. Looking ahead, it would be the easiest to eventually transition to methane found on Mars.
Compared to a traditional rocket that has more than 100,000 parts, this 3D-printed rocket has less than 1,000 parts. There is no payload on board this rocket right now.
The rocket's launch will be a learning experience as Relativity's engineers try to figure out what went wrong.  Still, history has once again been made on Florida's Space Coast.